Welcome to Fort Service Learning Magnet Academy: The BEST MIDDLE SCHOOL in the WORLD!
Ms. Amia Hamilton, Proud Principal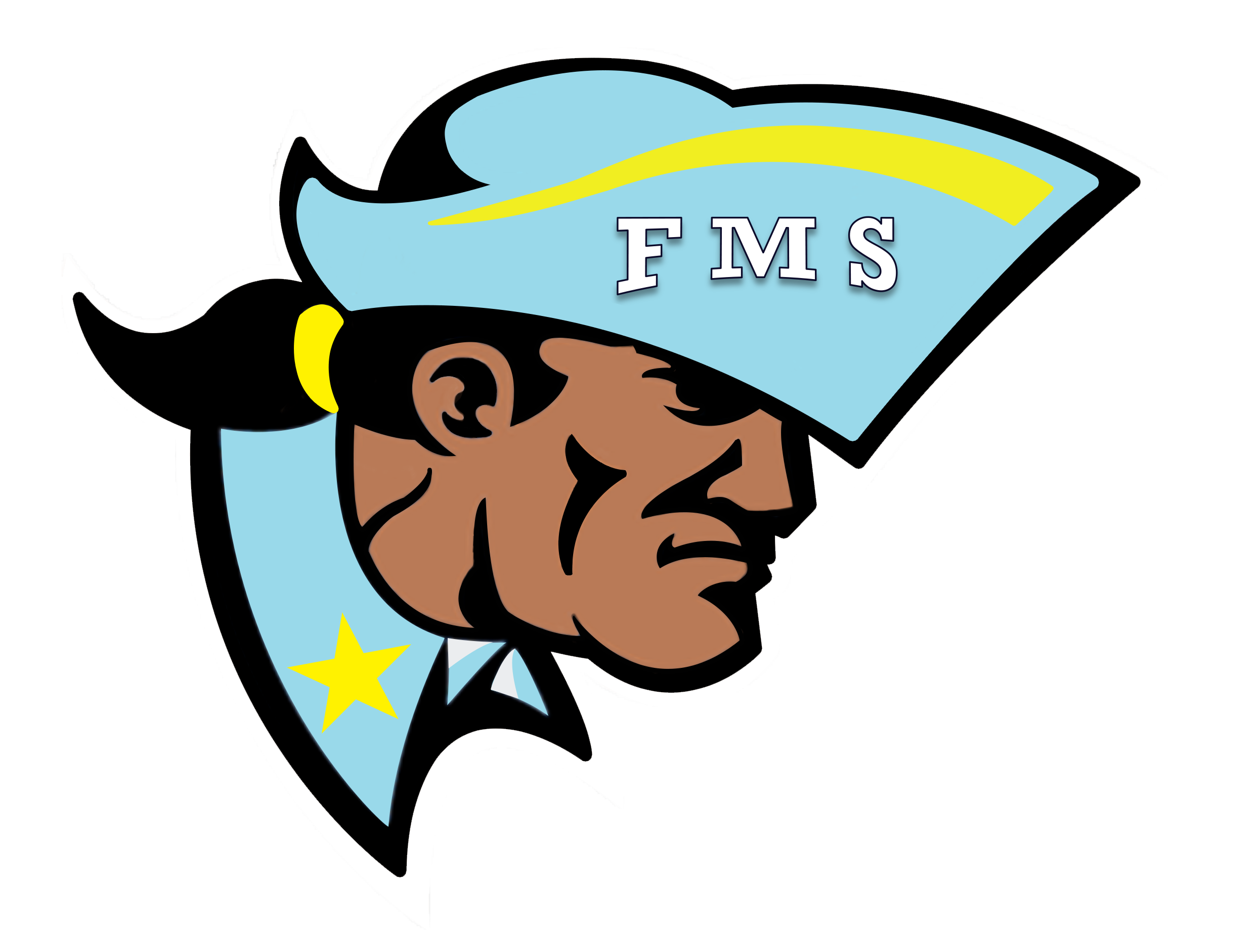 The mission of Fort Middle School is to promote the intellectual, social, emotional and physical development of our students in a safe, challenging environment so that they become confident, self-disciplined, productive members of a global society.
Remember–Patriot excellence means We are BETTER TOGETHER!
IMPORTANT INFORMATION
School Times – Middle School is from 8:50am until 3:52pm.  Car riders are walkers arrival time on campus is 8:30am.  
Transportation – Requests for bus passes must be completed by parents on the MCSD website.  Click the "Bus Stops" link and enter your address to find your child's bus information.  Write it down and give to your child so they will know their bus number, pick up times and location.  Expect delays the first day/week of school.  No child will be turned away from the bus stop because they do not have a bus pass. 
Due to the recent safety update, students will not use lockers and may carry a clear or mesh book bag.
If you have questions, please do not hesitate to call the school at 706-569-3740.  Remember "Mighty Patriot Excellence—We ARE Better Together!"

2022-2023 Online Registration
2022-2023 Online Registration Begins
Parents, we are excited to begin the 2022-2023 academic year working with you and your students because, "We Are Better Together".  Due to several improvements made by MCSD, the enrollment process is slightly different.  Registration is currently a two-step process, beginning with the completion of Online Registration(OLR).  Once all documents have been uploaded to your application, please proceed to your Parent Portal to review and sign all the electronic forms. Only families that have successfully completed the listed steps will be able to navigate through verification; gathering schedules, handbooks, transportation passes, student ids, and chrome books. The completion of verification is mandatory to begin school August 8, 2022.  Contact the school

706-569-3740

for assistance with either procedure. Please email any missing documentation with the application number to fortparents@muscogee.k12.ga.us.  
To begin the online process, click the red box. 
Current Students at MCSD:  

If they have a currently enrolled student in MCSD, please  complete the Online Registration application through "Infinite Campus Parent Portal".  Please select registration for the 2022-2023 school year. 

Parent Portal Access: 

It is of utmost importance for parents to have an active Parent Portal.  ALL Online Registration Applications and Parent Packets will be provided to parents through this portal.  If you do not have access to Parent Portal, we will assist parents with creating an account or resetting their passwords.  See the below document for step by step instructions.  
Tuesday-Thursday, August 9-11, 2022:
2022-2023 Soccer Tryouts
Boys and Girls soccer tryouts will be August 9-11, 2022 from 4 to 5:30pm.  All participants must have a current MCSD physical on file with the school. 
For more information, contact Head Coach Star Smith (girls) at

smith.riann.s@muscogee.k12.ga.us

and Head Coach Darrell Bryant (boys) at

bryant.darrell.d@muscogee.k12.ga.us.
Tuesday-Thursday, August 9-11, 2022:
2022-2023 Cheerleading Tryouts
All energetic and enthusiastic Fort students who are interested in being a part of the Patriot cheerleading team must attend tryouts.  They will be held after school from 4 to 5:15pm, August 9-11th.  Everyone must have a current MCSD physical on file with the school to try out.  For more information on cheer try-outs, please email Head Coach Nia White at

white.niakeele.l@muscogee.k12.ga.us .
2022-2023 Football Conditioning
For all Fort Patriots interested in playing for the undefeated MIGHTY PATRIOT CHAMPIONSHIP FOOTBALL TEAM, conditioning begins the first week of school. It will be held Monday –Thursday from 4pm to 5:30pm until September 15th, 2022.  All student athletes must have a MCSD medical physical on file.  
Monday-Wednesday, August 15-17, 2022:
2022-2023 Dazzling Belles Dance Team Try Outs
For all Fort students interested in being on the Dazzling Belles Dance Team, try outs will be Monday through Wednesday, August 15-17, 2022 from 4pm to 5:15pm. All student athletes must have a MCSD medical physical on file as well as a try out packet, which can be picked up from Ms. White in room 133.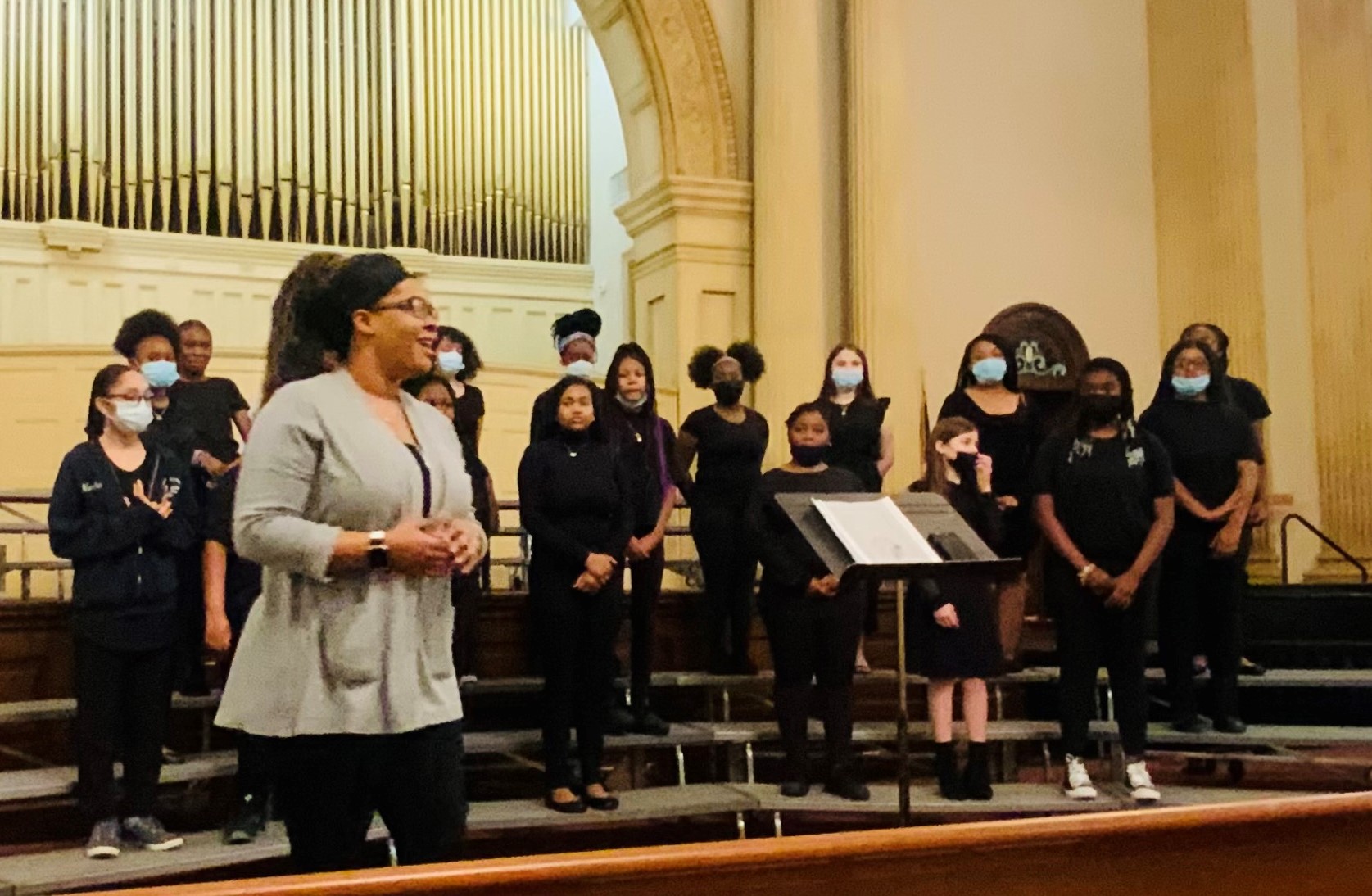 FORT EAST CHOIR
In March 2022, students were selected from FSLMA and ECMA to form a choir called the Fort East Chorus.  They participated in a Large Group Performance Evaluation (LGPE) and received an "excellent" rating with comments ranging from, "You're off to an awesome start," to "You all are starting to think like a choir!"  Congratulations to Mrs. D. Johnson and her amazing chorus students! To watch the Fort East Chorus perform "Little Birch Tree" at the LGPE, click the box below.
Fort East Chorus "The Little Birch Tree"
2021-2022 FOURTH NINE WEEKS HONOR ROLL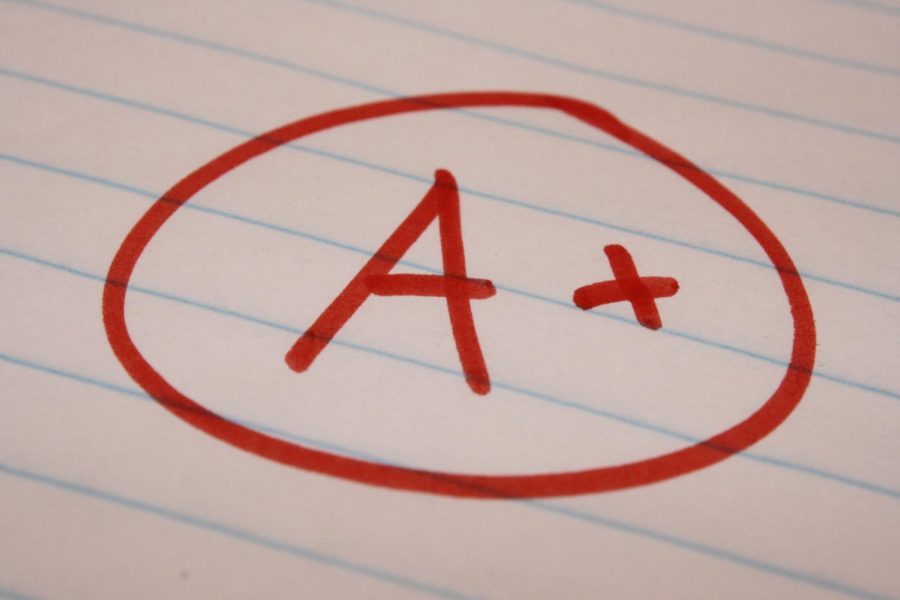 Me'Zirius Duncan

Mariece James
Arryonna Williams
Tranaya Young
Kristel Ballesteros
Titha Bobadilla
Luis Carreon 
Miguel Carreon



Emily Desensi
Lawrencia Duah
Vannah Jones
Jaslyn Lafrance
Kayliana Porter
Kamorian Richardson
Chazzidy Locke
Klandra Martin
SIXTH GRADE:  AB HONOR ROLL
Zoe Barber

Zariyah Beaty

Razhan Brown

Tristan Buford

Jala Burton

Rebecca Carreon

Caden Carter

Quadarius Clark

Makai Davis

Bryson Denson

Emma Ellison

Jai'Shawn Farley

Reign Ford

Vernon Gamble
Sa'Liyah Garner
Dominic Hale

Bryan Ingram
Bra'Niya Jackson

Cameron Jeter
Lei ' Nijah Jiles

Ah'Mir Johnson

Gavin Jordan

La'Trelle Long

Destiny McClenton

Quinaiyah McKenzie

Wayne Melendez

Dequireon Newsome

 
Dequireonna Newsome

Laura Olmos Mercado 

Za'Yannah Perry

Jayveon Pope

Lamar Roberts

Richard Rozier

Robert Sanabria

Tyler Tinch

Torionna Vaughn

Julian Way

Laci Westbrook

Brayden Wilson

Kerensa Wilson

Faith Woody
SEVENTH GRADE:  AB HONOR ROLL
Ny'Emah Arroyo

Makaylah Badr

Tamyra Bell

Jaleya Bridges

Mario Brown

Tristian Brown

Jamonie Bryant

Rashad Cheek

Caleb Crenshaw 

Hannah Crisp 

Tripp Daniel 

Daijon Daniels

Kamiella Davis

Kavious Dixon
Monyee Gaither
Keyonte Holley

Malaysia'Reigh Holmes

Daniyah Hooks

Andreiya Howell

Ja'Layah Hudson

Mikhia Jenkins

Chance Jones

Ja'Kobe Knight

Jynesis Martin

Da'Shaun Mays

Ga'Kiah Moody

Angel Moore 

Amiyah Morris 

Mariah Pacheco
Frank Parler
Kambree Pipkins
Aubrey Roberts

Sanai Ross

Tyrese Rowley

Jace Rushin

George Seeley

Shirley Seeley

Landon Sirls

Londyn Smith

Jaylyn Stephens

Jordyn Taylor

Ashton Thomas

Braylen Truitt

Tytania Turner

Joshua Valois

Tatiyana Williams

Kayden Williamson
EIGHTH GRADE:  AB HONOR ROLL
Robert Allen
Cameron Bailey 
Ayden Barnes
Amari Beaty

La'Quan Brooks 

Zaahir Brown

J'Anna Bryant

Ronnae Bunkley

Jade Butler

Jasmyne Butler

Kailyn Carter

Jamya Chaney

Ty'Niya Chaney

Cyncere Clark

Jimmy Cobb

Victoria Collins

Kayla Culpepper

Mitchell Dowdy
Kennedi Ford

Marquel Francis
Jocelyn Gaines

Caleigh Garcia

Destiny Goines

Octaviun Hall

Camille Hardge

Jacorie Harper

Je'Nya Harris

D'Andrea Heard

Alyssa Holmes

Timiyah Hood 

Chassity Hooks

Jamison Humphrey

Kelvin Ingram

Jordan Jackson

Keira James

Sade Jenkins-Lee
Neshyia Johnson
Lameria Kuykendall



Kyleigh Mayes

Steven Mejia-Santiago 

Shamori Mitchell 

Brookelynn Moist

Jayla Moore

Coriyana Patterson

Tyteyonna Porter

Taliyah Powell

Kamiyah Richardson

Amiah Rozier 

Nyla Rozier  

Michael Shamburger  

Terrell Short

Ah'Maya Sumbry

Elijah Taylor

Lacora Taylor

Jasmin Way 

Aaliyah West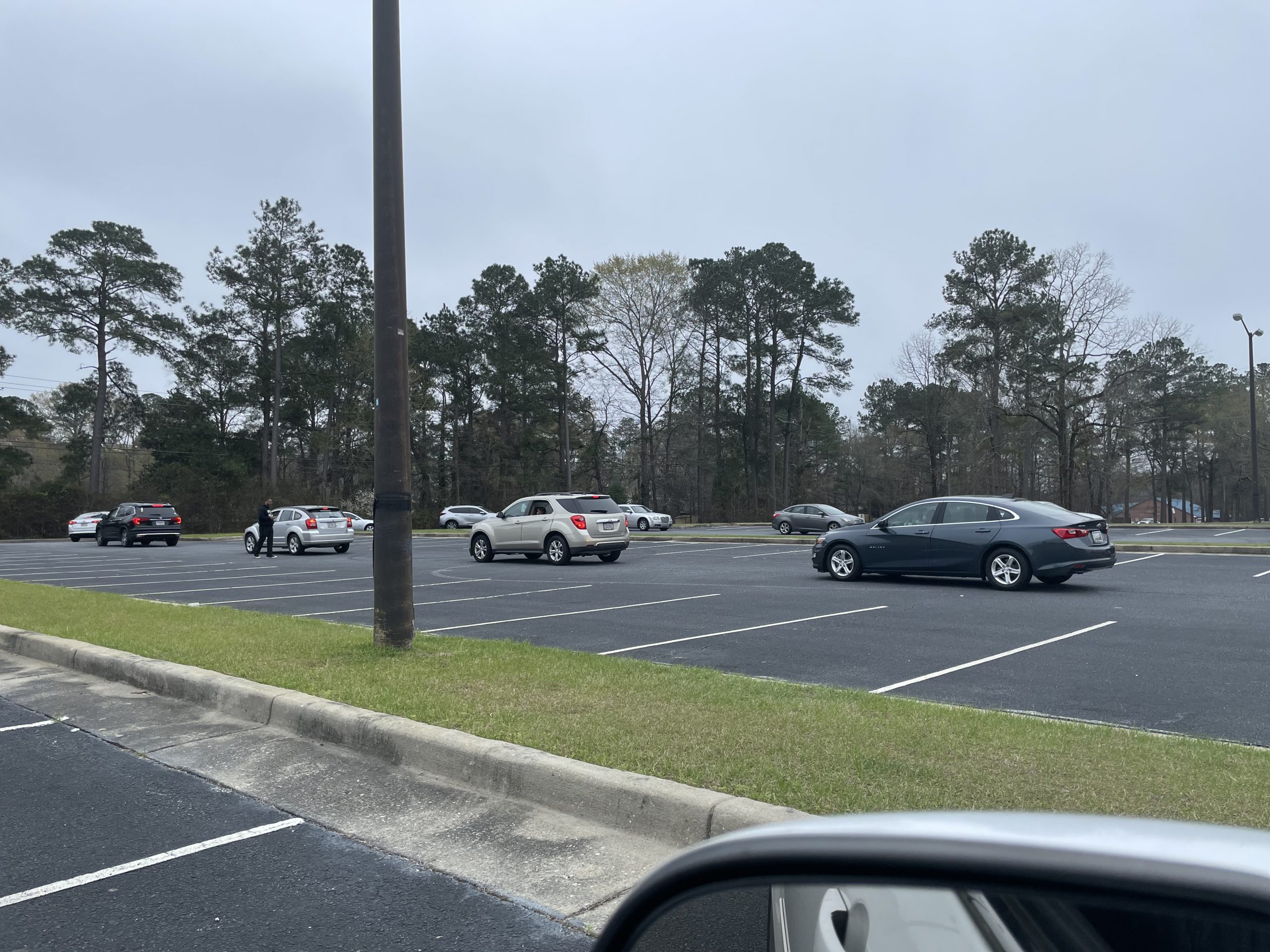 ---
PARENTS:  IMPORTANT INFORMATION!
CAR-RIDER PICK UP PROCEDURES
.  In an effort to improve our dismissal procedures and maintain safety for our students, we have implemented the following:
Parent driven vehicles will enter at the lower end of the parking lot (near the soccer complex)

Buses will enter from the driveway at the upper end of the parking lot (near Fort)

Parents please do not park in the Canaan Baptist Church parking lot.
Thank you for your cooperation, patience, and understanding of student safety as we improve our car riders pick-up procedures. 
---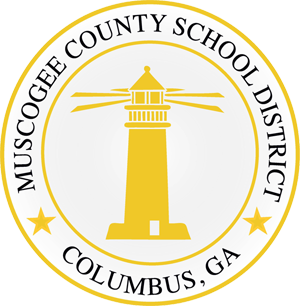 HOSPITAL HOMEBOUND ONLINE APPLICATION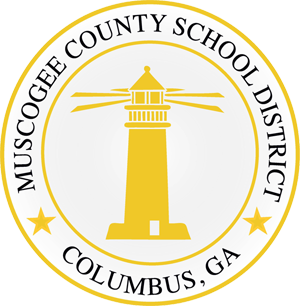 HOSPITAL/HOMEBOUND (HHB) SERVICES
Hospital/Homebound (HHB) services are designed to provide continuity of educational services between the classroom and home or hospital for students in Georgia public schools whose medical needs, either physical or psychiatric, do not allow them to attend school for a limited period of time.
What you Need to Know: Hospital Homebound On-Line Process
CURRENT STUDENTS 
Student must be enrolled in a Muscogee County Public Schools prior to the request for online instruction. Parents/Guardians must register through On-line registration to be considered.
While this opportunity provides these identified students with an alternative synchronous/asynchronous instruction, extended on-line instruction can have negative impact on the academic progress of students. Online instruction is optional.
Students (including participating siblings) attending on-line instruction will not participate in extracurricular school activities.  Online instruction is terminated when the student is employed in any capacity, goes on vacation, participates in extracurricular activities, or is no longer confined to home.
The link to the online Hospital Homebound application is in the YELLOW BOX that accompanies this text OR on the Muscogee County District's website under the Student Health Services tab.
Parent/guardian will need to print out the application for their child's physician to complete. The online application Medical Referral Form must be signed and affirmed by a primary care medical provider.    
Families with multiple children will need to complete an application for each individual student that will need online instruction.  Applications must be submitted to Muscogee County School District Central Registration Office; 2960 Macon Road Columbus Georgia 31906, 706-748-2000.   One primary medical provider authorization may be attached to multiple student applications from one family.  
Once the application is complete, the parent/guardian will bring the application to Central Registration where they will be grouped. An acceptance or denial decision will be made at this time. Incomplete applications will not be accepted.  
Once a decision is made, the family will be contacted by email. There is not an appeals process. Final approval is at the discretion of Muscogee County School District.
Any student eligible for on-line instruction, he/she is subject to mandatory attendance requirements.
Parents should obtain instructional/technology materials from the Marshall Success Center 1830 Shepherd Dr. Columbus Georgia 31906, 706-748-2900.
Parents should communicate with the school for further direction.  
The Muscogee County School District maintains attendance zones for school assignments. Parents MUST register students at the school of assignment based on the legal residence. For more information related to On-line Instructional Learning, parents and guardians should contact Ms. Jeannie Polhamus, MCSD Lead Nurse at jeananne.b@muscogee.k12.ga.us.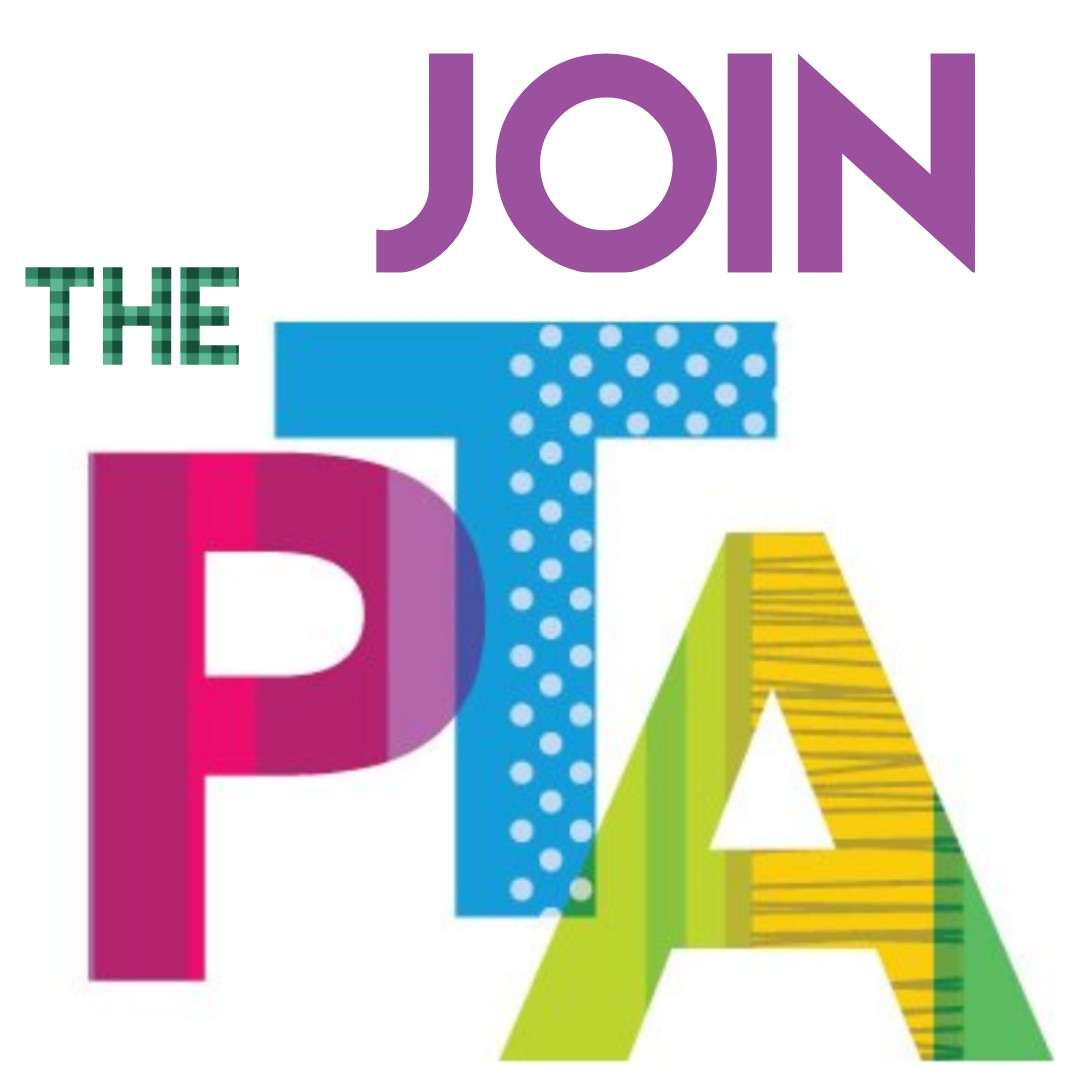 ---
JOIN THE PTA
Our goal:  100% MEMBERSHIP
Teachers, parents and grandparents are encouraged to join FSLMA's Parent Teacher Association.
Don't hesitate, JOIN NOW for only $10.00 (cash only)
Email questions to: 

fortpta@yahoo.com

 
---
FORT SERVICE LEARNING MAGNET ACADEMY
PHOTO GALLERY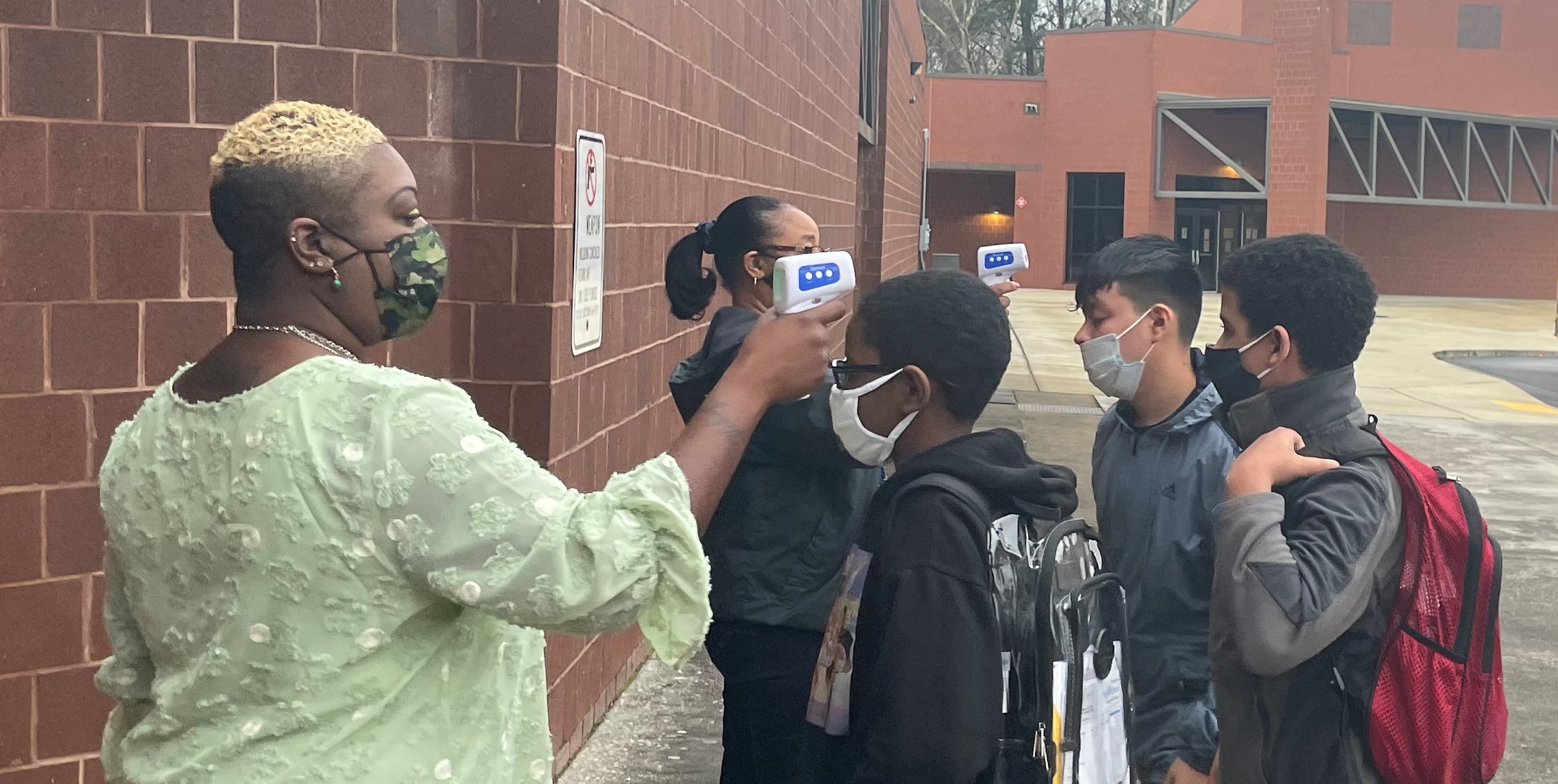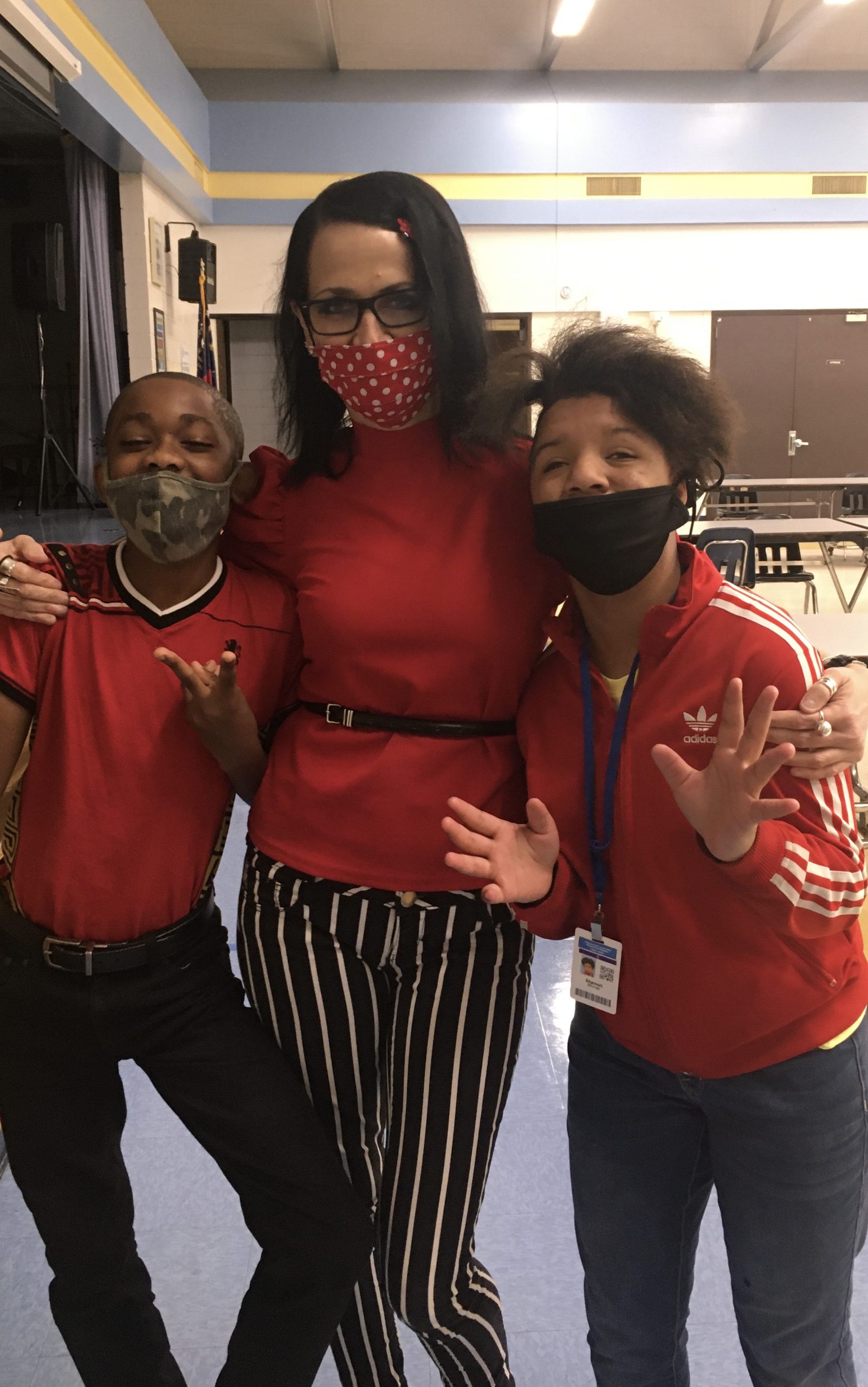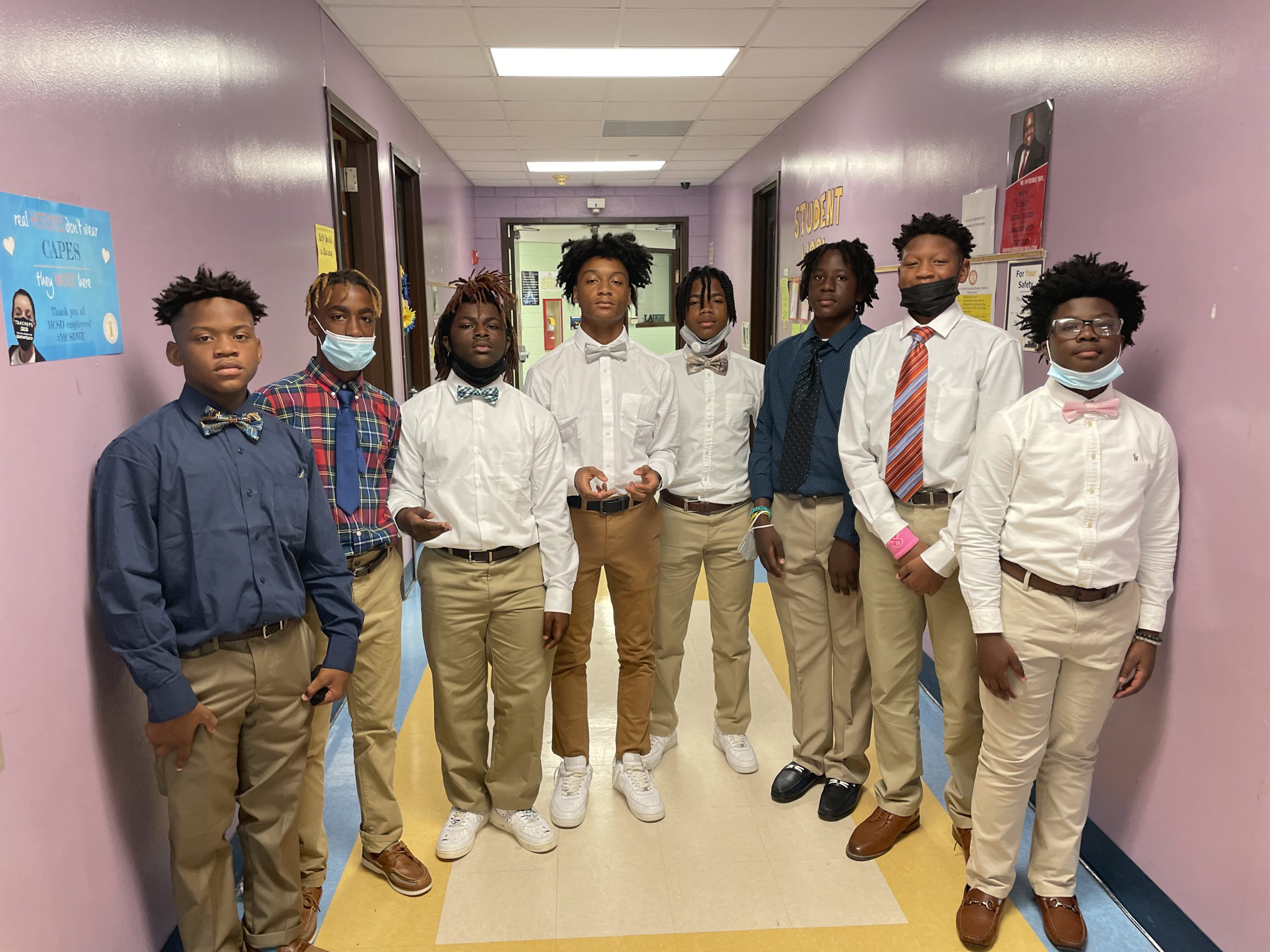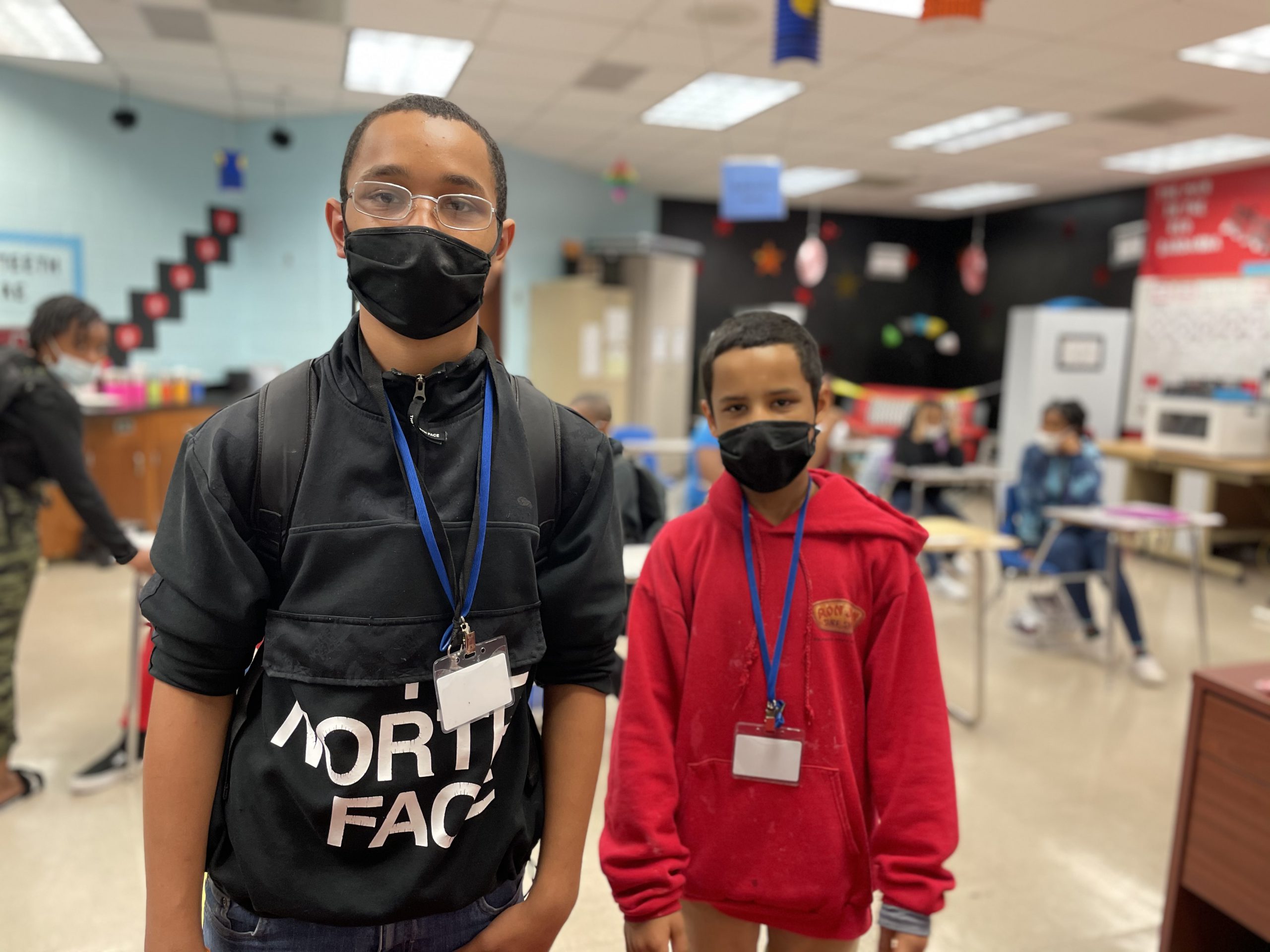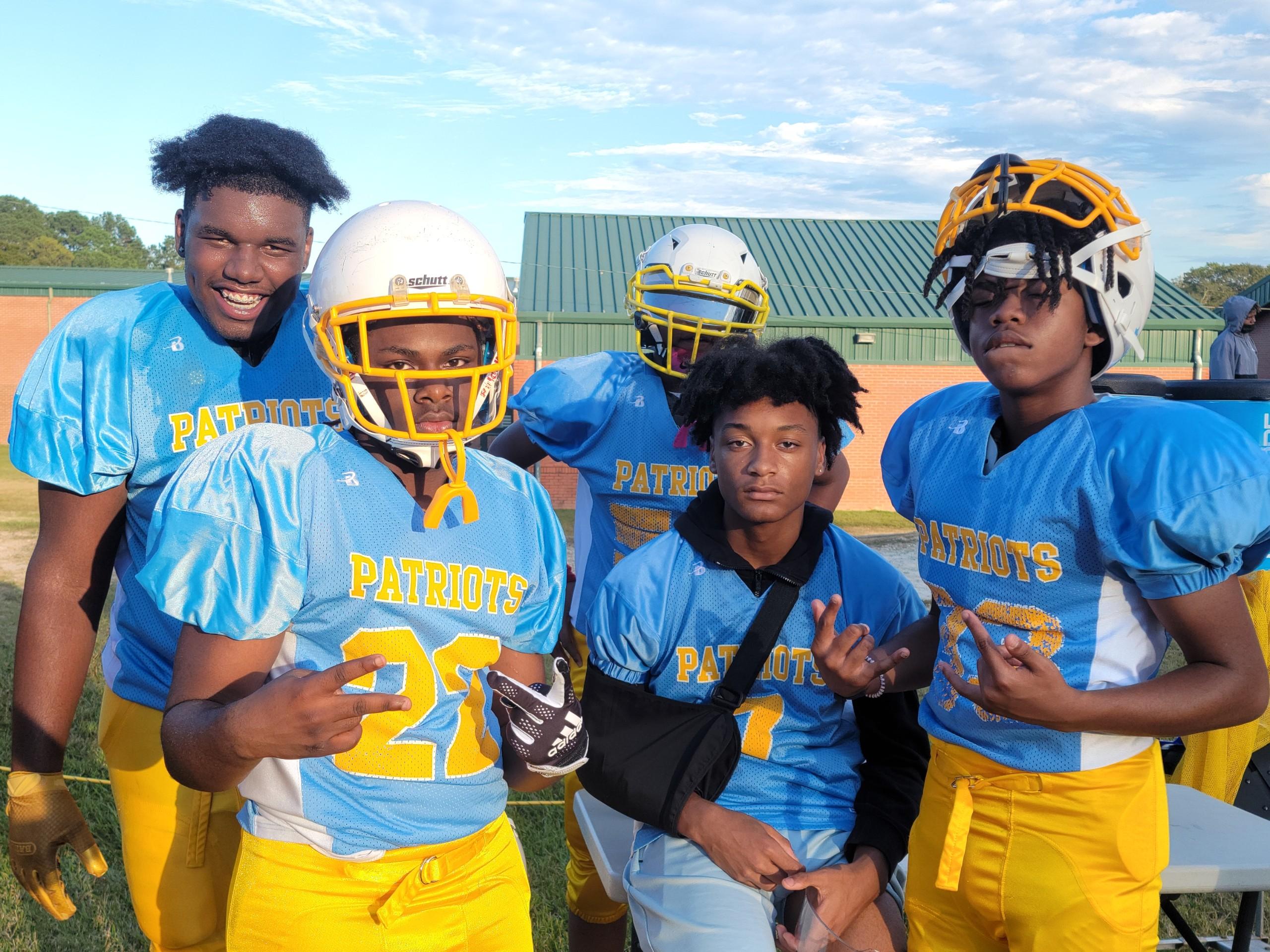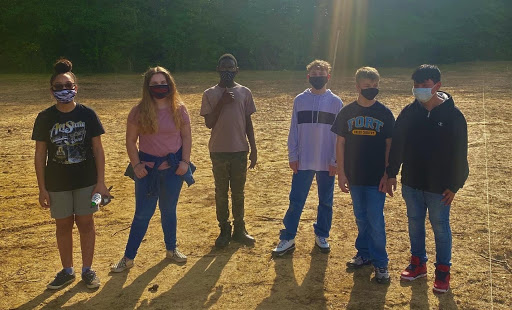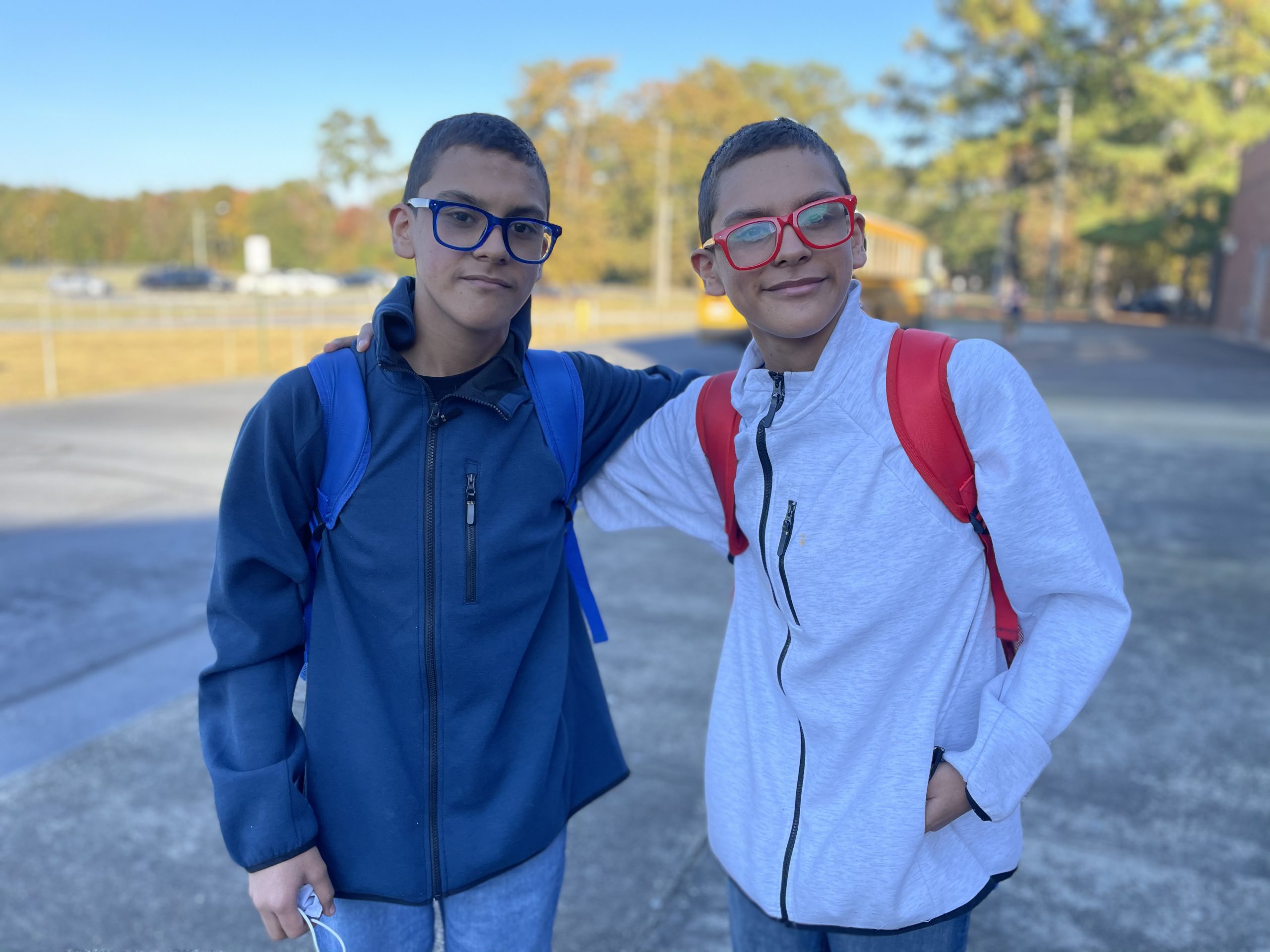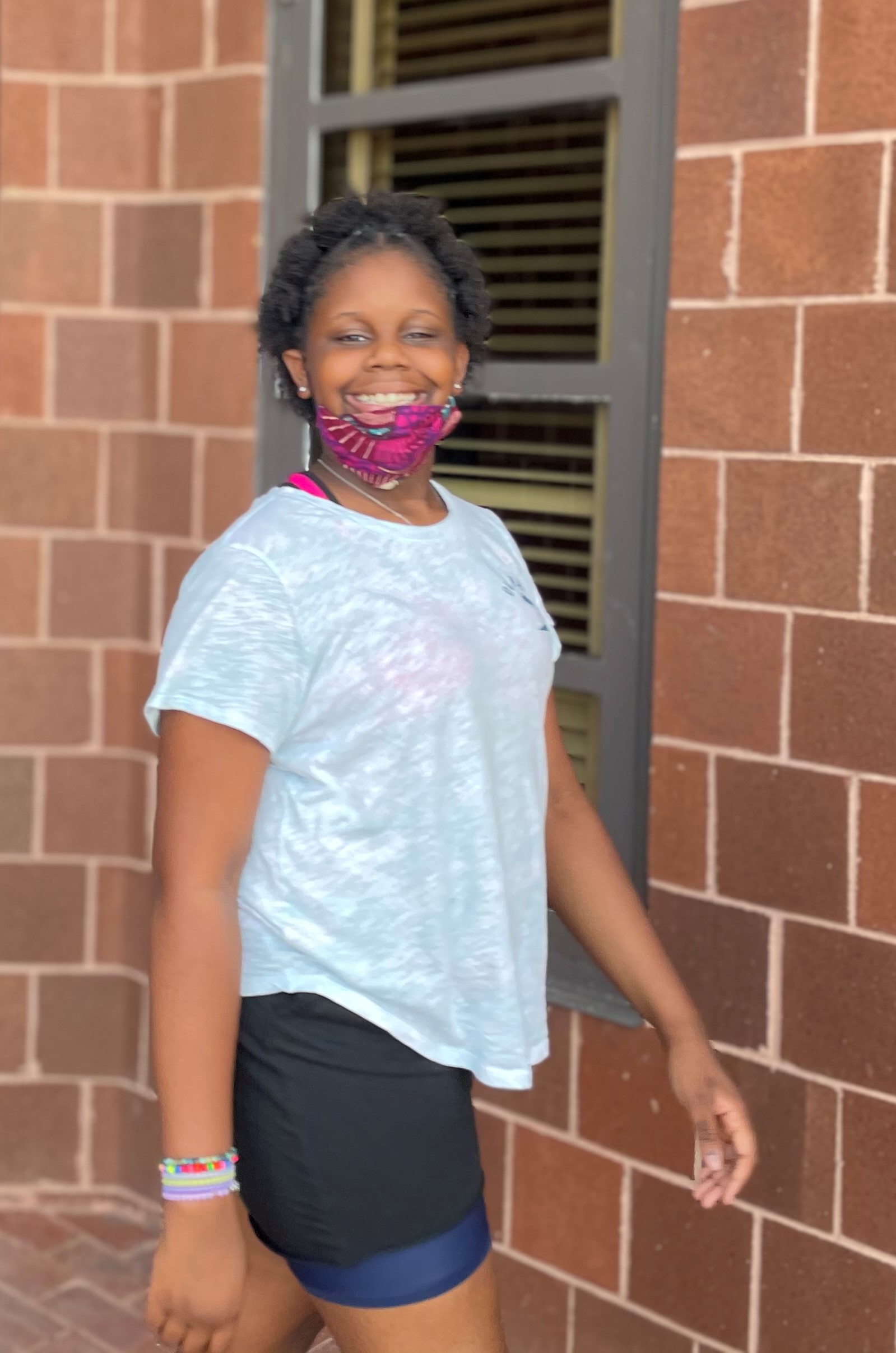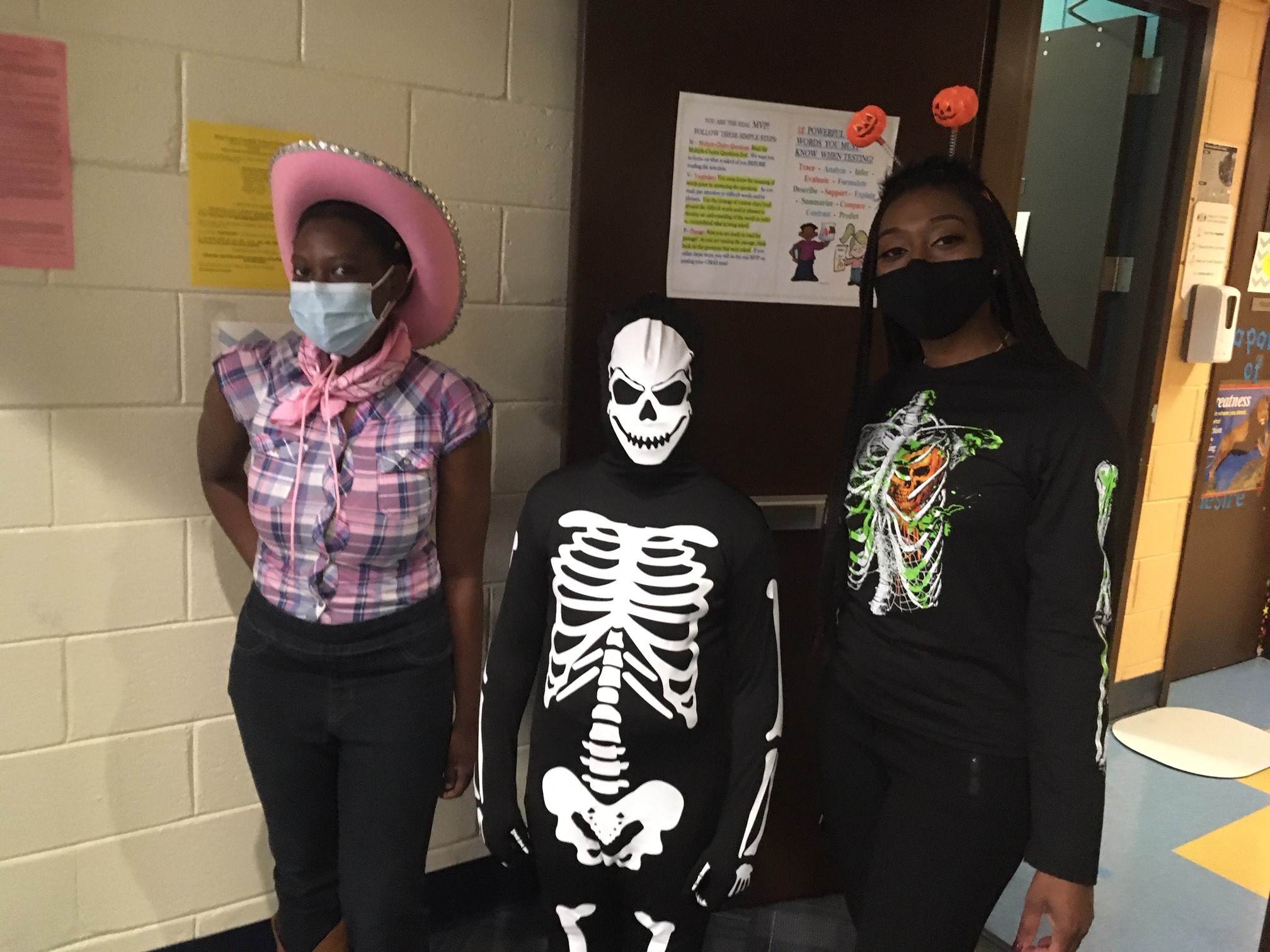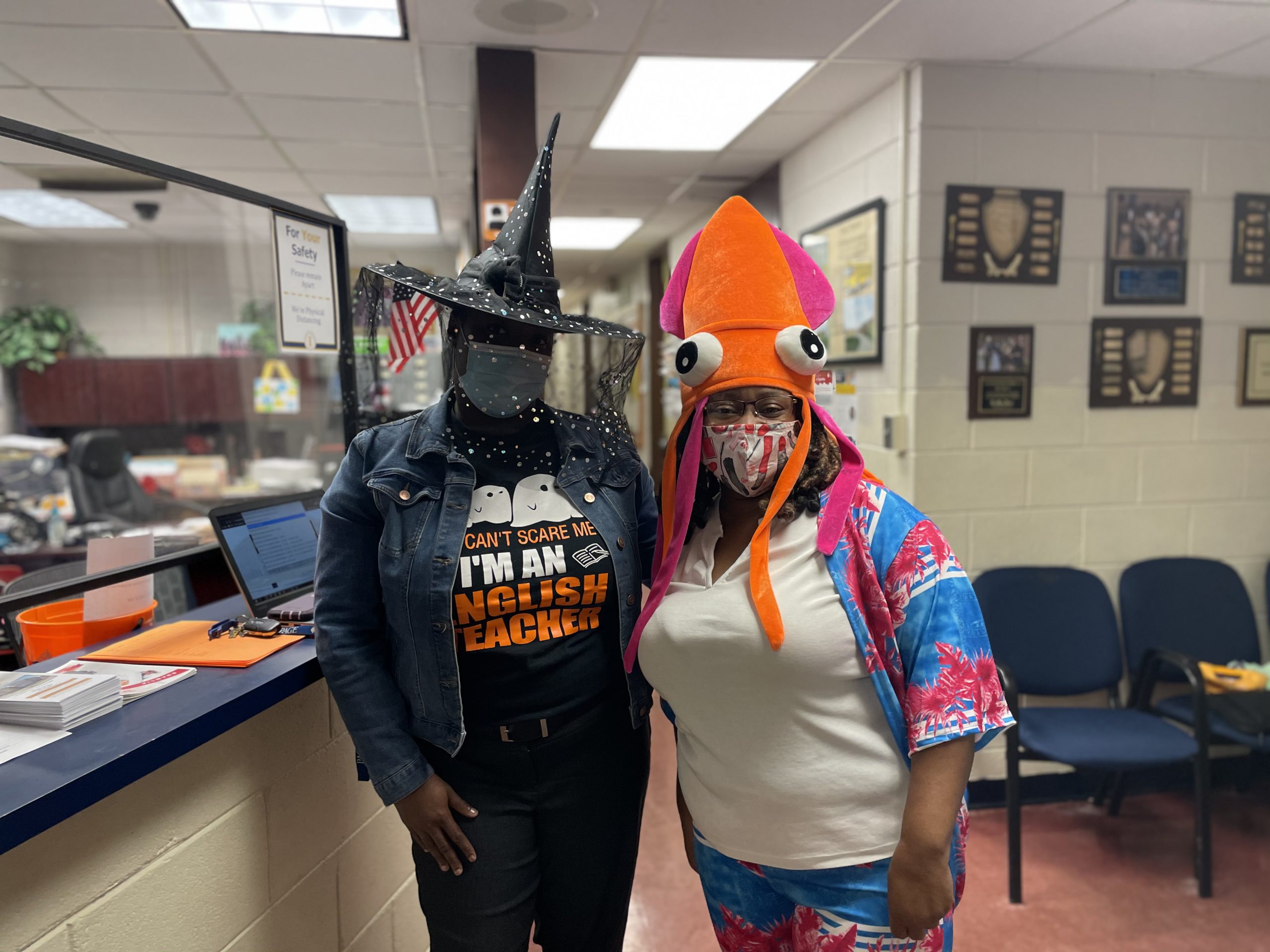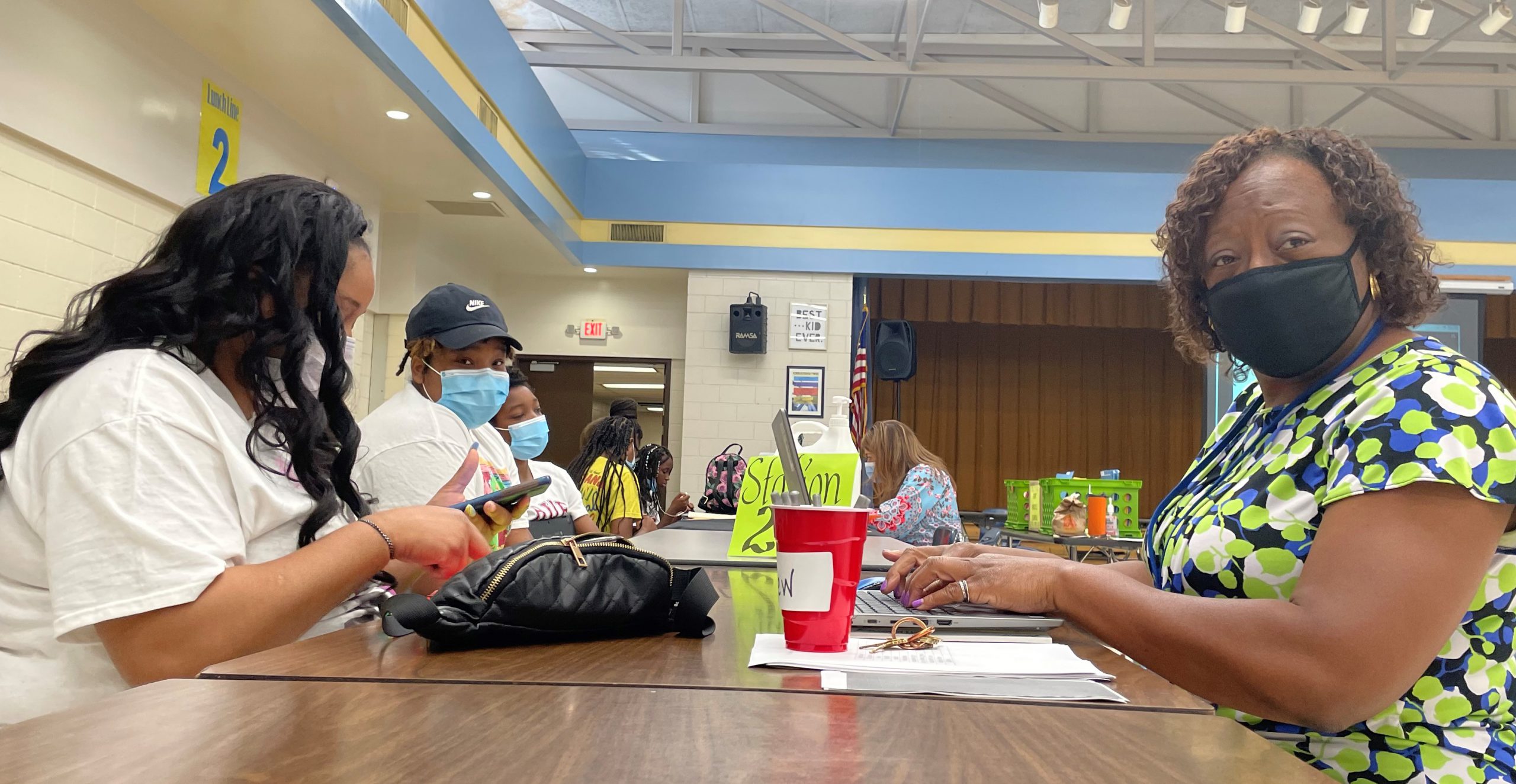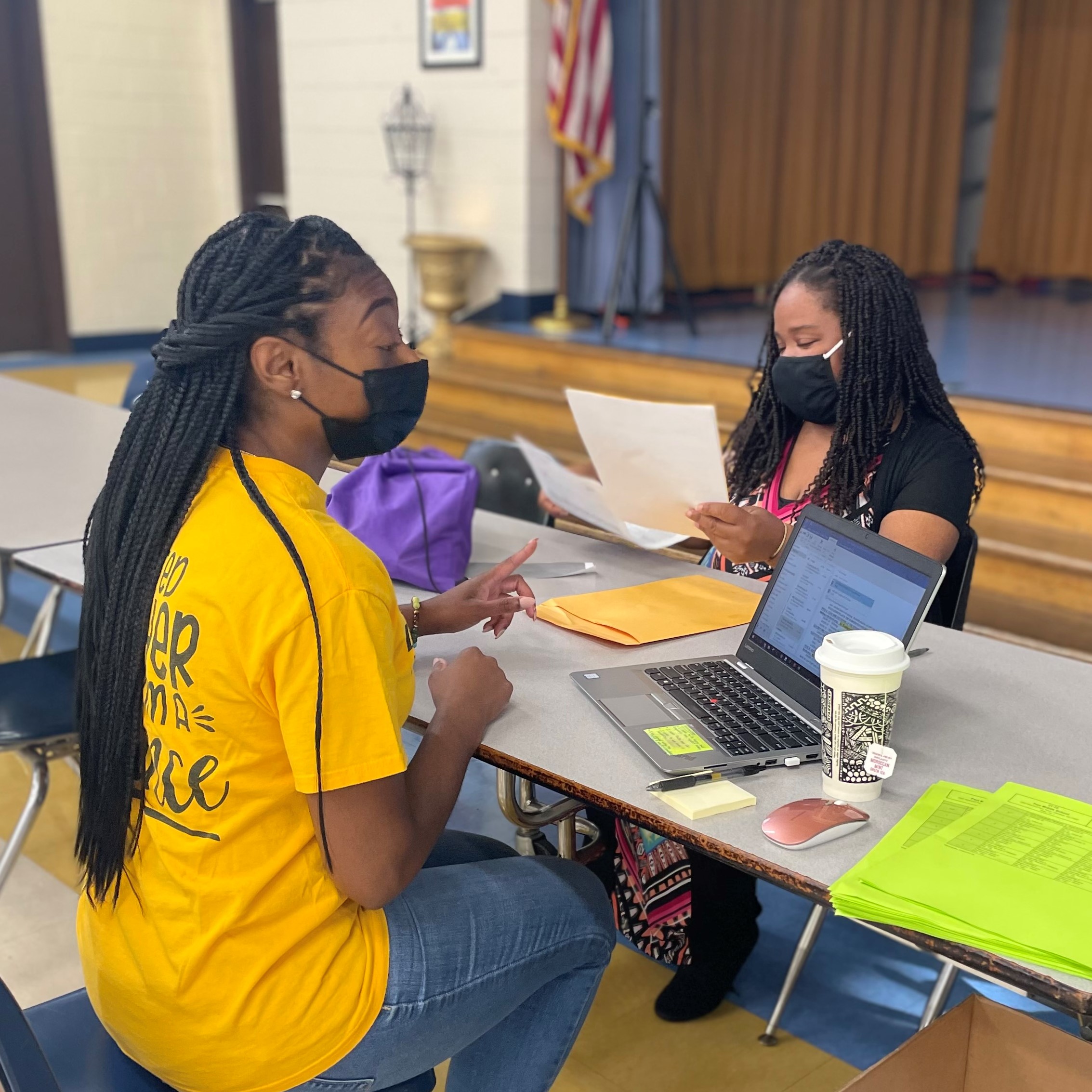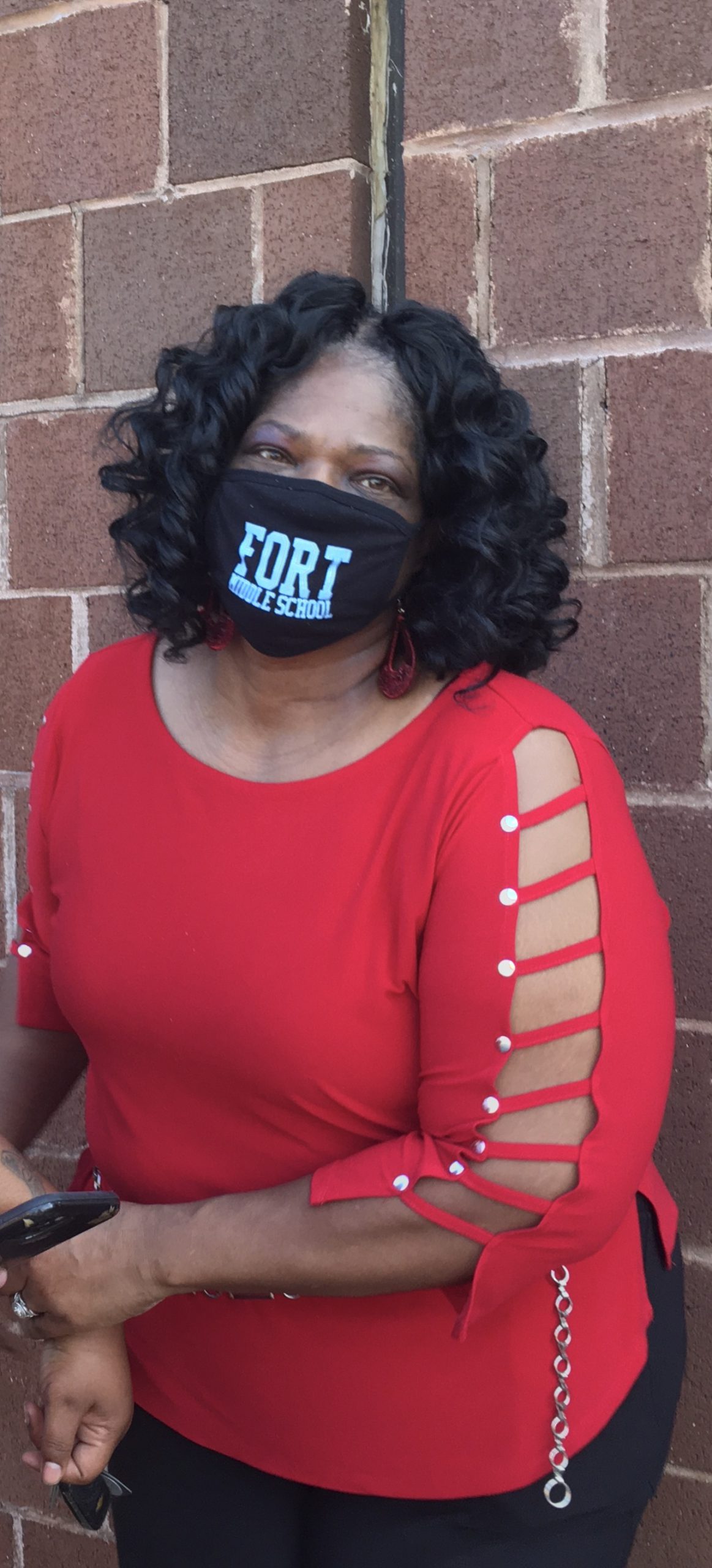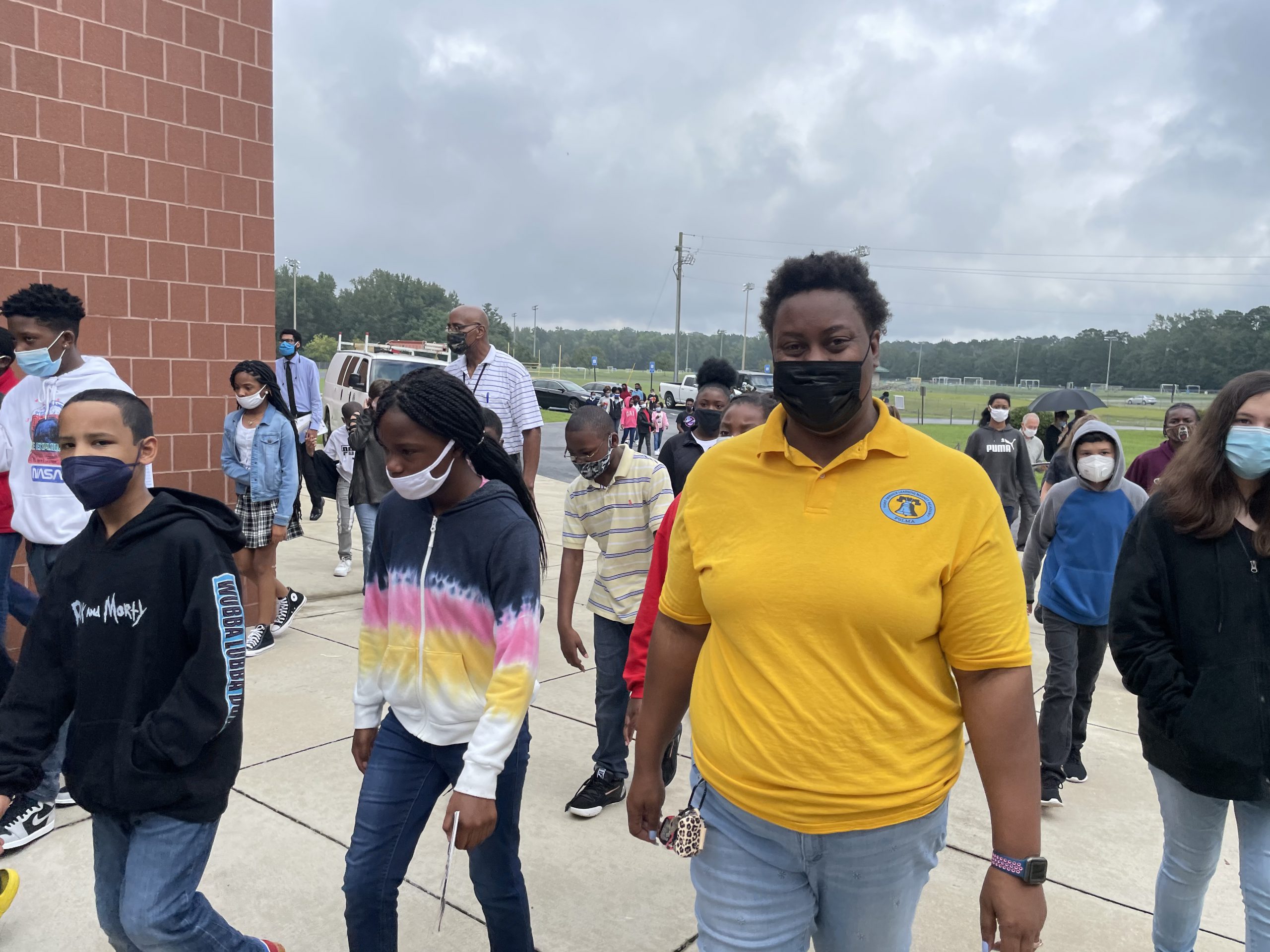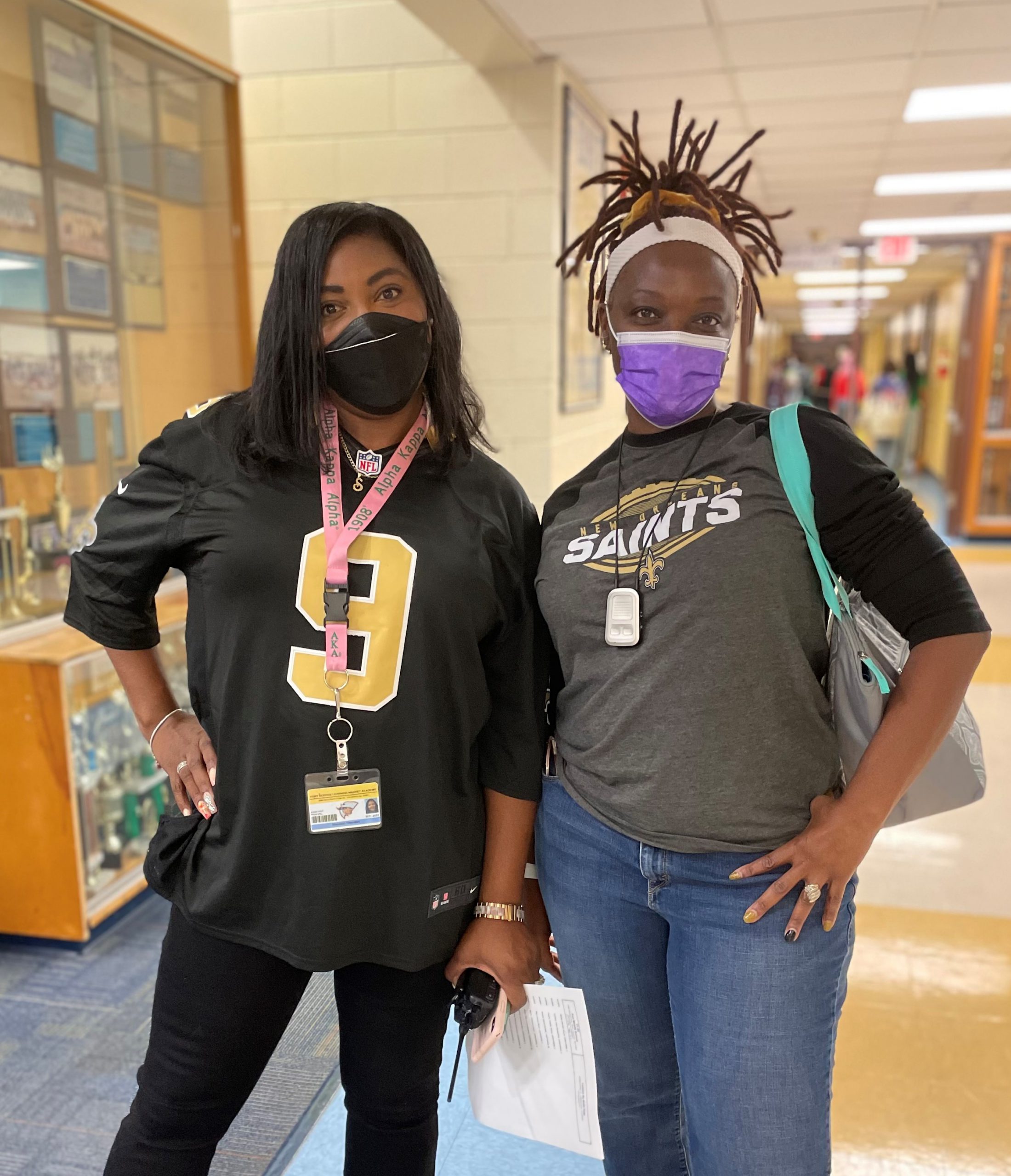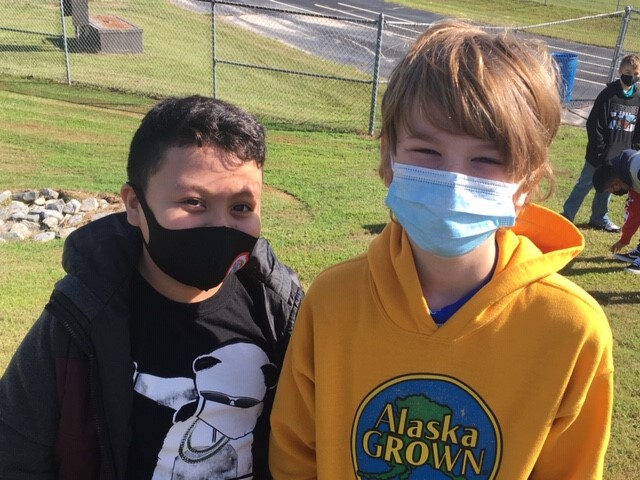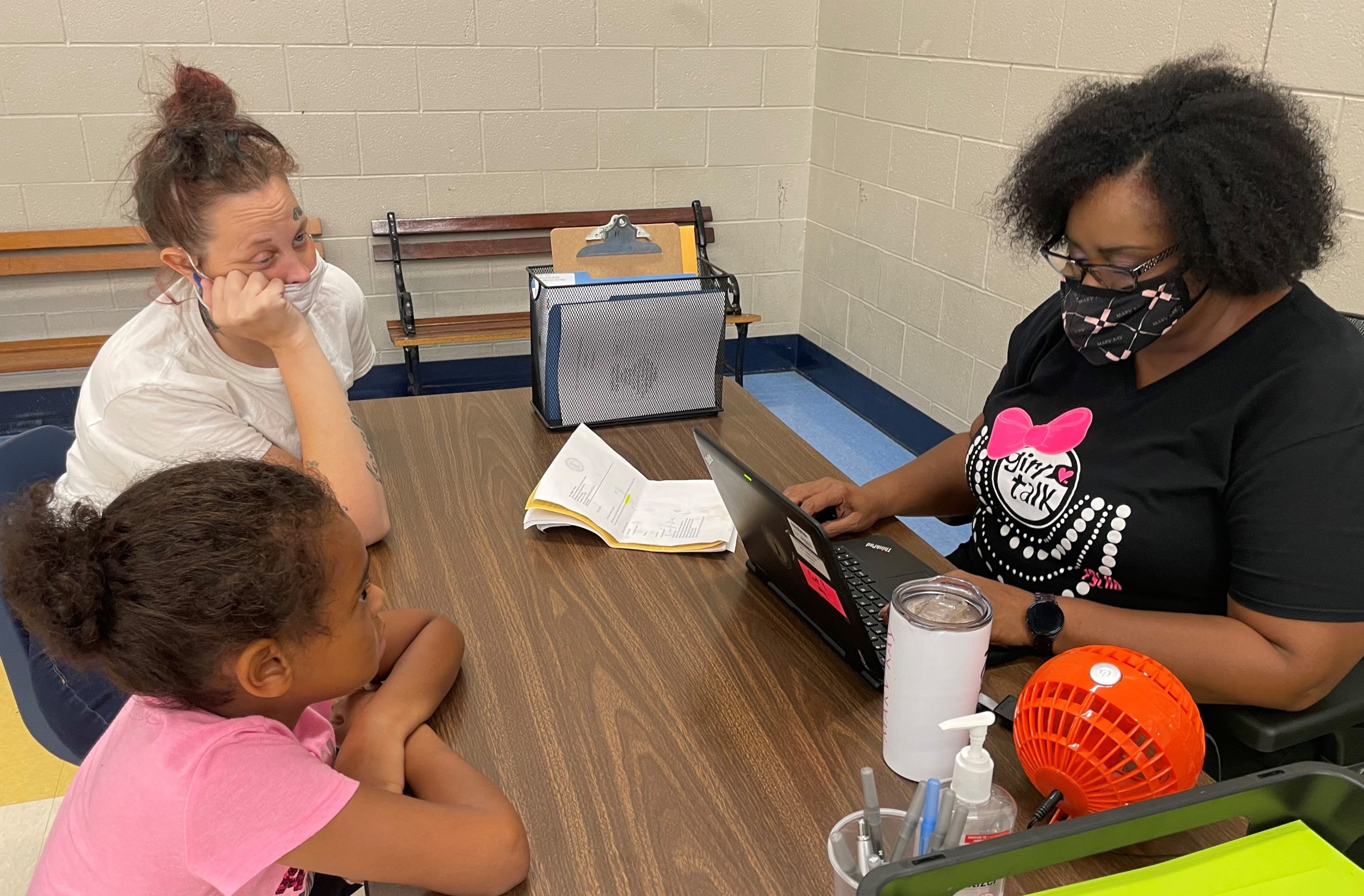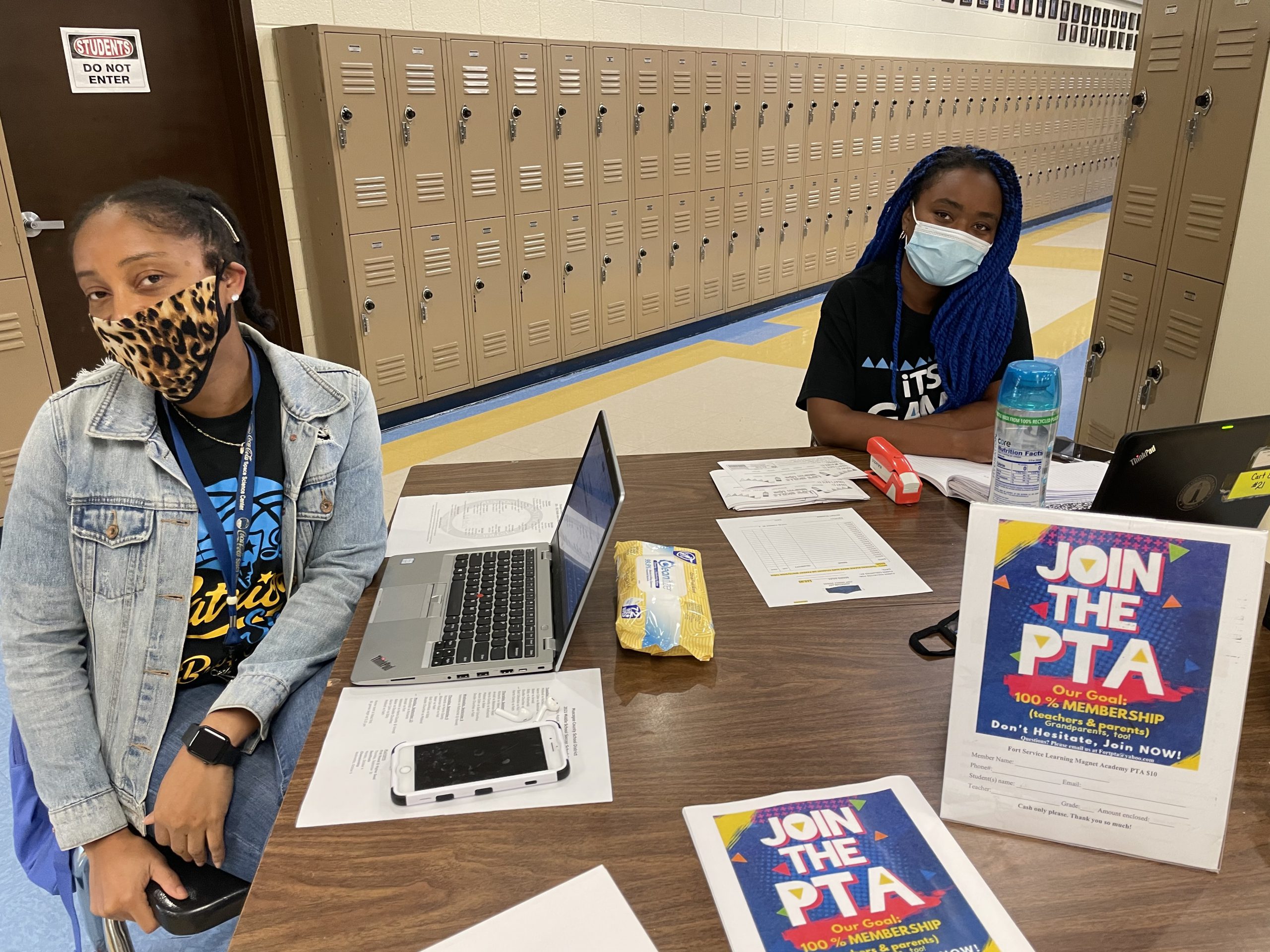 "Fort Middle School, we adore you, we will 'ere be true,
and pledge to you to be loyal,
LOVE you

GOLD

 

and

BLUE

!"