Proud Patriot Faculty and Staff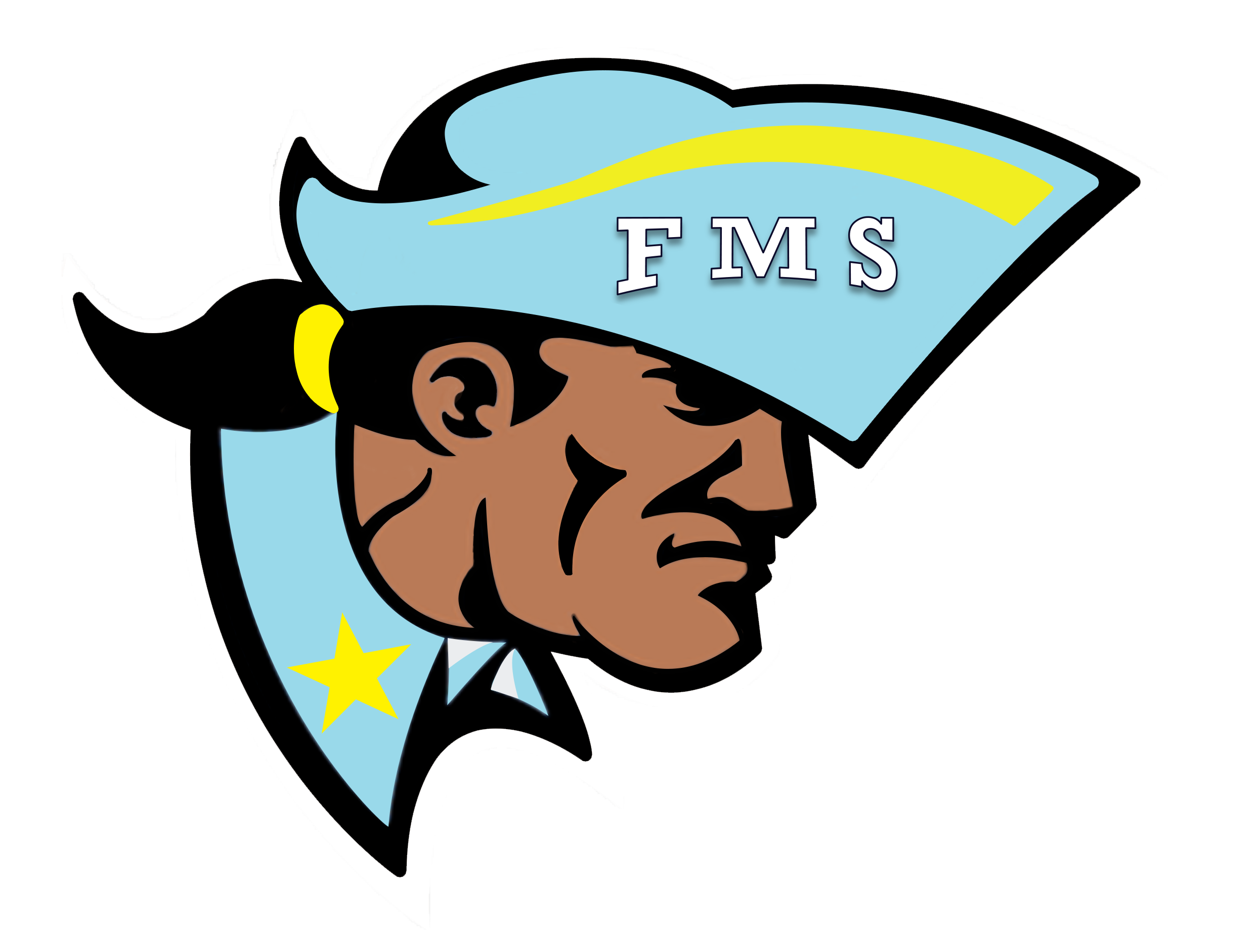 School Testing Coordinator, Ms. Boykin, smiling as always during morning duty 🙂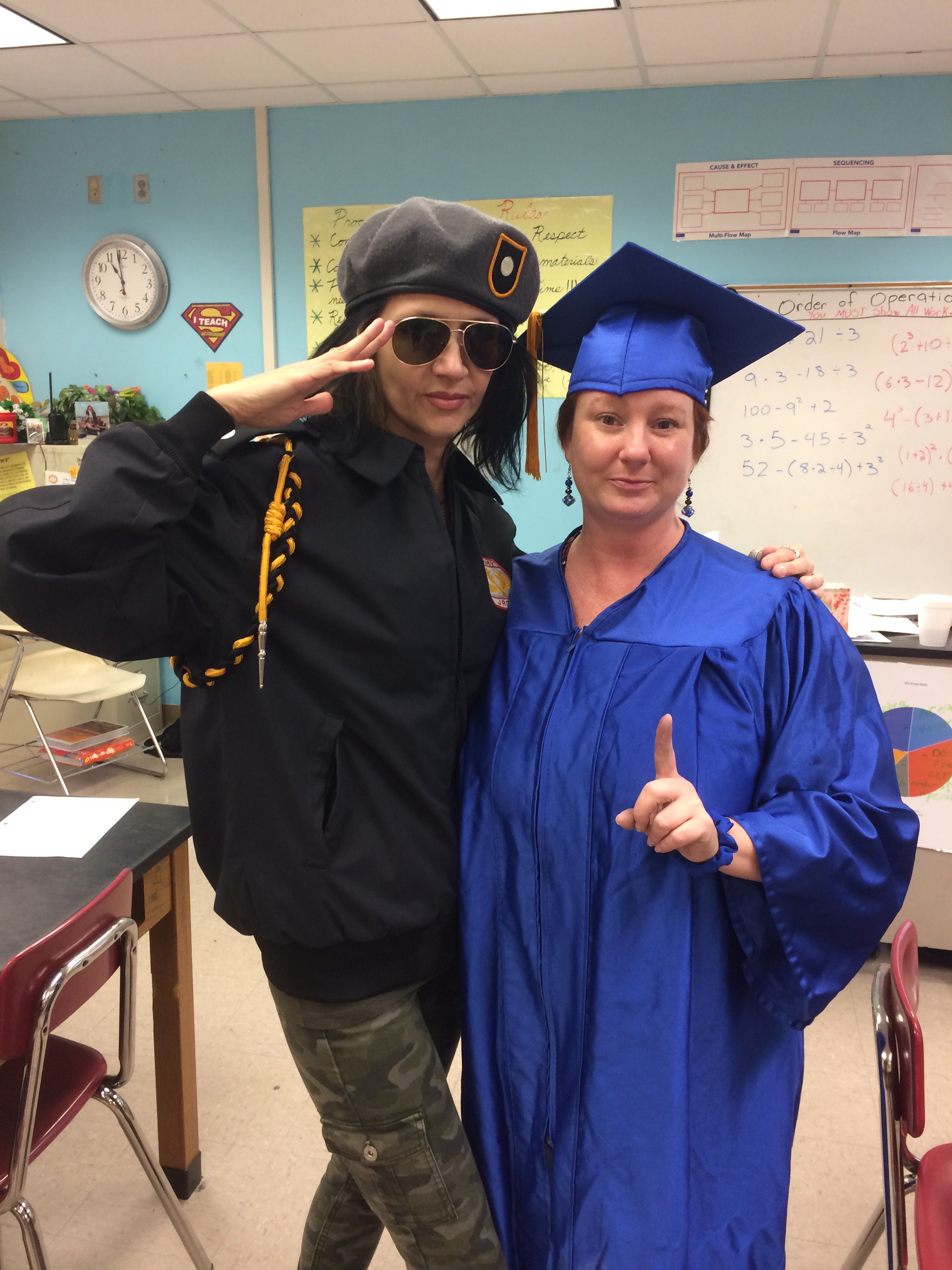 Jody Russell and Star Smith are proud to be Patriots on Halloween!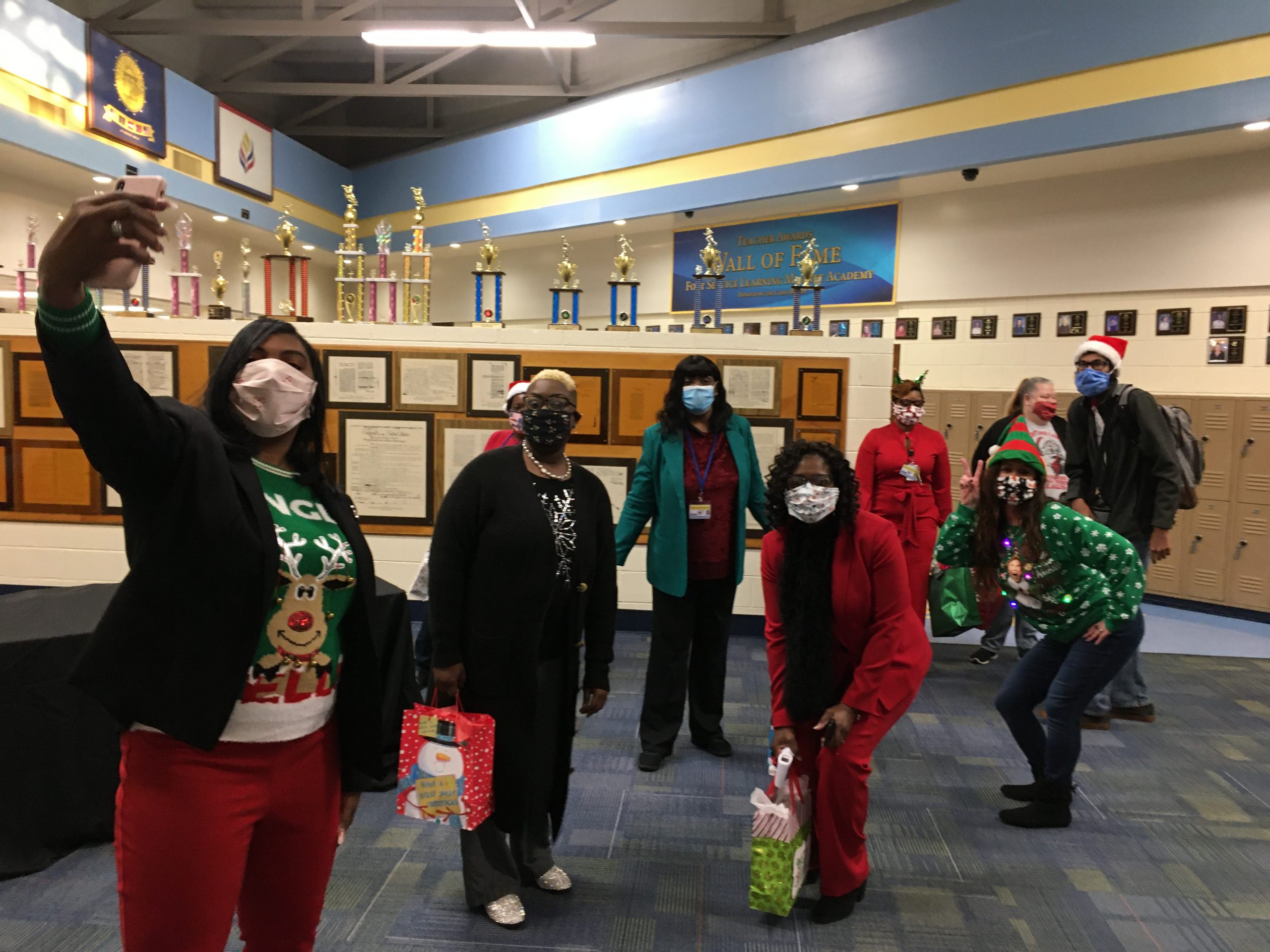 Mrs. Thornton takes a "groupie" during the teacher Secret Santa gift exchange, December 18, 2020.
The Learning Specialist Department thoroughly enjoyed Fort's birthday celebration of Dr. Seuss!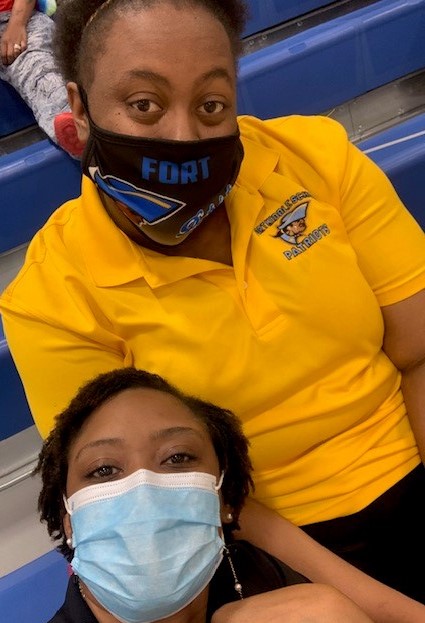 Mrs. Brooks and Mrs. Jones are not only Patriot teachers but also Patriots fans!
Ms. Sales, Washington and Williams love FSLMA pep rallies!!!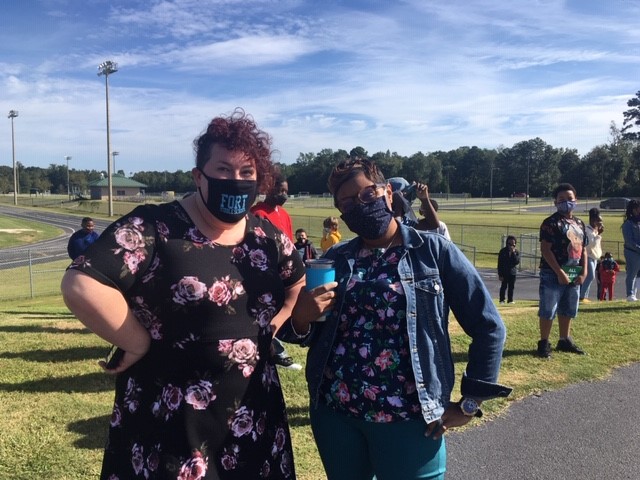 Mrs. Allen and Mrs. Buckner-Brown know how to have fun during a fire drill 🙂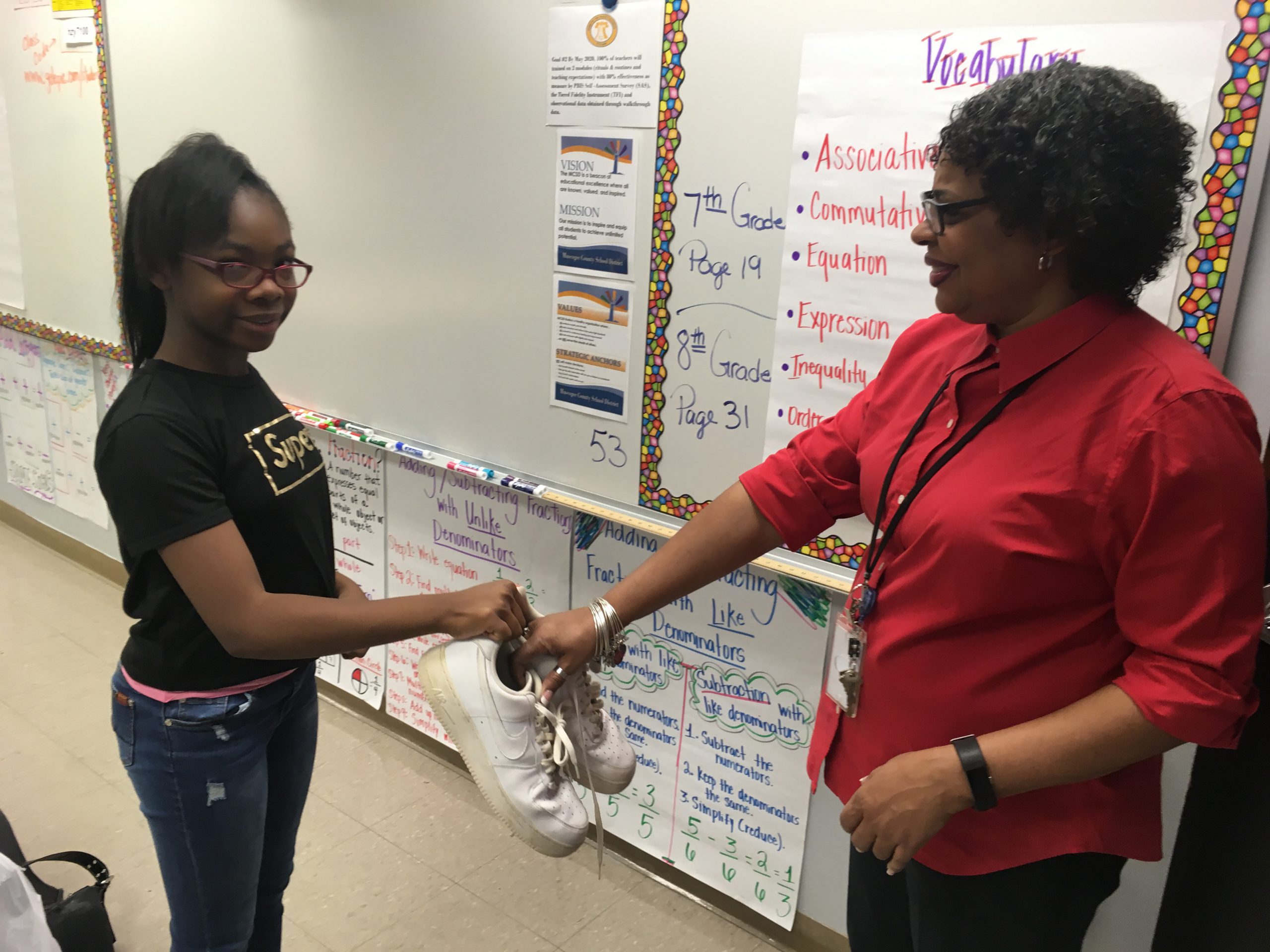 Magnet Coordinator, Ms. Elizabeth Bryan, glady accepts a shoe donation for FSLMA's annual shoe drive!
Administrators Mrs. Merritt and Mrs. Thornton know how to "put a cap on drugs" during Red Ribbon Week!
Ms. Simonton and Ms. Allen look forward to Black History Month and "Dashiki Day" all year long!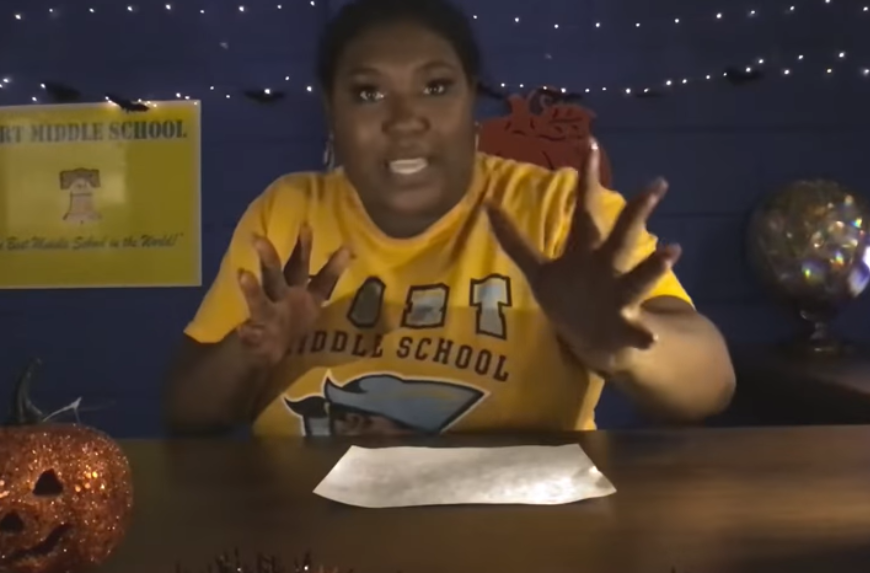 Eighth grade Georgia Studies teacher, Yasmine Myers, definitely knows how to entertain the FSLMA student body on Patriot TV!
Fort Middle School
| Full Name | Job Title | Email | EmployeeID | FirstName | MN | LastName | Location | Division | DivisionDescription | Department | DepartmentDescription | Phone | VoIP | Rank |
| --- | --- | --- | --- | --- | --- | --- | --- | --- | --- | --- | --- | --- | --- | --- |
| Marjorie R Barker-Jackson | MIDDLE SCHOOL TEACHER TITLE I | Barker-Jackson.Marjorie.R@muscogee.k12.ga.us | E000179 | Marjorie | R | Barker-Jackson | | DOA | ACADEMIC DIVISION | TLI | TITLE I | 7065693740 | | 0,00 |
| Brenda Hart | | Hart.Brenda@muscogee.k12.ga.us | E015507 | Brenda | | Hart | | DOA | ACADEMIC DIVISION | SEC | SECONDARY EDUCATION | 7065693740 | | 0,00 |
| Erika H Screws | MS MEDIA SPECIALIST | Screws.Erika.H@muscogee.k12.ga.us | E020708 | Erika | H | Screws | | DOA | ACADEMIC DIVISION | MID | MIDDLE EDUCATION | 7065693740 | | 0,00 |
| Esperanza L Hood | MS TEACHER SCIENCE | Hood.Esperanza.L@muscogee.k12.ga.us | E022324 | Esperanza | L | Hood | | DOA | ACADEMIC DIVISION | MID | MIDDLE EDUCATION | 7065693740 | | 0,00 |
| Christine Davis | REGULAR CUSTODIAN | Davis.Christine@muscogee.k12.ga.us | E023073 | Christine | | Davis | | DFO | FACILITIES & OPERATIONS DIV | PLS | PLANT SERVICES | 7065693740 | | 0,00 |
| Jennifer M Smith-Wood | MS TEACHER ENGLISH | Smith-Wood.Jennifer.M@muscogee.k12.ga.us | E024522 | Jennifer | M | Smith-Wood | | DOA | ACADEMIC DIVISION | MID | MIDDLE EDUCATION | 7065693740 | | 0,00 |
| Barbara Jean Tolbert | MIDDLE SCHOOL TEACHER TITLE I | Tolbert.Barbara.J@muscogee.k12.ga.us | E025164 | Barbara | Jean | Tolbert | | DOA | ACADEMIC DIVISION | TLI | TITLE I | 7065693740 | | 0,00 |
| Renee R Ladner | MS CLERK | Ladner.Renee.R@muscogee.k12.ga.us | E025448 | Renee | R | Ladner | | DOA | ACADEMIC DIVISION | MID | MIDDLE EDUCATION | 7065693740 | | 0,00 |
| Quintin K Pitts | LEAD CUSTODIAN | Pitts.Quintin.K@muscogee.k12.ga.us | E025922 | Quintin | K | Pitts | | DFO | FACILITIES & OPERATIONS DIV | PLS | PLANT SERVICES | 7065693740 | | 0,00 |
| Jacquiette C Jones | MS TEACHER MATHEMATICS | Jones.Jacquiette.C@muscogee.k12.ga.us | E026412 | Jacquiette | C | Jones | | DOA | ACADEMIC DIVISION | MID | MIDDLE EDUCATION | 7065693740 | | 0,00 |
| Faith R Schoenherr | MS TEACHER ART | Schoenherr.Faith.R@muscogee.k12.ga.us | E026605 | Faith | R | Schoenherr | | DOA | ACADEMIC DIVISION | ART | ARTS AND HUMANITIES | 7065693740 | | 0,00 |
| Mary A Myers | MS COUNSELOR | Myers.Mary.A@muscogee.k12.ga.us | E026994 | Mary | A | Myers | | DOA | ACADEMIC DIVISION | MID | MIDDLE EDUCATION | 7065693740 | | 0,00 |
| Riann S Smith | MS TEACHER SCIENCE | Smith.Riann.S@muscogee.k12.ga.us | E028638 | Riann | S | Smith | | DOA | ACADEMIC DIVISION | MID | MIDDLE EDUCATION | 7065693740 | | 0,00 |
| Brenda M Merritt | MS PRINCIPAL | Merritt.Brenda.M@muscogee.k12.ga.us | E028846 | Brenda | M | Merritt | | DOA | ACADEMIC DIVISION | MID | MIDDLE EDUCATION | 7065693740 | | 0,00 |
| Mary L McBride | SNP CULINARY TECH 6 HR | McBride.Mary.L@muscogee.k12.ga.us | E029607 | Mary | L | McBride | | DFO | FACILITIES & OPERATIONS DIV | SNP | SCHOOL NUTRITION | 7065693740 | | 0,00 |
| Madeline Boykin | MS SECONDARY DEAN | Boykin.Madeline.W@muscogee.k12.ga.us | E029650 | Madeline | | Boykin | | DOA | ACADEMIC DIVISION | MID | MIDDLE EDUCATION | 7065693740 | | 0,00 |
| Alexis M Ford | MS PARAPRO SPECIAL EDUCATION | Ford.Alexis.M@muscogee.k12.ga.us | E030456 | Alexis | M | Ford | | DSS | STUDENT SERVICES DIVISION | SPD | EXCEPTIONAL STUDENTS | 7065693740 | | 0,00 |
| Glory J Richards-Lewis | MS TEACHER MATHEMATICS | Richards-lewis.Glory.J@muscogee.k12.ga.us | E030495 | Glory | J | Richards-Lewis | | DOA | ACADEMIC DIVISION | MID | MIDDLE EDUCATION | 7065693740 | | 0,00 |
| Darrell Dwayne Bryant | MS TEACHER PHYSICAL EDUCATION | Bryant.Darrell.D@muscogee.k12.ga.us | E031769 | Darrell | Dwayne | Bryant | | DOA | ACADEMIC DIVISION | MID | MIDDLE EDUCATION | 7065693740 | | 0,00 |
| Crystal E Simonton | MS TEACHER DRAMA | Simonton.Crystal.E@muscogee.k12.ga.us | E032999 | Crystal | E | Simonton | | DOA | ACADEMIC DIVISION | ART | ARTS AND HUMANITIES | 7065693740 | | 0,00 |
| Monique L Gill | SCHOOL SECRETARY | Gill.Monique.L@muscogee.k12.ga.us | E033248 | Monique | L | Gill | | DOA | ACADEMIC DIVISION | MID | MIDDLE EDUCATION | 7065693740 | | 0,00 |
| Tonya R Rembert | MS TEACHER MATHEMATICS | Rembert.Tonya.R@muscogee.k12.ga.us | E033572 | Tonya | R | Rembert | | DOA | ACADEMIC DIVISION | MID | MIDDLE EDUCATION | 7065693740 | | 0,00 |
| Philmore Hollis | REGULAR CUSTODIAN | Hollis.Philmore@muscogee.k12.ga.us | E033806 | Philmore | | Hollis | | DFO | FACILITIES & OPERATIONS DIV | PLS | PLANT SERVICES | 7065693740 | | 0,00 |
| Shenikki L Thornton | MS ASSISTANT PRINCIPAL | Thornton.Shenikki.L@muscogee.k12.ga.us | E033954 | Shenikki | L | Thornton | | DOA | ACADEMIC DIVISION | MID | MIDDLE EDUCATION | 7065693740 | | 0,00 |
| Nartasha Yvonne Davis | MS TEACHER INTER-RELATED | Davis.Nartasha.Y@muscogee.k12.ga.us | E034140 | Nartasha | Yvonne | Davis | | DSS | STUDENT SERVICES DIVISION | SPD | EXCEPTIONAL STUDENTS | 7065693740 | | 0,00 |
| Angel Washington | MS TEACHER MARKETING | Washington.Angel@muscogee.k12.ga.us | E040634 | Angel | | Washington | | DOA | ACADEMIC DIVISION | CAR | CAREER TECHNICAL EDUCATION | 7065693740 | | 0,00 |
| Shanakie Ward | MS TEACHER PHYSICAL EDUCATION | Ward.Shanakie@muscogee.k12.ga.us | E041118 | Shanakie | | Ward | | DOA | ACADEMIC DIVISION | MID | MIDDLE EDUCATION | 7065693740 | | 0,00 |
| Rebekah A Kreyling | MS TEACHER INTER-RELATED | Kreyling.Rebekah.A@muscogee.k12.ga.us | E042543 | Rebekah | A | Kreyling | | DSS | STUDENT SERVICES DIVISION | SPD | EXCEPTIONAL STUDENTS | 7065693740 | | 0,00 |
| Lashondra K Upshaw | INSTRUCTIONAL ASSISTANT | Upshaw.Lashondra.K@muscogee.k12.ga.us | E042917 | Lashondra | K | Upshaw | | DOA | ACADEMIC DIVISION | MID | MIDDLE EDUCATION | 7065693740 | | 0,00 |
| Jody A Russell | MS TEACHER MOD INTELL DISAB | Russell.Jody.A@muscogee.k12.ga.us | E043015 | Jody | A | Russell | | DSS | STUDENT SERVICES DIVISION | SPD | EXCEPTIONAL STUDENTS | 7065693740 | | 0,00 |
| Annie R Lee | REGULAR CUSTODIAN | Lee.Annie.R@muscogee.k12.ga.us | E043200 | Annie | R | Lee | | DFO | FACILITIES & OPERATIONS DIV | PLS | PLANT SERVICES | 7065693740 | | 0,00 |
| Shameika Renee Brown | SCHOOL NUTRITION MANAGER | Brown.Shameika@muscogee.k12.ga.us | E043496 | Shameika | Renee | Brown | | DFO | FACILITIES & OPERATIONS DIV | SNP | SCHOOL NUTRITION | 7065693740 | | 0,00 |
| Bonita Yvonne Allen | ISSP TECHNICIAN | Allen.Bonita.Y@muscogee.k12.ga.us | E043543 | Bonita | Yvonne | Allen | | DOA | ACADEMIC DIVISION | MID | MIDDLE EDUCATION | 7065693740 | | 0,00 |
| Sierra Ashley Brooks | MS TEACHER MATHEMATICS | Brooks.Sierra.A@muscogee.k12.ga.us | E043642 | Sierra | Ashley | Brooks | | DOA | ACADEMIC DIVISION | MID | MIDDLE EDUCATION | 7065693740 | | 0,00 |
| Alexis C Wright | MS ACADEMIC COACH | Wright.Alexis.Y@muscogee.k12.ga.us | E043661 | Alexis | C | Wright | | DOA | ACADEMIC DIVISION | TLI | TITLE I | 7065693740 | | 0,00 |
| Angel M Williams | MS TEACHER ENGLISH | Williams.Angel.M@muscogee.k12.ga.us | E043689 | Angel | M | Williams | | DOA | ACADEMIC DIVISION | MID | MIDDLE EDUCATION | 7065693740 | | 0,00 |
| Jasimine Keoisha Harper | SNP CULNRY TECH/CASHR 5.5 HR | Harper.Jasimine.K@muscogee.k12.ga.us | E044185 | Jasimine | Keoisha | Harper | | DFO | FACILITIES & OPERATIONS DIV | SNP | SCHOOL NUTRITION | 7065693740 | | 0,00 |
| Yasmine Nicole Myers | MS TEACHER SOCIAL STUDIES | Myers.Yasmine.N@muscogee.k12.ga.us | E044451 | Yasmine | Nicole | Myers | | DOA | ACADEMIC DIVISION | MID | MIDDLE EDUCATION | 7065693740 | | 0,00 |
| Laquicees Teairra Johnson | MS TEACHER ENGLISH | Johnson.Laquicees.T@muscogee.k12.ga.us | E044506 | Laquicees | Teairra | Johnson | | DOA | ACADEMIC DIVISION | MID | MIDDLE EDUCATION | 7065693740 | | 0,00 |
| Cynthia Marie Spratt | PARAPRO SPECIALIZED PES | Spratt.Cynthia.M@muscogee.k12.ga.us | E044926 | Cynthia | Marie | Spratt | | DSS | STUDENT SERVICES DIVISION | SPD | EXCEPTIONAL STUDENTS | 7065693740 | | 0,00 |
| Timothy Duane Murphy | MS TEACHER SCIENCE | Murphy.Timothy.D@muscogee.k12.ga.us | E045017 | Timothy | Duane | Murphy | | DOA | ACADEMIC DIVISION | MID | MIDDLE EDUCATION | 7065693740 | | 0,00 |
| Hillary Brittany Bay | MS TEACHER ENGLISH | Bay.Hillary.B@muscogee.k12.ga.us | E045409 | Hillary | Brittany | Bay | | DOA | ACADEMIC DIVISION | MID | MIDDLE EDUCATION | 7065693740 | | 0,00 |
| Lanana Renee Buckner-Brown | MS TEACHER INTER-RELATED | Buckner-brown.Lanana.R2@muscogee.k12.ga.us | E045428 | Lanana | Renee | Buckner-Brown | | DSS | STUDENT SERVICES DIVISION | SPD | EXCEPTIONAL STUDENTS | 7065693740 | | 0,00 |
| Thelma Joyce Odom | MS TEACHER INTER-RELATED | Odom.Thelma.J@muscogee.k12.ga.us | E045569 | Thelma | Joyce | Odom | | DSS | STUDENT SERVICES DIVISION | SPD | EXCEPTIONAL STUDENTS | 7065693740 | | 0,00 |
| Michelle Lagrand Gregory | SCHOOL CLINIC WORKER | Gregory.Michelle.L@muscogee.k12.ga.us | E045654 | Michelle | Lagrand | Gregory | | DSS | STUDENT SERVICES DIVISION | HTH | HEALTH | 7065693740 | | 0,00 |
| Latoya Tremaine Mobley | INSTRUCTIONAL ASSISTANT | Mobley.Latoya.T@muscogee.k12.ga.us | E045851 | Latoya | Tremaine | Mobley | | DOA | ACADEMIC DIVISION | MID | MIDDLE EDUCATION | 7065693740 | | 0,00 |
| Debra Marie Currier | MS TEACHER INTER-RELATED | Currier.Debra.M@muscogee.k12.ga.us | E046045 | Debra | Marie | Currier | | DSS | STUDENT SERVICES DIVISION | SPD | EXCEPTIONAL STUDENTS | 7065693740 | | 0,00 |
| Niakeele Lasherree White | MS TEACHER SCIENCE | White.Niakeele.L@muscogee.k12.ga.us | E046108 | Niakeele | Lasherree | White | | DOA | ACADEMIC DIVISION | MID | MIDDLE EDUCATION | 7065693740 | | 0,00 |
| April Renee Allen | MS TEACHER SOCIAL STUDIES | Allen.April.R@muscogee.k12.ga.us | E046109 | April | Renee | Allen | | DOA | ACADEMIC DIVISION | MID | MIDDLE EDUCATION | 7065693740 | | 0,00 |
| Julia Blake Abner | MS TEACHER INTER-RELATED | Abner.Julia.B@muscogee.k12.ga.us | E046185 | Julia | Blake | Abner | | DSS | STUDENT SERVICES DIVISION | SPD | EXCEPTIONAL STUDENTS | 7065693740 | | 0,00 |
| Billysha Tonay Sales | PARAPRO SPECIALIZED PES | Sales.Billysha@muscogee.k12.ga.us | E046248 | Billysha | Tonay | Sales | | DSS | STUDENT SERVICES DIVISION | SPD | EXCEPTIONAL STUDENTS | 7065693740 | | 0,00 |
| Morgan Taylor Bush | MS TEACHER SOCIAL STUDIES | Bush.Morgan.T@muscogee.k12.ga.us | E046705 | Morgan | Taylor | Bush | | DOA | ACADEMIC DIVISION | MID | MIDDLE EDUCATION | 7065693740 | | 0,00 |
| Gaylon Wayne Williams | MS TEACHER MATHEMATICS | Williams.Gaylon.W@muscogee.k12.ga.us | E046719 | Gaylon | Wayne | Williams | | DOA | ACADEMIC DIVISION | MID | MIDDLE EDUCATION | 7065693740 | | 0,00 |
| Yania Nerissa Myers | MS TEACHER SPANISH | Myers.Yania.N@muscogee.k12.ga.us | E046753 | Yania | Nerissa | Myers | | DOA | ACADEMIC DIVISION | MID | MIDDLE EDUCATION | 7065693740 | | 0,00 |
| Sukina Swan Boynton | MS COUNSELOR | Boynton.Sukina.S@muscogee.k12.ga.us | E047036 | Sukina | Swan | Boynton | | DOA | ACADEMIC DIVISION | MID | MIDDLE EDUCATION | 7065693740 | | 0,00 |
| Aletha Kimbrough Carter | INSTRUCTIONAL ASSISTANT | Kimbrough.Carter.Aletha@muscogee.k12.ga.us | E047201 | Aletha | | Kimbrough Carter | | DOA | ACADEMIC DIVISION | MID | MIDDLE EDUCATION | 7065693740 | | 0,00 |
| Carolyn Amanda Barber | MS TEACHER MATHEMATICS | Barber.Carolyn.A@muscogee.k12.ga.us | E047215 | Carolyn | Amanda | Barber | | DOA | ACADEMIC DIVISION | MID | MIDDLE EDUCATION | 7065693740 | | 0,00 |
| Dekeisha Vereen Johnson | MS TEACHER CHORUS | Johnson.Dekeisha.V@muscogee.k12.ga.us | E047273 | Dekeisha | Vereen | Johnson | | DOA | ACADEMIC DIVISION | ART | ARTS AND HUMANITIES | 7065693740 | | 0,00 |
| Maresia Agnes Scott | SNP CULNRY TECH/CASHR 6 HR | Scott.Maresia.A@muscogee.k12.ga.us | E047492 | Maresia | Agnes | Scott | | DFO | FACILITIES & OPERATIONS DIV | SNP | SCHOOL NUTRITION | 7065693740 | | 0,00 |
| Tyrique Daquan Williams | MS TEACHER INTER-RELATED | Williams.Tyrique.D@muscogee.k12.ga.us | E047537 | Tyrique | Daquan | Williams | | DSS | STUDENT SERVICES DIVISION | SPD | EXCEPTIONAL STUDENTS | 7065693740 | | 0,00 |
| Fonda Gail Luttrell | PARAPRO TITLE I PARENT | Luttrell.Fonda.G@muscogee.k12.ga.us | E047588 | Fonda | Gail | Luttrell | | DOA | ACADEMIC DIVISION | TLI | TITLE I | 7065693740 | | 0,00 |
| Dwayne Hill | REGULAR CUSTODIAN | Hill.Dwayne@muscogee.k12.ga.us | E047608 | Dwayne | | Hill | | DFO | FACILITIES & OPERATIONS DIV | PLS | PLANT SERVICES | 7065693740 | | 0,00 |
| Lawanda Kemp Jenkins | INSTRUCTIONAL ASSISTANT | Jenkins.Lawanda.K@muscogee.k12.ga.us | E047665 | Lawanda | Kemp | Jenkins | | DOA | ACADEMIC DIVISION | MID | MIDDLE EDUCATION | 7065693740 | | 0,00 |