Welcome to Fort Service Learning Magnet Academy: The Best Middle School in World!
The Fort Family Stays on the Bus and Reaches Out to the Community!  Congratulations to Mr. Otis Lofton, our new Assistant Principal!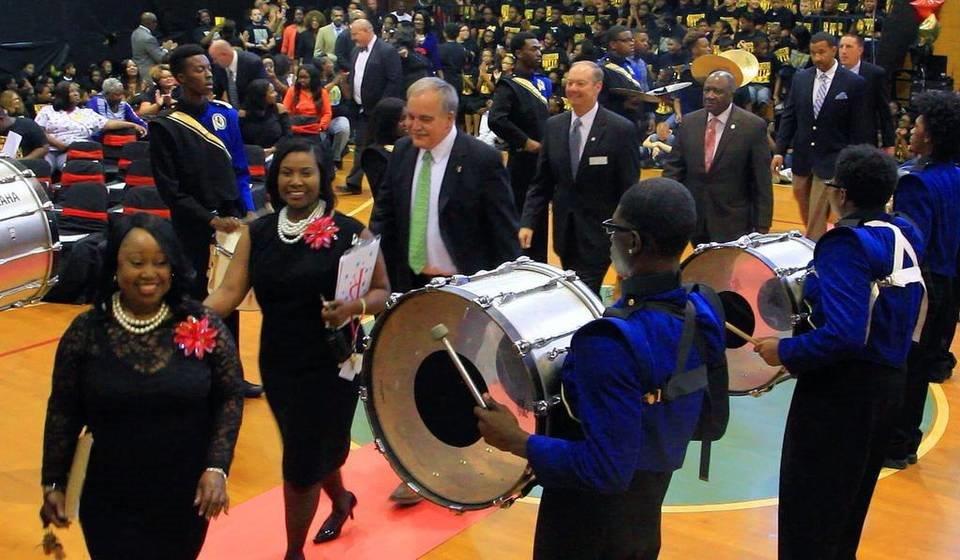 Congratulations, Fort Service Learning Magnet Academy!  We are a "Georgia Family-Friendly School!"
We are "The Best Middle School in the World!"
Congratulations to the Class of 2017!
The Amazing Faculty & Staff: Mrs. Sonja Coaxum, Proud Principal
Future Stars Football Game tryout in Cobb County, Georgia was Class of 2023 TE/DE Cortez West. For his stellar performance, West was named the 6th grade MVP.  Way to go, Cortez!
Mrs. Vanessa Ellis is the 2017 Georgia Economics Teacher of the Year, selected by the Georgia Council on Economic Education. Mrs. Ellis gladly takes the extra time to help her students understand the content, which is one of the reasons why her students like her and learn from her. Congratulations, Mrs. Ellis!
Dear Students,
Welcome to Fort Middle School!  I hope that you will have an exciting, productive and rewarding school year.  Our faculty and staff greatly value the contributions that you will make to our wonderful middle school.
I am so proud to be your principal. I consider myself to be extremely fortunate to have the honor and privilege of serving as your educational leader. Everyone has worked hard to create an environment that nurtures, enhances, protects and supports you; as you develop into smart, intelligent, well rounded, servant leaders of our growing community.
In addition to striving for academic excellence it is very important to become involved in our school by participating in clubs, fine arts, sports and other extracurricular activities. I wish for each and every one of you great success as you begin or continue your journey here at Fort Middle School, "The Best Middle School in the World!"
Mrs. Sonja L. Coaxum