OLR and Summer School Registration
Dear Parents and Students of William Henry Spencer High School, 
This is a reminder to complete yearly MCSD online registration process for the next school year (2021-2022).  You will be able to upload copies of your required documents (lease/mortgage and current utility bill). 
The OLR is also the tool that parents and families use to register their children for Summer School.  Please check your child's grades on the parent portal.  If they are currently not passing a course that is required for graduation, they are required to take it in Summer School in order to earn credit for this year. An SAT/ACT prep boot camp will also be offered. 
The dates for the Summer Program are June 6 – 30, 2022.  Breakfast and lunch will be provided.  Bus transportation will not be provided.  Virtual Summer School is not an option. 
Please complete the OLR and register for Summer School in the OLR platform no later than Monday, April 25, 2022, at 12:00 PM. 
Please click the link provided to complete MCSD's OLR:
https://muscogee.k12.ga.us/c/Divisions/StudentServices/StudentRegistration/OnlineRegistration
If you need assistance completing the OLR or uploading documents, call (or stop by) the school to schedule an appointment for this week.  We are available Monday – Friday 8:30 AM – 12 PM. 
You may also email Mrs. Tammie Jacobs with any questions:
jacobs.tammie.t@muscogee.k12.ga.us
Kind Regards, 
The Registration Team
Parent Meeting in English complete

First Saturday December
For January MCSD 2022 flyer

Annual Title I Parent Meeting & Virtual Open House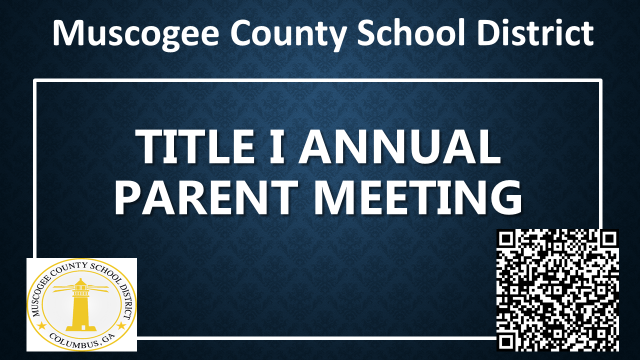 Saturday School Flyer
Parent and Family Engagement
2020-2021 Title I Annual Parent Survey

District Parent and Family Engagement Policy Review Flyer 2021
Title I Parent Workshop – The Great Kindness Challenge
Thank you participating in the Great Kindness Challenge!
As you know, your feedback is essential to help provide an even better experience for the next challenge.
Thank you for taking the time to fill in this questionnaire (the link for the questionnaire is listed below). Typically, it takes less than two (2) minutes to complete.
If you have any questions, please do hesitate to contact me at black.lajuene.a@muscogee.k12.ga.us.
https://docs.google.com/forms/d/e/1FAIpQLSdODTjTsZjlom91ErzINP_MYLegE0T37RDhUUuWhK_jGysBxg/viewform?usp=sf_link
Title I Academic Parent Workshop #1
Welcome to the Title I Parent Workshop! Click below to view the presentation!
Wrap-around Services Newsletter
Wraparound Services Newsletter
Please click HERE to access the latest edition of the CF RESA Wraparound Services Newsletter.
Superintendent's Letter to Parents about GMAS
Attendance and Withdrawal Guidelines
Infinite Campus Parent Portal Activation Instructions
Parent Portal Activation Email
Parents of students enrolled in Muscogee County School District have access to class schedules,
attendance records, grades and online registration verification through the Infinite Campus
Parent Portal from any device with internet access. The Parent Portal is an easy to use, secure
communications tool.
Access to the Infinite Campus Parent Portal will also allow for Online Registration (OLR) for the
upcoming school year. Online Registration will be used as the tool for Verification Day. Parents
will be able to verify household information, update student information for each currently
enrolled student, upload yearly proofs of address requirements, authorized pickup information,
and confirm student health information.
Ensure you have access to your student's report card, schedule, attendance, and assignment
scores and demographic information by activating your Infinite Campus Parent Portal Account.
You will simply need to complete the following steps:
1. Click on the link below to create your account.
https://campus.muscogee.k12.ga.us/campus//uniquelink/YQQ9Y3XSVSJUNWHM?appName=muscogee
2. Enter the desired username and password.
You may receive similar email messages for each of your students. You only need to complete
this process using the activation link for one of your students. Completing the process one time
will allow you access to student information for all of your students with a single account.
The username and password you select will be used as your login for future
visits to the Infinite Campus Parent Portal. Please keep your login information
in a secure location for your future reference.
Muscogee County School System
Student Services Division
706-748-2000
Georgia Milestones - New State Testing
Preparing for the GA Milestones
GA Milestones Powerpoint
Parents please come by to view the School Level Parent Involvement Policy.