Welcome to G. W. Carver High School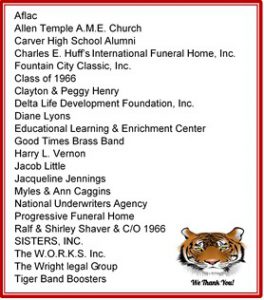 See our school announcements live every morning at 8:12 am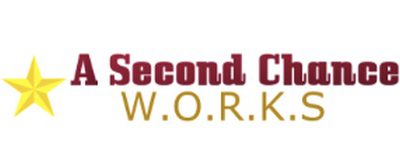 The WORKS (Working On Refocusing, Redirecting, Realigning Kids Successfully) program is a restorative justice based program currently in use in several public schools and systems in Georgia. The stated purposes of the program are to improve the relationship between...
read more
G. W. Carver High School Accolades
School Wide Accolades
Student Growth Awards
| | | | | | |
| --- | --- | --- | --- | --- | --- |
| School Name | Level | Subject | Place | Percentile | Year |
| Carver High | High | Biology | 2nd | 78 | 2016 |
| Carver High | High | U.S. History | 3rd | 69 | 2016 |
| Carver High | High | Biology | 3rd | 72 | 2015 |
| Carver High | High | Physical Science | 2nd | 72 | 2015 |
| Carver High | High | Economics | 3rd | 70 | 2015 |
Academic Accolades
Science Accolades
Thomas Cook (11th grade Magnet student)  Won 1st place in the category of Chemistry at the Columbus Regional Science and Engineering Fair.  He was selected to compete at the 69th Georgia Science & Engineering Fair at the Classic Center in downtown Athens, March 30 – April 1, 2017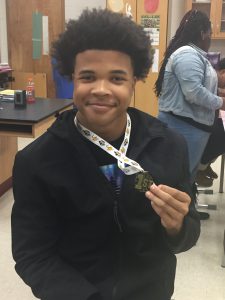 Sport Accolades
G.W. Carver Boys Basketball Accomplishments 2016-2017
Regions 1-AAAA Champions
William H. Shaw Christmas Champions
AAAA Georgia High School Basketball Elite Eight
MCSD Freshman Champions
Daniel Melvin Region 1-AAAA player of the year
A.J. Watts 2nd team1-AAAA All Region
Alex Wilson Honorable Mention 1-AAAA All Region
Ja'Corey Harper Freshman MVP MCSD Tournament
WRESTLING RECORDS AND ACCOMPLISHMENTS
Kemeul Hood  28-9, 2ND PLACE  King of the County, 3rd place in city tournament, 2nd place finalist in Georgia AAAA AREA tournament,
Micah Butler 4th place finish in King of the County,  4th Georgia AAAA AREA tournament
Nicholas Harris 28-10 record 4th place King of the County, 2nd place Georgia AAAA AREA tournament
FBLA Accolades
Carver FBLA 2016-2017 Accomplishments:
FBLA Gold Chapter of the Year awarded at state 2016

Zion Young – Top 15 FBLA National Conference July 2016 (Sports & Entertainment Marketing)

Region Competition Results (January 2017):

Jennifer Adams – 5th place Advertising, 5th place Introduction to Business Communication
Kayla Banks – 2nd place Advertising
Joshua Banks – 9th place Business Calculations, 10th place Personal Finance
Niya Joiner – 9th place Business Communication
Quennetta Baldwin – 3rd place Future Business Leader
Alexus Evans – 2nd place Organizational Leadership, 3rd place Computer Applications
Cameron Ashe – 1st place Organizational Leadership
Myaira Bowen – 5th place Impromptu Speaking
Mahoghany Smith – 5th place Job Interview
Damiah Ford, Quennetta Baldwin, Tykerria Farley – 1st place Entrepreneurship
Maya Allen, Briell Hudson, Jordyn Sweat – 2nd place Entrepreneurship
Jaida Gamble – 5th place Help Desk
Taylor Buncomb – 1st place Help Desk
Don'von Wiley – 3rd place Help Desk
Courtney Williams & Jessika Marshall – 5th place Hospitality Management
Taylor Buncomb & Myaira Bowen – 1st place Hospitality Management
Niya Joiner, Canaan Williams, Selena Griffin-Summers – 2nd place Management Decision Making
Zion Young, Christ Graham, Destini Hudson – 3rd place Marketing
Auyyona Williams & McKenzie Clarke – 5th place Marketing
Joseph Stout, Saalih Watson, Don'von Wiley – 2nd place Network Design
Zion Young, Aizya Passmore, Cameron Ashe – 1st place Sports and Entertainment Management

Destini Hudson selected as Region Officer for 2017-2018 school year (February 2017)

Headed to State competition this Sunday –Tuesday and will hopefully have more accomplishments to share then.
DECA Accolades
DECA
State Officer Host – Summer Leadership
Regions Competition
Timeshia Alexander – 2nd Place Apparel & Accessories
Denise Herrod – 4th place Automotive Marketing
Da'Naysha Hooten – 2nd place Quick Serve Restaurant Marketing
State
Top 20 State Qualifier – Da'Naysha Hooten Quick Serve Restaurant Marketing
Go Getter Award of Excellence (Membership Campaign)
Clubs Accolades
2016-17 G.W. Carver High School Academic Decathlon Team Awards
District Competition:
Cory Jackson: 1st Place Science, 2nd Place Music, 3rd Place Essay, 3rd Place Mathematics (Honors)
Cameron Ashe: 1st Place Speech (Honors)
Tjireh Turner: 2nd Place Mathematics, 3rd Place Economics (Scholastic)
Unique Henry: 1st Place Economics, 3rd Place Music (Scholastic)
Chance Gladney: 3rd Place Mathematics, 2nd Place Economics (Scholastic)
Austin Hunt: 3rd Place Speech, 2nd Place Science (Varsity)
Jessica Marshall: 3rd Place Science, 3rd Place Language and Literature (Varsity)
State Competition:
Unique Henry: 3rd Place Mathematics (Scholastic)
Literacy Club
1st place Essay Writing in the Region Literary Meet
2nd place Extemporaneous Speaking in the Region Literary Meet
Reading Club
Poetry Writers Workshop:  Trinity Grimes representing Carver at Fountain City Youth Poetry Slam Finals on April 1st from 2-4 PM on Broadway. Winners will travel to Brave New Voices Poetry Convention.
GA Movie Academy Competition: Carver team submitted a 3 min movie for the GA Movie Academy Competition to be held March 16th at GA Southwestern. Winners will be announced on March 16th:
Carver team also submitted their movie for the GA Student Media Festival held March 9th at Hannan Elementary Magnet School. Winners to be announced.
SADD Organization:
1. Red Ribbon Week Safety Awarenesss – October
2. Seat Belt Safety check/ Holiday Safety Tips – November & December
3. Heatlhy Relationships
4. Mix It Up Day – February
5. DuI Simulation ….. in progress March 13th 
HOSA Future Health Professionals 
* Competed in Region Competition
* Participated in Women's Heart Health Month service activity
*Conducted blood pressure screening
* Upcoming participation in Relay for Life
Fine Arts Accolades
G. W. Carver High School received special recognition at the 2017 Alabama State University High School Honor Band. We had THREE senior representatives from the brass section receive full music major & academic scholarships to attend ASU! John Caster (Page One Nominee), Thomas McCoy (Trombone Section Leader), and Anthony Watson (Tuba Section Leader) will be attending Alabama State University this fall as music majors on a full ride! In addition to our scholarship recipients, we were also recognized as having more students selected to participate in this prestigious honor band than any other school from the state of Georgia. Also, G.W. Carver tied with Ramsay High School (Birmingham, AL) for having more students place 1st chair! Our Governor's Honors nominee, D'Ayja David, was featured as one of this year's soloist! 
About Us
George Washington Carver High School is among the top four out of the nine high schools in Muscogee County that improved their 2016 Graduation Rate. Our STEM school has increased the Graduation Rate for the second year showing growth from 76.4% in 2015 to 89.5% in 2016.
"It takes a team effort to bring out the best in our students, and we treat all students like our own children…"
"We track our students in school and out of school, and we refuse to let our students use excuses to give up on improving their lives through education and thinking beyond high school and the immediate community. In addition, G.W. Carver alumni, of all ages, come to the school to engage, to encourage, to support and to show each of our students that you can go anywhere from here."
Principal Christopher Lindsay, 2016 News Release

Student Population

92%

92%

Faculty and Staff

8%

8%

Athletics

35%

35%

Organization

65%

65%