Blackmon Road Middle School
Home of the Eagles!
Where the pursuit of learning is boundless.

A Georgia Distinguished School

Future BRMS Parents
For those parents who would like to enroll their children into the Muscogee County School District and Blackmon Road, you have the following two options.
1. Call 706-580-1295 or
2. Email centralregistration@muscogeek12.ga.us
We Hope to see you next year.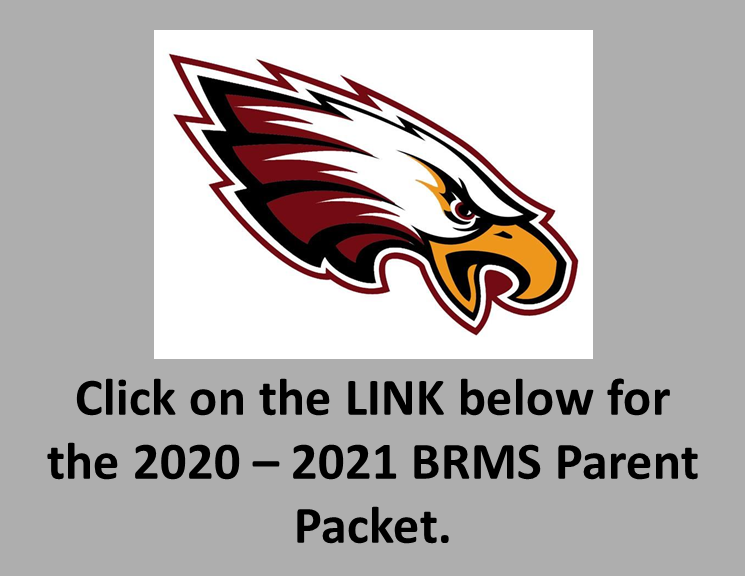 2020 – 2021 BRMS Parent Packet!!
Please try to complete the packet and have ready to turn in during Chromebook Pick-up.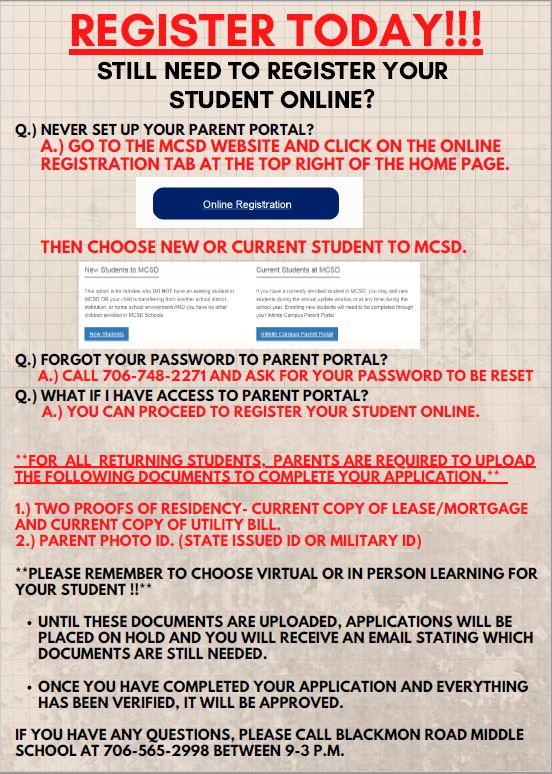 Yearbook News!!!!!

Are there any Student interested in becoming part of the 2020 – 2021 Yearbook Staff?
If so please download the application and follow all instruction provided.
Thank You!!!
Yearbook Application 2020-2021
IMMUNIZATION RULES
FOR 7TH GRADE STUDENTS
ALL CHILDREN ENTERING 7TH GRADE ARE
REQUIRED TO MEET THE FOLLOWING:
1. Have the required doses of Hepatitis B, Diphtheria, Tetanus and Pertussis, and Polio vaccines.
2. Have two (2) doses of Measles vaccine, two (2) doses of Mumps vaccine, and one (1) dose of Rubella    vaccine OR laboratory proof of immunity against Measles, Mumps or Rubella.
3. Have two (2) doses of Varicella (chicken pox) vaccine OR documentation of disease or laboratory proof of immunity.
4. Have one (1) dose of Tdap (tetanus, diphtheria, pertussis) vaccine and one (1) dose of MCV (meningococcal conjugate vaccine) for children born on or after 01/01/2002.
5. Contact your health care provider to receive any needed vaccinations and to obtain the Georgia Certificate of Immunization (Form 3231).
Follow us on Social Media.
Facebook, Instagram (Links are at the bottom)
Parents, you can also text the message:
@blackmon18 to the number 81010 to get important school updates
Whose Who at Blackmon Road!
 Join us in Celebrating Ms. Jenkins.  Ms Jenkins has been honored as the 2019 – 2020 Blackmon Road Middle School Teacher of the Year.
Congratulations Ms. Jenkins.  Well Deserved.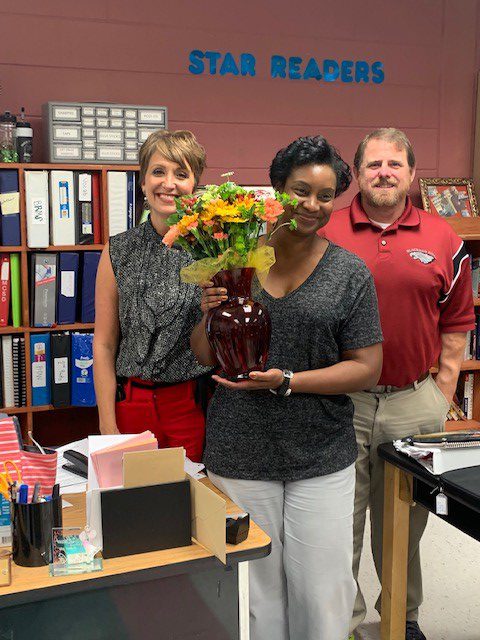 Faculty Member of the Week:
Faculty Member Name

Department/ Position
8th Grade Student of the Week:
Student Name
7th Grade Student of the Week:
Student Name
6th Grade Student of the Week:
Student Name