PTO Newsflash…
---
Fundraising News:  
Box Tops for Education will continue to be collected to benefit BRMS.  Collection boxes are located in the BRMS entrance, media center, and cafeteria.  Be sure to include your name, ILT teacher and # of box tops.
Blackmon Road Breaking News
---
 Join us in Celebrating Ms. Jenkins.  Ms Jenkins has been honored as the 2019 – 2020 Blackmon Road Middle School Teacher of the Year.
Congratulations Ms. Jenkins.  Well Deserved.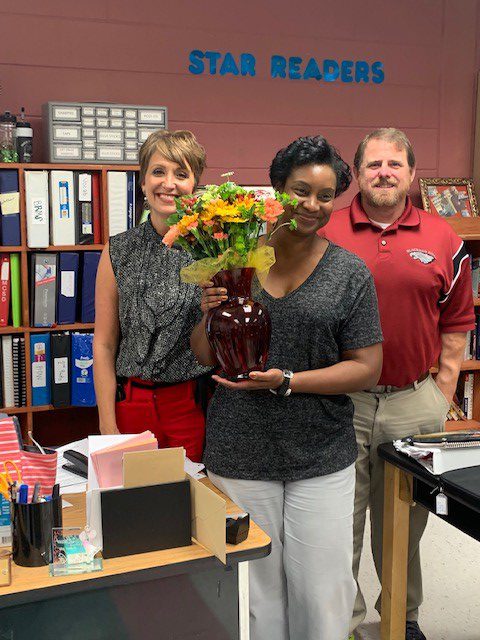 Blackmon Road Breaking News
---
Please join Blackmon Road as we congratulate Dakon "Dash" Morris.  Dash placed SECOND (6 – 8) in the Annual Steeple Chase, multi county, ART CONTEST.  Way to Go Dash.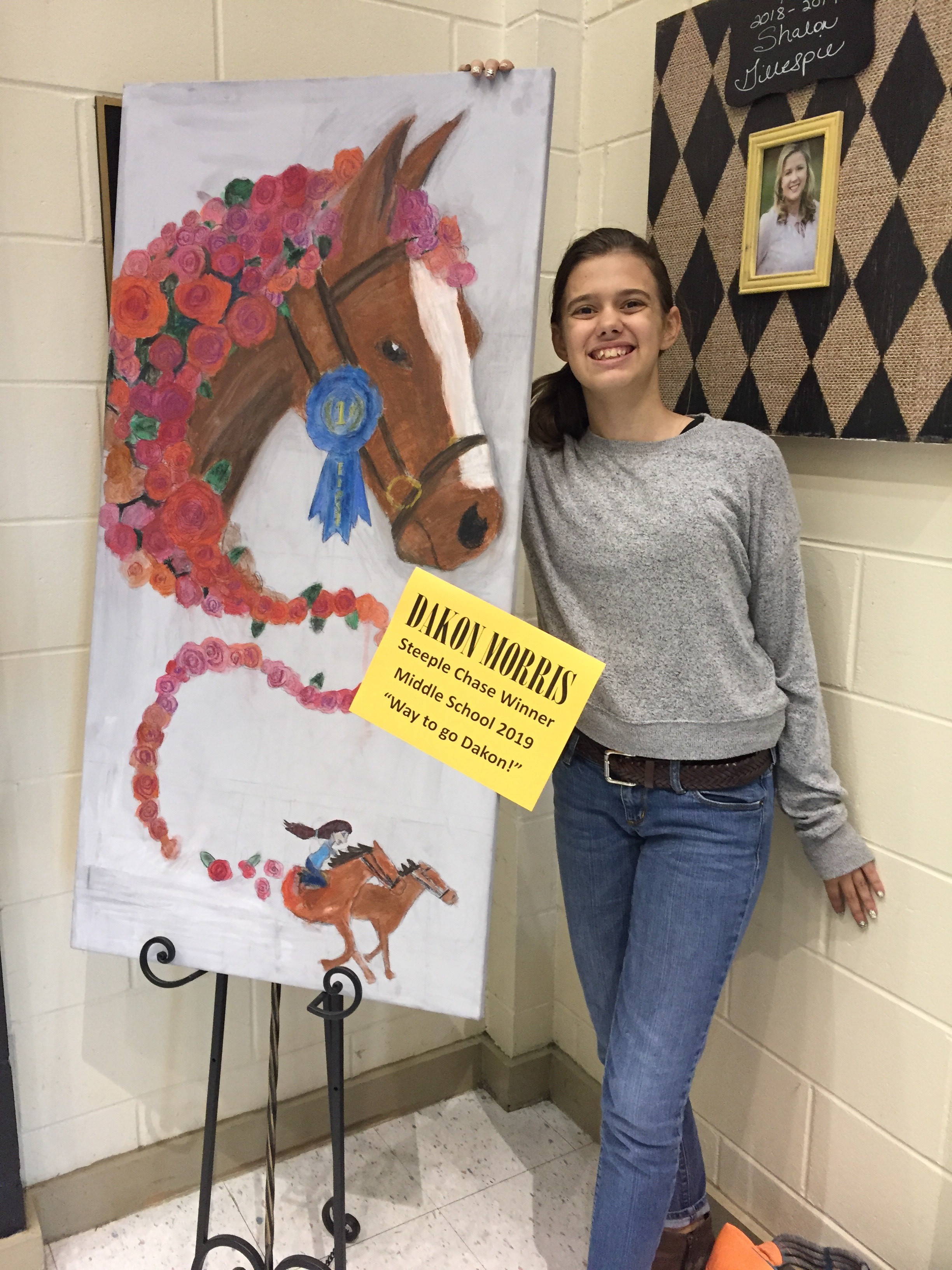 Congratulations to the 2019 – 2020 BRMS Math Team.
This past weekend, the BRMS Math Team, coached by Mr. Ryan Dobbins, participated in the Luella High School Tournament.  The team from Blackmon Road was the only Middle School to participate in the Junior Varsity Level Tournament. The BRMS Math Team placed 1st in the Southern Division.  The Southern Division consists of all schools, Middle and High, south of I-85. Blackmon Road had two students place in the top ten.  Tanay Pathakamuri placed 2nd overall and Sofia Stancu placed 8th overall.

Campus News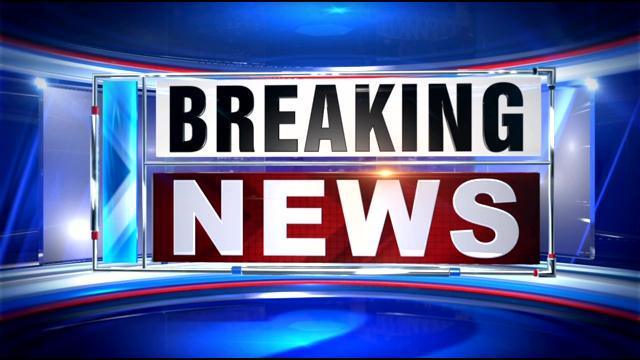 Future BRMS Parents
For those parents who would like to enroll their children into the Muscogee County School District and Blackmon Road, you have the following two options.
1. Call 706-580-1295 or
2. Email centralregistration@muscogeek12.ga.us
We Hope to see you next year.
Yearbook News!!!!!

Are there any Student interested in becoming part of the 2020 – 2021 Yearbook Staff?
If so please download the application and follow all instruction provided.
Thank You!!!
Yearbook Application 2020-2021
EXTRA YEARBOOKS
Extra yearbooks go on sale on Monday, June 8th at 9 AM.
We are asking that parents get in line (Socially distancing using our front sidewalk)……
First come first serve until we sell out.
$55 exact change or checks made payable to BRMS
YEARBOOK DIGITAL SIGNING PAGES
BLACKMON ROAD MIDDLE SCHOOL
Good news!  Yearbook signing is NOT cancelled!!!
Yearbook Signing:  SOCIALLY DISTANCED EDITION
We are excited to announce that the Blackmon Road Middle School yearbook signing tradition is alive and is fully digital to suit our socially distanced students.
Jostens has launched a new platform, Yearbook Digital Signing Pages, that give every student in our school the chance to create virtual signing pages, invite friends to leave messages, and print out the final pages to keep with the yearbook as a permanent keepsake.
This is free for every student whether they purchased a yearbook or not.
Share the link below with your student or just click on the hyperlink so they can get started with their yearbook signing .
Good morning.  Muscogee County is adding an additional meal service bus stop for the children in the Midland areas at Midland Academy.   Lunch will be available through a grab-and-go service Monday-Friday, 11:30-12:30, to all children ages 0-18 and up to 21 years old if in an educational setting.  Students must be present to receive a meal.  Meal service will continue through Friday, March 27th at this time.
Parents, please remember to email teachers any questions that you or your student(s) may have.
Teachers are available online through email, CANVAS, and Remind.
Refer Chromebook issues to the following number 762-266-9752.
Follow us on Social Media.
Facebook, Instagram (Links in the top banner)
Parents, you can also text the message:
@blackmon18 to the number 81010 to get important school updates
IMMUNIZATION RULES
FOR 7TH GRADE STUDENTS
ALL CHILDREN ENTERING 7TH GRADE ARE
REQUIRED TO MEET THE FOLLOWING:
1. Have the required doses of Hepatitis B, Diphtheria, Tetanus and Pertussis, and Polio vaccines.
2. Have two (2) doses of Measles vaccine, two (2) doses of Mumps vaccine, and one (1) dose of Rubella    vaccine OR laboratory proof of immunity against Measles, Mumps or Rubella.
3. Have two (2) doses of Varicella (chicken pox) vaccine OR documentation of disease or laboratory proof of immunity.
4. Have one (1) dose of Tdap (tetanus, diphtheria, pertussis) vaccine and one (1) dose of MCV (meningococcal conjugate vaccine) for children born on or after 01/01/2002.
5. Contact your health care provider to receive any needed vaccinations and to obtain the Georgia Certificate of Immunization (Form 3231).
Magnet Open House!!!!!

Parents if you are interested in the MCSD Magnet Schools you will find the Open House schedule for this year below.

BRMS Sports
All Sports related activities have been cancelled until April 5.
BRMS Football Gallery
BRMS vs Richards
September 18, 2019
BRMS Cross Country Gallery