January 18th
Please click below to access the Friday Flyer.
FridayFlyer1_18_22
To ensure the safety of our students, we would like to inform you of our drop off and pick up procedures.Morning Drop Off7:00 a.m. - Bus and daycares may drop off in the back loop of the school.7:15 a.m. - Car-riders may be dropped off (KDG, first, second grade and...

Monday, January 17th – Martin Luther King Jr. Day – ALL staff and students are off. After school program is NOT open.
January 24–28th – THE GREAT KINDESS CHALLENGE
January 10-28th LOST COATS, JACKETS, LUNCH BOXES, and WATER BOTTLES – We have an abundance of lost items in the cafeteria. Please stop by next week and check for any lost items. On 01/31/2022 we will be packing up what is left and donating to Sara Spano. Please stop by the office and get a pass to go and check in the cafeteria.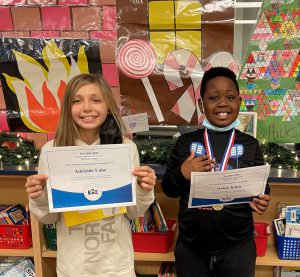 Congratulations to the NCES Spelling Bee runner-up Adelaide Luke and winner Isaiah Julien.  The Muscogee County School District Spelling Bee is scheduled for Wednesday, January 26th at Rainey-McCullers School of the Arts.  The MCSD Spelling Bee is sponsored by the Muscogee County School District and the Muscogee Association of Educators.  Awards are presented to 1st, 2nd, and 3rd place. All participants receive a Certificate of Participation and school winners receive a Georgia Association of Educators Spelling Bee pin.