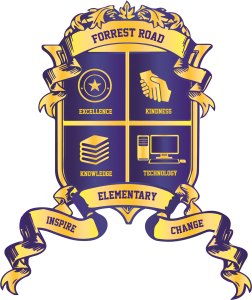 Welcome to
Forrest Road Elementary School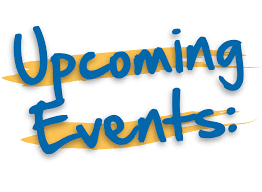 Upcoming Events
5/18/22

4th and 5th Grade Awards Day (To be held virtually)

5/19/22 Class End of Year Parties
5/20/22 Field Day
5/24/22 Last Day of School
Awards Day Links
Wednesday, May 18, 2022
08:30 AM – 03:30 PM
FRE Awards 4th and 5th Grades
Meeting ID: 823 9841 9016
Awards day times for the 18th:
4th – 9:00
5th- 1:00
If you missed your child's awards ceremony, please click the link below and look for your child's grade level.
Thank you, Foxie 105!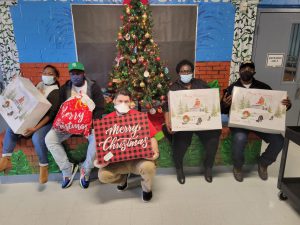 Mr. Aviles poses with volunteers from Foxie 105
Teacher of the Year
Congratulations to our Teacher of the Year: our phenomenal Ms. Kati Morrell!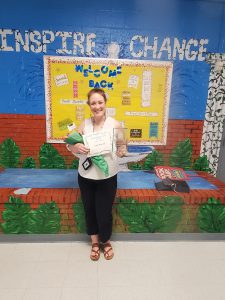 Ms. Morrell
First Year Teacher of the Year
Congratulations to our First Year Teacher of the Year: our amazing Ms. Alexia Terry!

Ms. Terry
School Improvement Plan
A message from Mr. Aviles about our SIP:
"Our theme this year is "A New Hope." "A New Hope" was the first Star Wars movie; hence we have filled our PPT presentation with Star Wars characters. We chose "A New Hope" as our theme for this year because we felt that after our "Charting the Course" year last year there was a new hope in the air about what this year was going to offer."
Please click here to view our 3 year school improvement plan.
Forrest Road's Uniform Policy
Forrest Road Elementary School students are required to wear the school uniform. Read our uniform policy.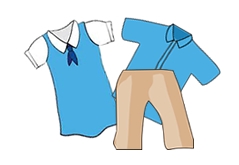 If Your Child is Sick…
If your child becomes symptomatic of COVID-19, please read the attached letter for information with MCSD's policies regarding students who are sick.
Student and Parent Assistance
Laundry Services Assistance
If you need assistance for laundry services, please see this flyer for information. Also, fill out this form and send it to the school.
Sign Up for Parent Portal in Infinite Campus
Parents, the best way to keep up with your child's grades is to sign up for the Parent Portal in Infinite Campus. Be sure to set up your account.
Announcements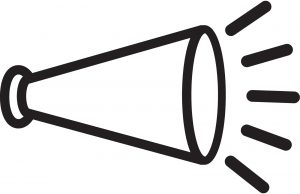 2021-2022 Student Handbook
Please read our student handbook and review with your child.
 Student Chromebook Usage
Please review Ms. Lightholder's Chromebook presentation.


Forrest Road's After School Enrichment Program
Parents can now sign up their student(s) for the after-school program. Please contact Mr. Aviles or Ms. Crouch in the office (705-565-3062) for more information.
Click here to view the handbook, which includes the forms needed to register for the program.
Meet Our Guidance Counselor, Ms. Stevens
Georgia Hope
We at Forrest Road were chosen to participate in a wonderful program called Georgia Hope. Please watch the video to learn more.
Student Helpdesk for Digital Needs
If you are experiencing technical difficulties with your school issued electronic device or school-associated programs, please call 706-748-2271 Monday-Friday from 10:00 AM to 4:00 PM.
Important Information for Parents Regarding Canvas
Please follow the directions attached to sign up and join your child's Canvas account today. If you have any questions, please feel free to contact your child's teacher.

School Hours and Checkout Procedures
7:15-7:45 Breakfast
8:00-2:30 School in session
Parents please note that the cut-off time to check out students is 2:00. In order to check out your child, all adults must have a picture ID and must be on the registration form as someone who is okay to check out your child.