The robotics team participates in a minimum of two competitions annually as part of the FIRST LEGO League. Students will research, build, and code a robotics game based on a yearly theme and then compete as part of a team. The team practices regularly on Thursdays from September-May.
Advisors: Ms. Couch, couch.natalie.e@muscogee.k12.ga.us, and Mr. Collins, collins.kory.a@muscogee.k12.ga.us
Student participants compete against other middle schools as part of a team, exercising their general academic knowledge.
Advisor: Ms. Melvin, melvin.jennifer.d@muscogee.k12.ga.us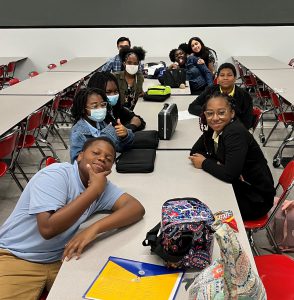 HRRB is a quiz bowl competition where participants read the 10 finalists from the Georgia Children's Book Awards (Grades 6-8 list) and answer questions about them as part of a team.
Teams are formed and meet regularly afterschool from about September-January to practice. The competition is on a Saturday morning in mid-late January each year (TBA).
For more information and a list of book titles, see this year's informational HRRB Flyer 2023-24
Or contact the Club Advisor, Ms. Couch: couch.natalie.e@muscogee.k12.ga.us