Click here for
RMS Student Handbook
2022-2023
Click here for
MCSD Handbook and Code of Conduct
2022-2023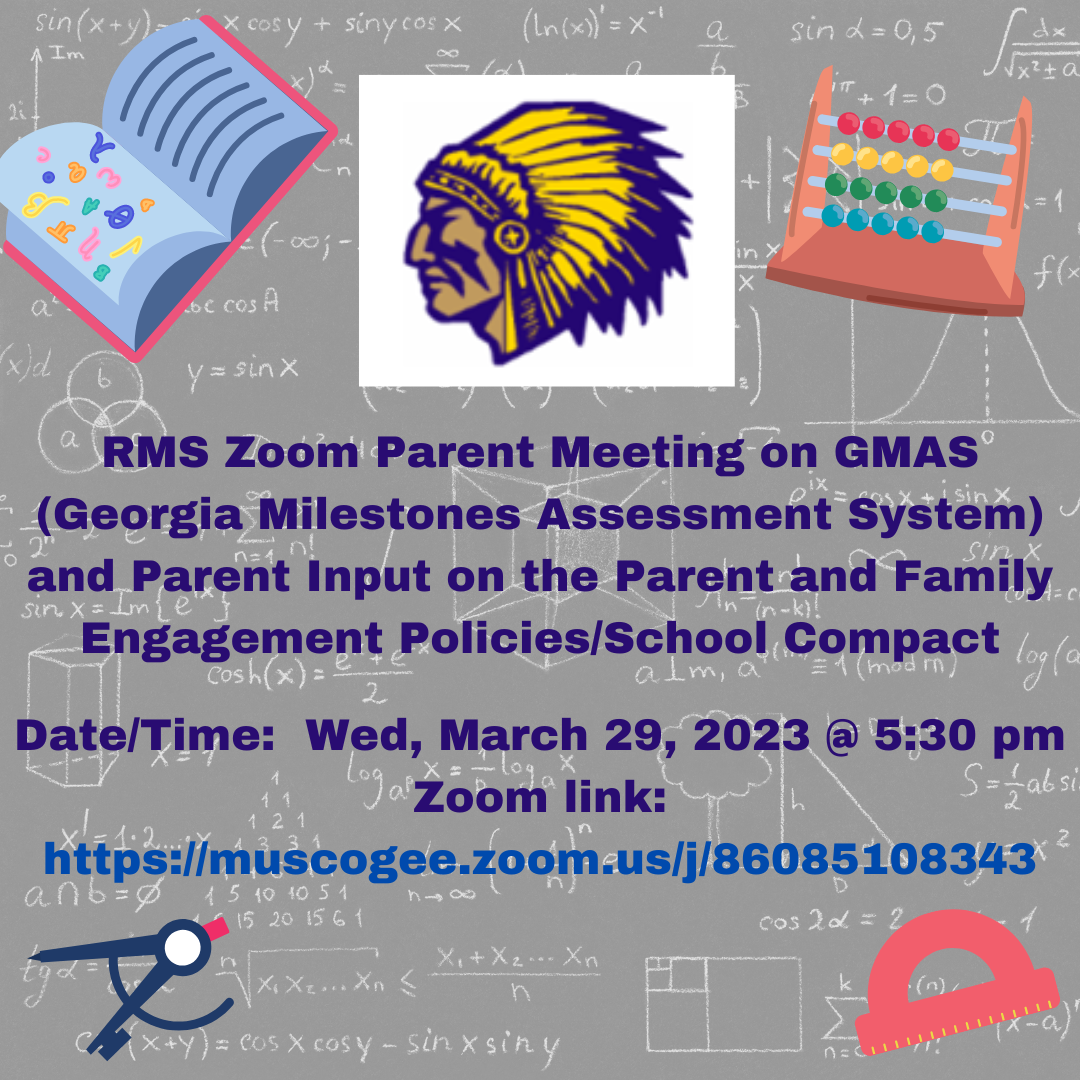 Parent Meeting
Important Chromebook Information
Per our district handbook: "All students have been issued a Chromebook (to include Case and Charger) to use during the school day. Students must be responsible for their Chromebook/Case/Charger at all times.  In an effort to be good stewards of taxpayer dollars, students must be responsible for the care of their Chromebook and not damage it in any way. Chromebooks are to be carried in a case at all times when not in use.  Students who damage Chromebooks and/or accessories can be assessed a replacement fee as per Board (see MCSD Board Policy JS: Student Fees, Fines, and Charges)."
Care and Use of School Property – Chromebooks, Textbooks, and Media Center Checkouts:  Students will be held responsible for the proper care of all books, supplies, Chromebooks, and accessories or equipment furnished to them by the school. A student who defaces, damages, or loses school property shall be required to pay for the damage or loss(see MCSD Board Policy JS: Student Fees, Fines, and Charges).
A Parent/Student must pay all fees and fines owed to the school in a timely fashion. Parent/Student must clear all fines or fees during the year the fines are assessed. Fines must be paid/cleared where they were assessed and before moving to the next level in school.
Dress Code FYI's:
Jeans with holes can be worn if the hole is below the knee. Any additional holes must be covered with fabric behind them or tape. No skin should ever be visible above the knee. No see-through pants are allowed or sheer panels in pants above the knee.
Crocs may be worn but they must be worn in SPORT MODE with the strap around the heel.
Leggings may be worn, but the shirt must be long enough to cover the student's bottom.
Short, cropped shirts and blouses may not be worn. The stomach and lower back must be covered at all times. No skin should show.
Flip flops, slides, bedroom slippers and shower shoes are not allowed.
Hoodies are allowed. No hoods on sweatshirts or garments are to be worn on the head inside the building.
Dresses, skirts, and shorts may be worn with the length to be no higher than three (3) inches above the top of the knee cap. Splits in dresses or skirts may be no higher than the top of the knee even if leggings are worn underneath.
Pajama pants may not be worn.
*Please see the RMS student handbook for all dress code violation consequences.
RMS FAQ's:
RMS office hours are 8:00AM-4:00 PM on school days.
Students that arrive on campus prior to 8:20AM will have to wait outside on their own until the building opens.
The school day begins at 8:50. Any student arriving to school after the late bell will need to check in through the Attendance Office.
Lockers will be used this year. They will be sold during the first week of school. Lockers will cost $20 and will include a class shirt. Students will not be allowed to share lockers and students will NOT be allowed to carry book bags during the school day.
School breakfast/lunch will continue to be free.
Students should be picked up from campus in the afternoons by 4:00 PM unless they are attending an after-school event with a Sponsor Teacher.
The MCSD Cellphone policy will be in effect. To ensure compliance with the MCSD policy, students should leave their cellphones in their lockers. Any student with their cellphone out (unless it is being used for instructional purposes), will have their cellphones turned in to Student Services.
All 7th grade students must have current immunizations on file. Parent contact will be made for any student that does not have a current immunization on file. Any student that fails to submit up-to-date immunizations by Wednesday, September 7, 2022, will be withdrawn.
We look forward to an exciting 2022-2023 school year and we look forward to seeing all parents, students, and alumni at all of the wonderful activities and events that the Warriors will participate and compete in. If you have any questions, please contact Richards Middle School at (706) 569-3697.
Lance Henderson, Principal