Shawsome Seniors
It is not too late to place your orders for Cap & Gown! Please open this attachment for more information. Don't wait too long to take action!
Shawsome Athletes!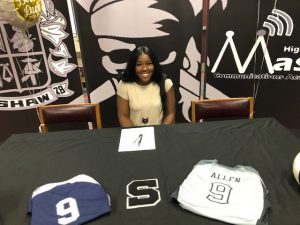 Mikayla Allen signs a scholarship to play Volleyball at Andrew College! Please help us in congratulating Mikayla on her shawsome accomplishment!
Attention Parents of Upcoming FRESHMEN!
It is time for our annual Raider Camp. It is the time when we work with our upcoming freshmen to transition them into high school to make the adjustment a little easier and less stressful, for both the students and the parents. The camp will be held at Shaw High School July 29th through July 30th during which students will participate in a wide variety of activites led by Shaw teachers.   
Schedule:                                                                                                                                              Monday, July 29               Parent/Student Meeting     6:30 pm – 8:00 pm                         Tuesday, July 30              Student Activities:     9am – 3pm (check-in at 8:30am)
Students wishing to attend may complete the 2019 Raider Camp Registration form.  In order to attend camp, students must be officially enrolled and assigned to Shaw High School in Muscogee County School District's student information system no later than July 22, 2019.
Contact Kenneth Hampel at Hampel.Kenneth.C@muscogee.k12.ga.us or 706-569-3638 if you have any questions
Attention Parents – Summer Camp Opportunity!
Do you have a child that is interested in being a cheerleader? The Shaw High School cheerleaders are hosting a cheer camp this summer (July 7th – July 11th) for children that are upcoming Kindergardeners – 5th Grade. If you are interested, please fill out the Little Raiders Cheer Camp Registration form. Forms must be received by June 19th to ensure t-shirt size. 

We will be at Shaw this summer! We are glad to be back!
Our summer hours are as follows:
Monday – Thursday   9:00am – 3:00pm
Closed on Fridays
We will also be closed the week of July 4th:            (July 1 – July 5)
Be accountable; Be engaged; Be kind; Be a Raider
Important Information  
Don't forget to follow us on our Shaw High School Facebook page.
Important Student / Parent Links
Our Shaw Partners in Education
SHAW HIGH SCHOOL
7579 Raider Way Columbus, GA 31909  / Phone 706-569-3638 , Fax 706-569-3648
Student Webmaster: TBD