Shawsome Seniors
It is not too late to place your orders for Cap & Gown! Please open this attachment for more information. Don't wait too long to take action!
Shawsome Athletes!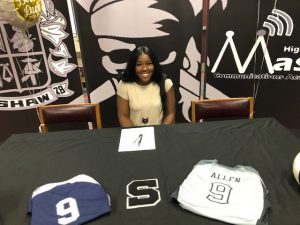 Mikayla Allen signs a scholarship to play Volleyball at Andrew College! Please help us in congratulating Mikayla on her shawsome accomplishment!
Backyard Bash
If your child made proficient on their GMAS and SGMs, please print and sign both sides of the Backyard Bash permission form (below). Your student will need it tomorrow to attend! Thank you for your assistance!
Attention Seniors and Senior Parents!
We are nearing graduation and there are a lot things to consider…
Important Senior Dates:
May 23rd – Graduation practice at Shaw
May 24th – Graduation practice at Civic Center
May 25th – Graduation

Monday, May 20, 2019
The Raider Academic Excellence will host our annual "Backyard Bash" to celebrate our students that scored a proficient or higher on the GMAS and/or SGM assessments in ELA, math, science, and social studies.  If your student met discipline requirements and scored a proficient or higher on either of the assessments in those core content areas and did not receive an invitation to attend the celebration, please download the parent permission form located on our website and have your student return the permission form to the Academic Excellence team for admittance into the celebration on tomorrow.

The Track team will hold its banquet in the Commons at 6:00 PM
Tuesday, May 21, 2019
All grade levels will clean out lockers during designated times.
Wednesday, May 22, 2019
The Fellowship of Christian Athletes will hold a meeting in room 226 at 7:30 AM
Thursday, May 23, 2019
Last day of school for all students
Friday – May 24, 2019
Seniors will report to the Civic Center for mandatory graduation practice at 8:00 AM
Saturday – May 25, 2019
Graduation will be held at 2:00 PM at the Columbus Civic Center.  You must have a ticket to attend.
Parents,
This summer, Shaw is participating in the district feeding program.  What does this mean for you? Shaw will provide breakfast and lunch Monday thru Thursday to all MCSD students that come to the cafeteria during the established times for a meal.  Breakfast will be served from 7:00 – 8:00 AM and lunch will be served from 11:00 – 12:00 AM.
Also, pre-registration for summer school will begin this week on May 22nd at Shaw High School.  Your child must have scored a 50% or higher to qualify to attend our summer school.  Correspondence will be sent home on Tuesday, May 21st.  If you have additional questions, please check our website or call the school for further information.  
Be accountable; Be engaged; Be kind; Be a Raider
Important Information  
Don't forget to follow us on our Shaw High School Facebook page.
Important Student / Parent Links
Our Shaw Partners in Education
SHAW HIGH SCHOOL
7579 Raider Way Columbus, GA 31909  / Phone 706-569-3638 , Fax 706-569-3648
Student Webmaster: TBD