Ms. Karin Adams (center), was the MCSD ABCD award winner for September.  Ms. Adams is the lead custodian at South Columbus Elementary School.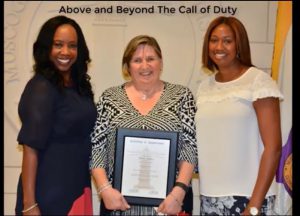 Check out an article that was posted on Ledger Enquirer about one of our very own kindergarten teachers Mrs. Gardner! 
South Columbus Elementary School started implementing the new schedule last year, including two 30-minute blocks of Increased Learning Time.
"We knew we needed to build in more time for some of this enrichment," said principal Dawn Jenkins, in her second year leading South Columbus. "We want to be able to not only teach the concepts, but give time, even in kindergarten, more extension of the activities."
Kindergarten teacher Angela Gardner has seen Increased Learning Time make a positive impact.
"It made a big difference," said Gardner, in her 28th year as an educator, including 11 at South Columbus. "It gave me more time to work with my kids, especially ones that are a little bit slow, giving me time to work with them one-on-one."
Jenkins appreciates veteran teachers such as Gardner being "so open to trying creative approaches to meeting the needs of students."
Gardner said the conference she attended along with more than 200 other Muscogee County kindergarten teachers and paraprofessionals Tuesday at Northside High School will help her integrate more arts instruction into her lessons. She plans to use more music and movement in her lessons. The acronym VIBES — voice, imagination, body, ensemble and story — will be her guide, she said.
"Learning can be facilitated through dance and drama," Gardner said when the L-E visited her classroom on Friday. "They can remember that, because they're doers."
Gardner still plans to take her students outside every school day for 20-30 minutes. But don't you dare call it recess.
"I don't do recess," Gardner said. "I do structured PE."
That means she interacts with the students in a game focused on a physical education standard instead of sitting in the shade while watching them play.
The itinerant art, music and PE teachers will visit South Columbus three days per week, one more than last year, Jenkins said. Classes will rotate through the computer lab during the other two school days each week, she said.
Gardner said she will continue to meet every school day for about 45 minutes with the other two kindergarten teachers at South Columbus while the paraprofessional in each class monitors the students learning at math, reading and writing centers in small groups. The teachers share their expertise during the common planning time. Gardner is responsible for developing the math lessons, another teacher covers English language arts, and the other covers science and social studies. The students don't switch teachers, but they benefit from all of their knowledge.
Regardless of the schedule, Gardner keeps the main thing the main thing: "I love children."
Read more here: http://www.ledger-enquirer.com/news/local/education/article94112992.html#storylink=cpy