Cherokee Faculty and Staff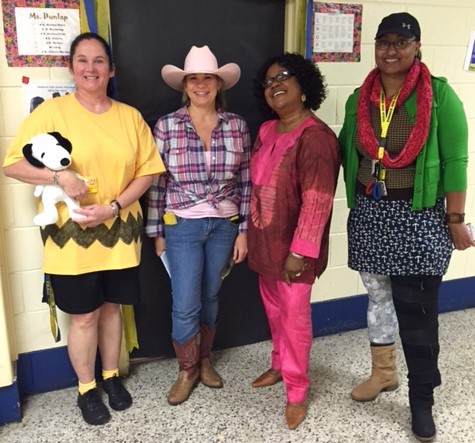 Homecoming Week:
Ms. Means, Ms. Dunlap, Ms. Bassey and Ms. Farley are all ready for Character Day!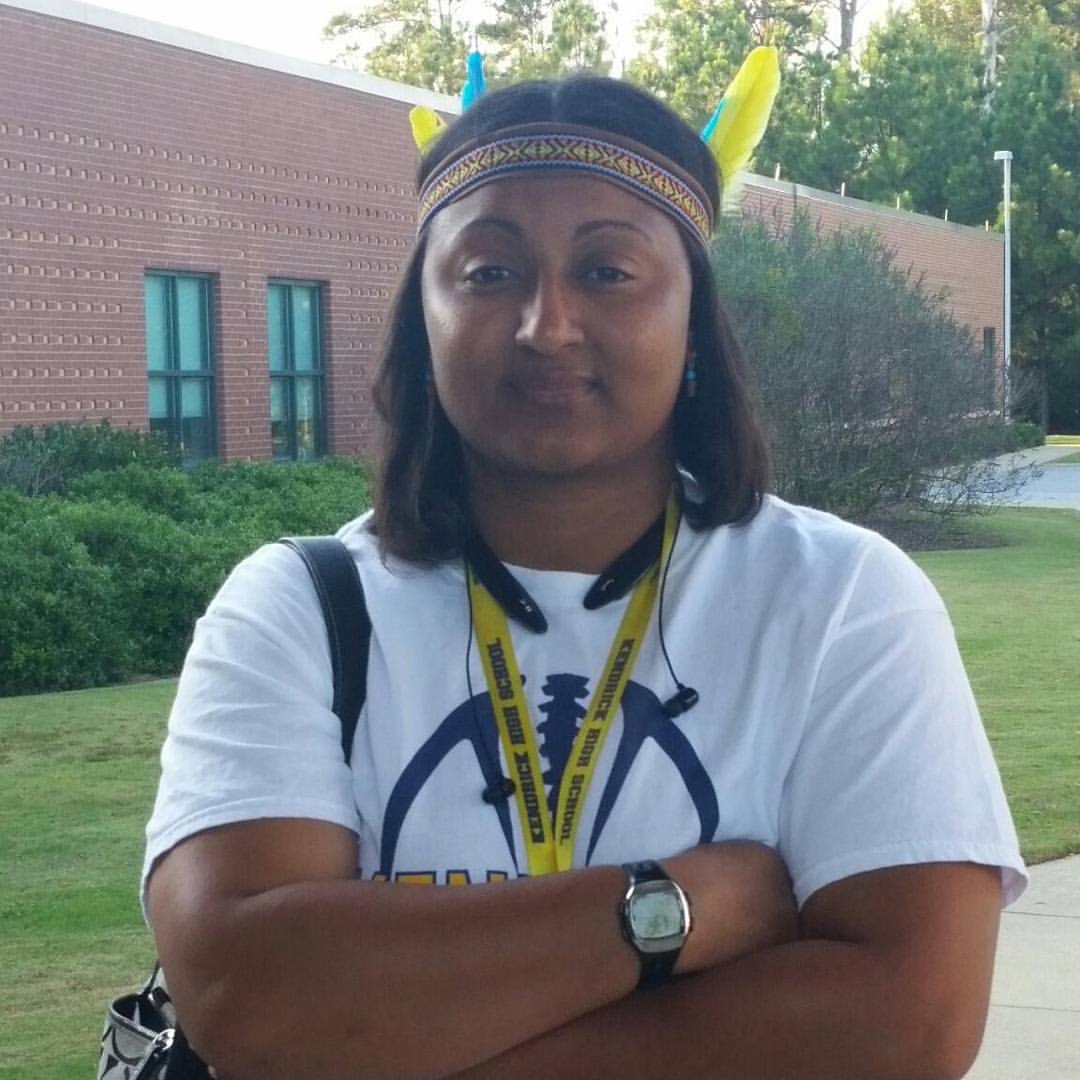 Homecoming Week:
We can definitely say Coach Farley is showing her serious side of school spirit!
Ms. Batista, Ms. Spivey, Ms. Burton & Dr. Jones enjoy the game while Ms. Dunlap and Mr. Cheatham strike a pose.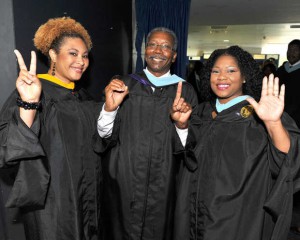 Graduation; Ms. C. Hamilton, Coach Peek and Ms. Latimer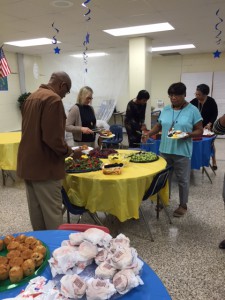 Thank you for the breakfast Cascade Hills Baptist Church! It was very appreciated!
Ms. Murphy, Mr. Sumbry, Ms. Dunlap,  Dr. Simmons and Ms. Calloway enjoying this nice surprise.
Kendrick High School
| FirstName | LastName | MN | Email | JobTitle | Location | FullName | EmployeeID | Division | DivisionDescription | Department | DepartmentDescription | Phone | VoIP | Rank |
| --- | --- | --- | --- | --- | --- | --- | --- | --- | --- | --- | --- | --- | --- | --- |
| William | Tutherow | P | Tutherow.William.P@muscogee.k12.ga.us | HS TEACHER DRAFTING | KENDRICK HIGH | William P Tutherow | E006492 | DOA | ACADEMIC DIVISION | CAR | CAREER TECHNICAL EDUCATION | 2.147.483.647 | | 0,00 |
| Collins | Jones | | Jones.Collins@muscogee.k12.ga.us | HS TEACHER PHYSICAL EDUCATION | KENDRICK HIGH | Collins Jones | E010835 | DOA | ACADEMIC DIVISION | SEC | SECONDARY EDUCATION | 2.147.483.647 | | 0,00 |
| Yvonne | Jones | D | Jones.Yvonne.D@muscogee.k12.ga.us | SCHOOL NUTRITION MANAGER | KENDRICK HIGH | Yvonne D Jones | E014366 | DFO | FACILITIES & OPERATIONS DIV | SNP | SCHOOL NUTRITION | 2.147.483.647 | | 0,00 |
| Beverly | Brown | S | Brown.Beverly.S@muscogee.k12.ga.us | HS TEACHER EMOTIONAL BEH DIS | KENDRICK HIGH | Beverly S Brown | E018524 | DSS | STUDENT SERVICES DIVISION | SPD | EXCEPTIONAL STUDENTS | 2.147.483.647 | | 0,00 |
| Angela | Douglas | L | Douglas.Angela.L@muscogee.k12.ga.us | SCHOOL CLINIC WORKER | KENDRICK HIGH | Angela L Douglas | E021211 | DSS | STUDENT SERVICES DIVISION | HTH | HEALTH | 2.147.483.647 | | 0,00 |
| Leila | Clark | M | Clark.Leila.M@muscogee.k12.ga.us | REGULAR CUSTODIAN | KENDRICK HIGH | Leila M Clark | E021412 | DFO | FACILITIES & OPERATIONS DIV | PLS | PLANT SERVICES | 2.147.483.647 | | 0,00 |
| Darlene | Debrow | D | Debrow.Darlene.D@muscogee.k12.ga.us | SCHOOL NUTRITION ASSISTANT MGR | KENDRICK HIGH | Darlene D Debrow | E022211 | DFO | FACILITIES & OPERATIONS DIV | SNP | SCHOOL NUTRITION | 2.147.483.647 | | 0,00 |
| Linda | Hollis-Purter | | Hollis-purter.Linda@muscogee.k12.ga.us | HS TEACHER FAMILY CONSUMER SCI | KENDRICK HIGH | Linda Hollis-Purter | E022438 | DOA | ACADEMIC DIVISION | CAR | CAREER TECHNICAL EDUCATION | 2.147.483.647 | | 0,00 |
| Patricia | Spenard | A | Spenard.Patricia.A@muscogee.k12.ga.us | HS TEACHER SCIENCE | KENDRICK HIGH | Patricia A Spenard | E022855 | DOA | ACADEMIC DIVISION | SEC | SECONDARY EDUCATION | 2.147.483.647 | | 0,00 |
| Patsy | Gray | B | Gray.Patsy.B@muscogee.k12.ga.us | ACADEMIC COACH SOC ST TITLE I | KENDRICK HIGH | Patsy B Gray | E022941 | DOA | ACADEMIC DIVISION | TLI | TITLE I | 2.147.483.647 | | 0,00 |
| Cheryn | Smith | N | Smith.Cheryn.N@muscogee.k12.ga.us | SCHOOL SECRETARY | KENDRICK HIGH | Cheryn N Smith | E023553 | DOA | ACADEMIC DIVISION | SEC | SECONDARY EDUCATION | 2.147.483.647 | | 0,00 |
| Carrie | Harper | E | Harper.Carrie.E@muscogee.k12.ga.us | HS TEACHER INTER-RELATED | KENDRICK HIGH | Carrie E Harper | E023878 | DSS | STUDENT SERVICES DIVISION | SPD | EXCEPTIONAL STUDENTS | 2.147.483.647 | | 0,00 |
| Carlotta | Cutliff | | Cutliff.Carlotta@muscogee.k12.ga.us | HS MEDIA SPECIALIST | KENDRICK HIGH | Carlotta Cutliff | E024072 | DOA | ACADEMIC DIVISION | SEC | SECONDARY EDUCATION | 2.147.483.647 | | 0,00 |
| Catrina | Smith | R | Smith.Catrina.R@muscogee.k12.ga.us | ACADEMIC COACH ENGLISH TITLE I | KENDRICK HIGH | Catrina R Smith | E024135 | DOA | ACADEMIC DIVISION | TLI | TITLE I | 2.147.483.647 | | 0,00 |
| Daniel | Walker Elias | | Walkerelias.Daniel@muscogee.k12.ga.us | HS TEACHER SPANISH | KENDRICK HIGH | Daniel Walker Elias | E024615 | DOA | ACADEMIC DIVISION | SEC | SECONDARY EDUCATION | 2.147.483.647 | | 0,00 |
| Alonzo | James | B | James.Alonzo.B@muscogee.k12.ga.us | HS PRINCIPAL | KENDRICK HIGH | Alonzo B James | E025108 | DOA | ACADEMIC DIVISION | SEC | SECONDARY EDUCATION | 2.147.483.647 | | 0,00 |
| Jimmy | Simmons | Nell | SIMMONS.JIMMY.N@muscogee.k12.ga.us | HS COUNSELOR | KENDRICK HIGH | Jimmy Nell Simmons | E025109 | DOA | ACADEMIC DIVISION | SEC | SECONDARY EDUCATION | 2.147.483.647 | | 0,00 |
| Lourie | Caulton | A | Caulton.Lourie.A@muscogee.k12.ga.us | HS COUNSELOR | KENDRICK HIGH | Lourie A Caulton | E025803 | DOA | ACADEMIC DIVISION | SEC | SECONDARY EDUCATION | 2.147.483.647 | | 0,00 |
| Orithius | Hardge | J | Hardge.Orithius.J@muscogee.k12.ga.us | HS TEACHER GRAPHIC ARTS | KENDRICK HIGH | Orithius J Hardge | E025853 | DOA | ACADEMIC DIVISION | CAR | CAREER TECHNICAL EDUCATION | 2.147.483.647 | | 0,00 |
| Jimmie | Johnson-Fleming | | Johnson-Fleming.Jimmie.L@muscogee.k12.ga.us | HS GUIDANCE DIRECTOR | KENDRICK HIGH | Jimmie Johnson-Fleming | E026052 | DOA | ACADEMIC DIVISION | SEC | SECONDARY EDUCATION | 2.147.483.647 | | 0,00 |
| Fredrick | Weldon | D | Weldon.Fredrick.D@muscogee.k12.ga.us | HS SECONDARY DEAN | KENDRICK HIGH | Fredrick D Weldon | E026415 | DOA | ACADEMIC DIVISION | SEC | SECONDARY EDUCATION | 2.147.483.647 | | 0,00 |
| Charles | Avery | E | Avery.Charles.E@muscogee.k12.ga.us | REGIONAL CTAE SUPERVISOR | KENDRICK HIGH | Charles E Avery | E026578 | DOA | ACADEMIC DIVISION | CAR | CAREER TECHNICAL EDUCATION | 2.147.483.647 | | 0,00 |
| Carla | McKinney | J | Mckinney.Carla.J@muscogee.k12.ga.us | HS TEACHER INTER-RELATED | KENDRICK HIGH | Carla J McKinney | E027210 | DSS | STUDENT SERVICES DIVISION | SPD | EXCEPTIONAL STUDENTS | 2.147.483.647 | | 0,00 |
| Danya | Albright | H | Albright.Danya.H@muscogee.k12.ga.us | HS ASSISTANT PRINCIPAL | KENDRICK HIGH | Danya H Albright | E027213 | DOA | ACADEMIC DIVISION | SEC | SECONDARY EDUCATION | 2.147.483.647 | | 0,00 |
| Michael | Davis | A | Davis.Michael.A@muscogee.k12.ga.us | HS ASSISTANT PRINCIPAL | KENDRICK HIGH | Michael A Davis | E027251 | DOA | ACADEMIC DIVISION | SEC | SECONDARY EDUCATION | 2.147.483.647 | | 0,00 |
| Harold | Hines | E | Hines.Harold.E@muscogee.k12.ga.us | HS TEACHER MATHEMATICS | KENDRICK HIGH | Harold E Hines | E027377 | DOA | ACADEMIC DIVISION | SEC | SECONDARY EDUCATION | 2.147.483.647 | | 0,00 |
| Janice | Dunlap | M | Dunlap.Janice.M@muscogee.k12.ga.us | HS TEACHER SOCIAL STUDIES | KENDRICK HIGH | Janice M Dunlap | E027678 | DOA | ACADEMIC DIVISION | SEC | SECONDARY EDUCATION | 2.147.483.647 | | 0,00 |
| Umo | Bassey | | Bassey.Umo@muscogee.k12.ga.us | HS TEACHER INTER-RELATED | KENDRICK HIGH | Umo Bassey | E028011 | DSS | STUDENT SERVICES DIVISION | SPD | EXCEPTIONAL STUDENTS | 2.147.483.647 | | 0,00 |
| Stephen | Johnson | A | Johnson.Stephen.A@muscogee.k12.ga.us | HS TEACHER SOCIAL STUDIES | KENDRICK HIGH | Stephen A Johnson | E028561 | DOA | ACADEMIC DIVISION | SEC | SECONDARY EDUCATION | 2.147.483.647 | | 0,00 |
| Sonja | Lewis | | Lewis.Sonja@muscogee.k12.ga.us | HS SECONDARY DEAN | KENDRICK HIGH | Sonja Lewis | E029298 | DOA | ACADEMIC DIVISION | SEC | SECONDARY EDUCATION | 2.147.483.647 | | 0,00 |
| Latanchila | Ngashon | C | Ngashon.Latanchila.C@muscogee.k12.ga.us | HS PARAPRO COMPUTER LAB | KENDRICK HIGH | Latanchila C Ngashon | E029515 | DOA | ACADEMIC DIVISION | SEC | SECONDARY EDUCATION | 2.147.483.647 | | 0,00 |
| Patricia | Yates-Sanders | A | Yates-sanders.Patricia.A@muscogee.k12.ga.us | HS TEACHER MATHEMATICS | KENDRICK HIGH | Patricia A Yates-Sanders | E030221 | DOA | ACADEMIC DIVISION | SEC | SECONDARY EDUCATION | 2.147.483.647 | | 0,00 |
| Michael | Peek | A | Peek.Michael.A@muscogee.k12.ga.us | LEA FACILITATOR | KENDRICK HIGH | Michael A Peek | E030435 | DSS | STUDENT SERVICES DIVISION | SPD | EXCEPTIONAL STUDENTS | 2.147.483.647 | | 0,00 |
| Gloria | Lewis | J | Lewis.Gloria.J@muscogee.k12.ga.us | HS TEACHER INTER-RELATED | KENDRICK HIGH | Gloria J Lewis | E030495 | DSS | STUDENT SERVICES DIVISION | SPD | EXCEPTIONAL STUDENTS | 2.147.483.647 | | 0,00 |
| Angela | Long | L | Long.Angela.L@muscogee.k12.ga.us | PARAPRO HIGH REGULAR PE | KENDRICK HIGH | Angela L Long | E031078 | DOA | ACADEMIC DIVISION | SEC | SECONDARY EDUCATION | 2.147.483.647 | | 0,00 |
| Brittany | Pierce | M | Pierce.Brittany.M@muscogee.k12.ga.us | HS TEACHER SCIENCE | KENDRICK HIGH | Brittany M Pierce | E031496 | DOA | ACADEMIC DIVISION | SEC | SECONDARY EDUCATION | 2.147.483.647 | | 0,00 |
| Tamara | Chandler | A | Chandler.Tamara.A@muscogee.k12.ga.us | SPECIAL EDUCATION PARA | KENDRICK HIGH | Tamara A Chandler | E031912 | DSS | STUDENT SERVICES DIVISION | SPD | EXCEPTIONAL STUDENTS | 2.147.483.647 | | 0,00 |
| Matthew | White | S | White.Matthew.S@muscogee.k12.ga.us | HS TEACHER CHORUS DIRECTOR | KENDRICK HIGH | Matthew S White | E032549 | DOA | ACADEMIC DIVISION | ART | ARTS AND HUMANITIES | 2.147.483.647 | | 0,00 |
| Angela | Landon | S | Landon.Angela.S@muscogee.k12.ga.us | PARENTING LIAISON | KENDRICK HIGH | Angela S Landon | E032760 | DOA | ACADEMIC DIVISION | TLI | TITLE I | 706 | | 0,00 |
| Sharron | Griffin | E | Griffin.Sharron.E@muscogee.k12.ga.us | HS CLERK | KENDRICK HIGH | Sharron E Griffin | E033095 | DOA | ACADEMIC DIVISION | SEC | SECONDARY EDUCATION | 2.147.483.647 | | 0,00 |
| Lyndsey | Redondo | S | Redondo.Lyndsey.S@muscogee.k12.ga.us | HS TEACHER DCT | KENDRICK HIGH | Lyndsey S Redondo | E033274 | DOA | ACADEMIC DIVISION | CAR | CAREER TECHNICAL EDUCATION | 2.147.483.647 | | 0,00 |
| Carla | Jones | J | Jones.Carla.J@muscogee.k12.ga.us | HS TEACHER MOID VTP II PROGRAM | KENDRICK HIGH | Carla J Jones | E033525 | DSS | STUDENT SERVICES DIVISION | SPD | EXCEPTIONAL STUDENTS | 2.147.483.647 | | 0,00 |
| Kelly | Coney | R | Coney.Kelly.R@muscogee.k12.ga.us | HS TEACHER INTER-RELATED | KENDRICK HIGH | Kelly R Coney | E033569 | DSS | STUDENT SERVICES DIVISION | SPD | EXCEPTIONAL STUDENTS | 2.147.483.647 | | 0,00 |
| Glenis | Thomas | C | Thomas.Glenis.C@muscogee.k12.ga.us | SNP CULNRY TECH/CASHR 6 HR | KENDRICK HIGH | Glenis C Thomas | E033800 | DFO | FACILITIES & OPERATIONS DIV | SNP | SCHOOL NUTRITION | 2.147.483.647 | | 0,00 |
| Lydell | Baker | J | Baker.Lydell.J@muscogee.k12.ga.us | SPECIAL EDUCATION PARA | KENDRICK HIGH | Lydell J Baker | E033968 | DSS | STUDENT SERVICES DIVISION | SPD | EXCEPTIONAL STUDENTS | 2.147.483.647 | | 0,00 |
| Martha | Burton | L | Burton.Martha.L@muscogee.k12.ga.us | HS CLERK | KENDRICK HIGH | Martha L Burton | E034057 | DOA | ACADEMIC DIVISION | SEC | SECONDARY EDUCATION | 2.147.483.647 | | 0,00 |
| Michael | Camp | V | Camp.Michael.V@muscogee.k12.ga.us | BUILDING MECHANIC | KENDRICK HIGH | Michael V Camp | E034903 | DFO | FACILITIES & OPERATIONS DIV | PLS | PLANT SERVICES | 2.147.483.647 | | 0,00 |
| Jerome | Spencer | | Spencer.Jerome@muscogee.k12.ga.us | HS TEACHER BAND DIRECTOR | KENDRICK HIGH | Jerome Spencer | E040090 | DOA | ACADEMIC DIVISION | ART | ARTS AND HUMANITIES | 2.147.483.647 | | 0,00 |
| Angela | Moore | J | Josey.Angela.S@muscogee.k12.ga.us | HS TEACHER HEALTH OCCUPATION | KENDRICK HIGH | Angela J Moore | E040546 | DOA | ACADEMIC DIVISION | CAR | CAREER TECHNICAL EDUCATION | 2.147.483.647 | | 0,00 |
| Janice | Reed | F | Reed.Janice.F@muscogee.k12.ga.us | HS CLERK | KENDRICK HIGH | Janice F Reed | E040612 | DOA | ACADEMIC DIVISION | SEC | SECONDARY EDUCATION | 2.147.483.647 | | 0,00 |
| Aliphia | Latimer | P | Latimer.Aliphia.P@muscogee.k12.ga.us | HS TEACHER ENGLISH | KENDRICK HIGH | Aliphia P Latimer | E041074 | DOA | ACADEMIC DIVISION | SEC | SECONDARY EDUCATION | 2.147.483.647 | | 0,00 |
| Kimberly | Hawkins | D | Hawkins.Kimberly.D@muscogee.k12.ga.us | HS TEACHER MOD INTELL DISAB | KENDRICK HIGH | Kimberly D Hawkins | E041547 | DSS | STUDENT SERVICES DIVISION | SPD | EXCEPTIONAL STUDENTS | 2.147.483.647 | | 0,00 |
| Lola | Farley | D | Farley.Lola.D@muscogee.k12.ga.us | HS TEACHER SOCIAL STUDIES | KENDRICK HIGH | Lola D Farley | E041692 | DOA | ACADEMIC DIVISION | SEC | SECONDARY EDUCATION | 2.147.483.647 | | 0,00 |
| Lisa | Spivey | A | Spivey.Lisa.A@muscogee.k12.ga.us | HS TEACHER INTER-RELATED | KENDRICK HIGH | Lisa A Spivey | E041766 | DSS | STUDENT SERVICES DIVISION | SPD | EXCEPTIONAL STUDENTS | 2.147.483.647 | | 0,00 |
| Josef | Douglas | G | Douglas.Josef.G@muscogee.k12.ga.us | SPECIAL EDUCATION PARA | KENDRICK HIGH | Josef G Douglas | E042321 | DSS | STUDENT SERVICES DIVISION | SPD | EXCEPTIONAL STUDENTS | 2.147.483.647 | | 0,00 |
| Latoya | Joseph | D | Joseph.Latoya.D@muscogee.k12.ga.us | SNP CULNRY TECH/CASHR 5 HR | KENDRICK HIGH | Latoya D Joseph | E042651 | DFO | FACILITIES & OPERATIONS DIV | SNP | SCHOOL NUTRITION | 2.147.483.647 | | 0,00 |
| Willie | Washington | C | Washington.Willie.C@muscogee.k12.ga.us | JROTC | KENDRICK HIGH | Willie C Washington | E042937 | DOA | ACADEMIC DIVISION | JTC | JROTC | 2.147.483.647 | | 0,00 |
| Mia | McLellan | L | Mclellan.Mia.L@muscogee.k12.ga.us | HS TEACHER ENGLISH | KENDRICK HIGH | Mia L McLellan | E043276 | DOA | ACADEMIC DIVISION | SEC | SECONDARY EDUCATION | 2.147.483.647 | | 0,00 |
| Shawn | Souvenir | S | Souvenir.Shawn.S@muscogee.k12.ga.us | HS TEACHER MATHEMATICS | KENDRICK HIGH | Shawn S Souvenir | E043342 | DOA | ACADEMIC DIVISION | SEC | SECONDARY EDUCATION | 2.147.483.647 | | 0,00 |
| Nakia | Miller | S | Miller.Nakia.S@muscogee.k12.ga.us | SPECIAL EDUCATION PARA | KENDRICK HIGH | Nakia S Miller | E043351 | DSS | STUDENT SERVICES DIVISION | SPD | EXCEPTIONAL STUDENTS | 2.147.483.647 | | 0,00 |
| Chavala | Burse | D | Burse.Chavala.D@muscogee.k12.ga.us | HS TEACHER MATHEMATICS | KENDRICK HIGH | Chavala D Burse | E043613 | DOA | ACADEMIC DIVISION | SEC | SECONDARY EDUCATION | 2.147.483.647 | | 0,00 |
| Sharnetria | Carey | D | Carey.Sharnetria.D@muscogee.k12.ga.us | HS TEACHER INTER-RELATED | KENDRICK HIGH | Sharnetria D Carey | E043708 | DSS | STUDENT SERVICES DIVISION | SPD | EXCEPTIONAL STUDENTS | 2.147.483.647 | | 0,00 |
| Nekeeta | Thomas | V | Thomas.Nekeeta.V@muscogee.k12.ga.us | REGULAR CUSTODIAN | KENDRICK HIGH | Nekeeta V Thomas | E043800 | DFO | FACILITIES & OPERATIONS DIV | PLS | PLANT SERVICES | 2.147.483.647 | | 0,00 |
| Jgaya | Grainger | Q | Grainger.Jgaya.Q@muscogee.k12.ga.us | HS TEACHER BUSINESS EDUCATION | KENDRICK HIGH | Jgaya Q Grainger | E043803 | DOA | ACADEMIC DIVISION | CAR | CAREER TECHNICAL EDUCATION | 2.147.483.647 | | 0,00 |
| Marcia | McCants | A | Mccants.Marcia.A@muscogee.k12.ga.us | SPECIAL EDUCATION PARA | KENDRICK HIGH | Marcia A McCants | E043894 | DSS | STUDENT SERVICES DIVISION | SPD | EXCEPTIONAL STUDENTS | 2.147.483.647 | | 0,00 |
| Alexis | Jones | J | Jones.Alexis.J@muscogee.k12.ga.us | HS TEACHER INTER-RELATED | KENDRICK HIGH | Alexis J Jones | E044137 | DSS | STUDENT SERVICES DIVISION | SPD | EXCEPTIONAL STUDENTS | 2.147.483.647 | | 0,00 |
| Reginald | Wedner | | Wedner.Reginald@muscogee.k12.ga.us | JROTC | KENDRICK HIGH | Reginald Wedner | E044452 | DOA | ACADEMIC DIVISION | JTC | JROTC | 2.147.483.647 | | 0,00 |
| Solimar | Tirado-Santos | | Tirado-santos.Solimar2@muscogee.k12.ga.us | HS TEACHER SPANISH | KENDRICK HIGH | Solimar Tirado-Santos | E044481 | DOA | ACADEMIC DIVISION | SEC | SECONDARY EDUCATION | 2.147.483.647 | | 0,00 |
| Shamonique | Hassell | D | Hassell.Shamonique.D@muscogee.k12.ga.us | HS TEACHER ENGLISH | KENDRICK HIGH | Shamonique D Hassell | E044524 | DOA | ACADEMIC DIVISION | SEC | SECONDARY EDUCATION | 2.147.483.647 | | 0,00 |
| Travis | Tribble | S | Tribble.Travis.S@muscogee.k12.ga.us | JROTC | KENDRICK HIGH | Travis S Tribble | E044528 | DOA | ACADEMIC DIVISION | JTC | JROTC | 2.147.483.647 | | 0,00 |
| Nick | Goshay | S | Goshay.Nick.S@muscogee.k12.ga.us | ISSP TECHNICIAN | KENDRICK HIGH | Nick S Goshay | E044678 | DOA | ACADEMIC DIVISION | SEC | SECONDARY EDUCATION | 2.147.483.647 | | 0,00 |
| Jennifer | Khamis | R | Khamis.Jennifer.R@muscogee.k12.ga.us | HS TEACHER INTER-RELATED | KENDRICK HIGH | Jennifer R Khamis | E044684 | DSS | STUDENT SERVICES DIVISION | SPD | EXCEPTIONAL STUDENTS | 2.147.483.647 | | 0,00 |
| Ikeeya | Harris | S | Harris.Ikeeya.S@muscogee.k12.ga.us | HS TEACHER SCIENCE | KENDRICK HIGH | Ikeeya S Harris | E044727 | DOA | ACADEMIC DIVISION | SEC | SECONDARY EDUCATION | 2.147.483.647 | | 0,00 |
| Jay-Paul | Sellers | | Sellers.Jay-Paul@muscogee.k12.ga.us | PARAPRO SPECIALIZED PES | KENDRICK HIGH | Jay-Paul Sellers | E044799 | DSS | STUDENT SERVICES DIVISION | SPD | EXCEPTIONAL STUDENTS | 2.147.483.647 | | 0,00 |
| Jillynn | Williams | | Williams.Jillynn@muscogee.k12.ga.us | SNP CULINARY TECH 5.5 HR | KENDRICK HIGH | Jillynn Williams | E044863 | DFO | FACILITIES & OPERATIONS DIV | SNP | SCHOOL NUTRITION | 2.147.483.647 | | 0,00 |
| Jennifer | Gillespie | G | Gillespie.Jennifer.G@muscogee.k12.ga.us | HS TEACHER INTER-RELATED | KENDRICK HIGH | Jennifer G Gillespie | E044864 | DSS | STUDENT SERVICES DIVISION | SPD | EXCEPTIONAL STUDENTS | 2.147.483.647 | | 0,00 |
| Jocelyn | Farris | | Farris.Jocelyn@muscogee.k12.ga.us | SNP CULINARY TECH 5 HR | KENDRICK HIGH | Jocelyn Farris | E044869 | DFO | FACILITIES & OPERATIONS DIV | SNP | SCHOOL NUTRITION | 2.147.483.647 | | 0,00 |
| Shailee | Barnes | | Barnes.Shailee@muscogee.k12.ga.us | HS TEACHER SCIENCE | KENDRICK HIGH | Shailee Barnes | E045042 | DOA | ACADEMIC DIVISION | SEC | SECONDARY EDUCATION | 2.147.483.647 | | 0,00 |
| Gloria | Porter | G | E045096@muscogee.k12.ga.us | SNP CULNRY TECH/CASHR 6 HR | KENDRICK HIGH | Gloria G Porter | E045096 | DFO | FACILITIES & OPERATIONS DIV | SNP | SCHOOL NUTRITION | 2.147.483.647 | | 0,00 |
| Andre | Slappey | M | Slappey.Andre.M@muscogee.k12.ga.us | HS TEACHER PHYSICAL EDUCATION | KENDRICK HIGH | Andre M Slappey | E045147 | DOA | ACADEMIC DIVISION | SEC | SECONDARY EDUCATION | 2.147.483.647 | | 0,00 |
| Todd | Kline | H | Kline.Todd.H@muscogee.k12.ga.us | HS TEACHER SCIENCE | KENDRICK HIGH | Todd H Kline | E045161 | DOA | ACADEMIC DIVISION | SEC | SECONDARY EDUCATION | 2.147.483.647 | | 0,00 |
| Chesley | Nichols | A | Nichols.Chesley.A@muscogee.k12.ga.us | HS TEACHER ENGLISH | KENDRICK HIGH | Chesley A Nichols | E045200 | DOA | ACADEMIC DIVISION | SEC | SECONDARY EDUCATION | 2.147.483.647 | | 0,00 |
| Christina | Mosley | D | Mosley.Christina.D@muscogee.k12.ga.us | HS TEACHER INTER-RELATED | KENDRICK HIGH | Christina D Mosley | E045238 | DSS | STUDENT SERVICES DIVISION | SPD | EXCEPTIONAL STUDENTS | 2.147.483.647 | | 0,00 |
| Jeremy | McCrary | J | Mccrary.Jeremy.J@muscogee.k12.ga.us | HS TEACHER ART | KENDRICK HIGH | Jeremy J McCrary | E045316 | DOA | ACADEMIC DIVISION | SEC | SECONDARY EDUCATION | 2.147.483.647 | | 0,00 |
| Daniel | Brown | J | Brown.Daniel.J@muscogee.k12.ga.us | HS TEACHER SCIENCE | KENDRICK HIGH | Daniel J Brown | E045319 | DOA | ACADEMIC DIVISION | SEC | SECONDARY EDUCATION | 2.147.483.647 | | 0,00 |
| Selena | Pierce | G | Pierce.Selena.G@muscogee.k12.ga.us | HS TEACHER MATHEMATICS | KENDRICK HIGH | Selena G Pierce | E045323 | DOA | ACADEMIC DIVISION | SEC | SECONDARY EDUCATION | 2.147.483.647 | | 0,00 |
| Jatorey | Daniel | D | Daniel.Jatorey.D@muscogee.k12.ga.us | HS TEACHER BUSINESS EDUCATION | KENDRICK HIGH | Jatorey D Daniel | E045357 | DOA | ACADEMIC DIVISION | CAR | CAREER TECHNICAL EDUCATION | 2.147.483.647 | | 0,00 |
| Kelvin | Smith | P | Smith.Kelvin.P@muscogee.k12.ga.us | HS TEACHER ENGLISH | KENDRICK HIGH | Kelvin P Smith | E045363 | DOA | ACADEMIC DIVISION | SEC | SECONDARY EDUCATION | 2.147.483.647 | | 0,00 |
| Arcacia | Butler | L | Butler.Arcacia.L@muscogee.k12.ga.us | HS TEACHER SOCIAL STUDIES | KENDRICK HIGH | Arcacia L Butler | E045386 | DOA | ACADEMIC DIVISION | SEC | SECONDARY EDUCATION | 2.147.483.647 | | 0,00 |
| Edith | Sistrunk | B | Sistrunk.Edith.B@muscogee.k12.ga.us | HS TEACHER INTER-RELATED | KENDRICK HIGH | Edith B Sistrunk | E045388 | DSS | STUDENT SERVICES DIVISION | SPD | EXCEPTIONAL STUDENTS | 2.147.483.647 | | 0,00 |
| Kathryn | Gaines | A | Gaines.Kathryn.A@muscogee.k12.ga.us | HS TEACHER ENGLISH | KENDRICK HIGH | Kathryn A Gaines | E045404 | DOA | ACADEMIC DIVISION | SEC | SECONDARY EDUCATION | 2.147.483.647 | | 0,00 |
| John | Savell | P | Savell.John.P@muscogee.k12.ga.us | HS TEACHER SOCIAL STUDIES | KENDRICK HIGH | John P Savell | E045425 | DOA | ACADEMIC DIVISION | SEC | SECONDARY EDUCATION | 2.147.483.647 | | 0,00 |
| Jermaine | Harris | D | Harris.Jermaine.D2@muscogee.k12.ga.us | HS TEACHER INTER-RELATED | KENDRICK HIGH | Jermaine D Harris | E045488 | DSS | STUDENT SERVICES DIVISION | SPD | EXCEPTIONAL STUDENTS | 2.147.483.647 | | 0,00 |