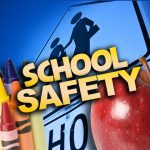 Announcements
22-23 MCSD Student Handbook Update
Chromebooks:
"All students have been issued a Chromebook (to include Case and Charger) to use during the school day. Students must be responsible for their Chromebook/Case/Charger at all times.  In an effort to be good stewards of taxpayer dollars, students must be responsible for the care of their Chromebook and not damage it in any way. Chromebooks are to be carried in a case at all times when not in use.  Students who damage Chromebooks and/or accessories can be assessed a replacement fee as per Board (see MCSD Board Policy JS: Student Fees, Fines, and Charges)."
Fines and Fees:
"Care and Use of School Property – Chromebooks, Textbooks, and Media Center Checkouts:  Students will be held responsible for the proper care of all books, supplies, Chromebooks, and accessories or equipment furnished to them by the school. A student who defaces, damages, or loses school property shall be required to pay for the damage or loss(see MCSD Board Policy JS: Student Fees, Fines, and Charges).
A Parent/Student must pay all fees and fines owed to the school in a timely fashion. Parent/Student must clear all fines or fees during the year the fines are assessed. Fines must be paid/cleared where they were assessed and before moving to the next level in school."
Blanchard After School Program
The Blanchard After School Enrichment Program (BASEP) is open for registration for the the 22-23 school year.
Please complete the After- School Application Link, if you would like for your child to participate in this program. Your completed form will hold a seat for your child in the program until Verification Day (August 3, 2022), if space is available in his/ her grade level. Once you pay your registration fee on Verification Day, your child will be enrolled in the program. Seats for this program will be established on a first come, first serve basis. Please see the weekly payment rates below.

Weekly Payment Rates
3 or more days
$45.00 (one child)
$80.00 (two children)
$25.00 for each additional child
***Payments are due no later than 6:00 p.m. on each Monday during pick- up.
Registration Link:
https://forms.office.com/Pages/ResponsePage.aspx?id=UvjLaQNRIUWk_AyiCCAjcqHaUhzQTQtIsUYzq72zY-xUNVdSM0tYTk5JNERLSE03SEVINVhENk44Ry4u
Supervisor: Ms. Chi Riles
Hours: 2:30 PM-6:00 PM
Library Media Center
Please visit our online library using Destiny Discover and SORA by Overdrive. Destiny Discover and SORA are available on computers. phones, and tablets with your MCSD login. Happy Reading!
Our Blanchard Library Media Center is a proud partner with Chattahoochee Valley Libraries.
More ways to connect … Blanchard has an app! 
Request a pairing code from the classroom teacher to link Canvas Parent with the student account.


Years of Educational Excellence