School Hours
8:00am-2:30pm
The tardy bell will ring at 8:00am.
Any student who arrives after 8:00am must report to the office for a pass and is considered tardy.
Breakfast
Breakfast is served to all students starting at 7:15am. Please make sure students arrive on time to take advantage of this opportunity. The cafeteria stops serving breakfast at 7:50am.
Home of the EAGLES
E
xcellence 
in
A
cademics
G
rowing
L
eaders
E
veryday
!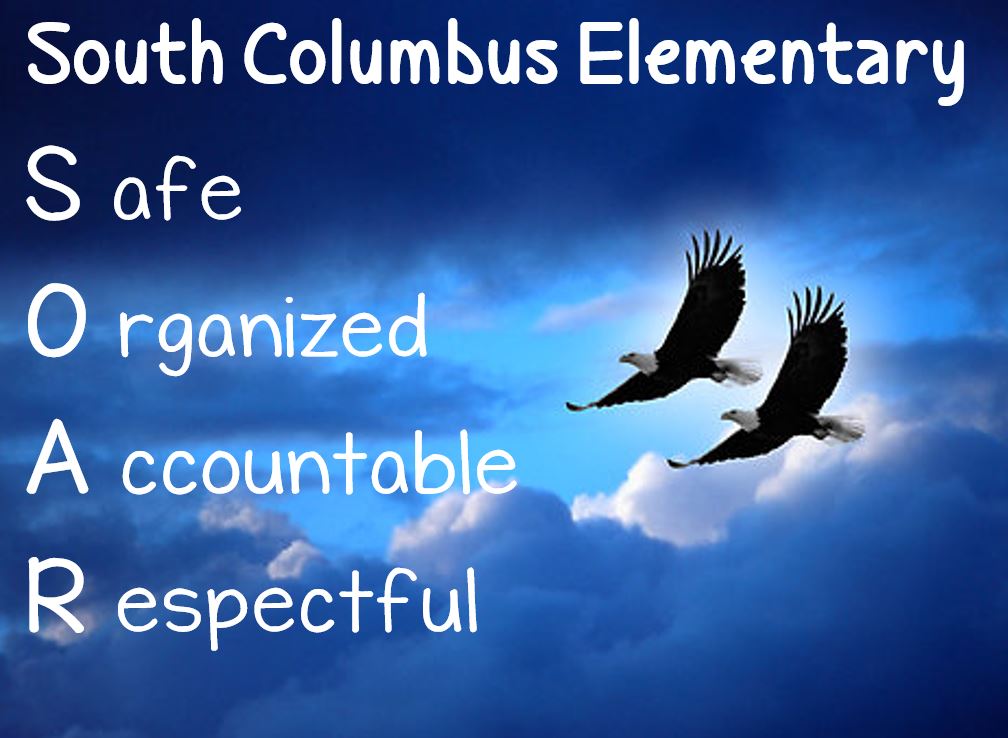 Upcoming Events:
September 6th-PTA Open House 6:00-7:30
September 7th-Grandparents Day Luncheon
Muscogee County School District Elementary School Basic Supply List  2017-2018 School Year
Grades K – 2
Index Cards
3-Ring Binder ( 1-Inch)
Composition Book (Primary Preferred)
Glue Sticks
#2 Pencils (1 Dozen)
Notebook Paper (Wide-Ruled)(1 – 2 only)
Markers
Scissors (safety)
Erasers
Crayons
Tissue (1 Box suggested)
Grades 3 – 5
3-Ring Binder (1-Inch)
Erasers
3-Prong Pocket Folders
1 Pack of Dividers with Tabs
Composition Book
Glue Sticks
Markers
Crayons
Ruler
Index Cards
#2 Pencils (1 Dozen)
Pens (Black or Blue ink)
Notebook Paper (Wide-Ruled)
Tissue (1 Box suggested)
Note:  Magnet schools and special programs may require additional items.
Uniform Policy for South Columbus Elementary: 
Georgia Milestone Information
Click these documents to access helpful tips and websites about the GA milestones.