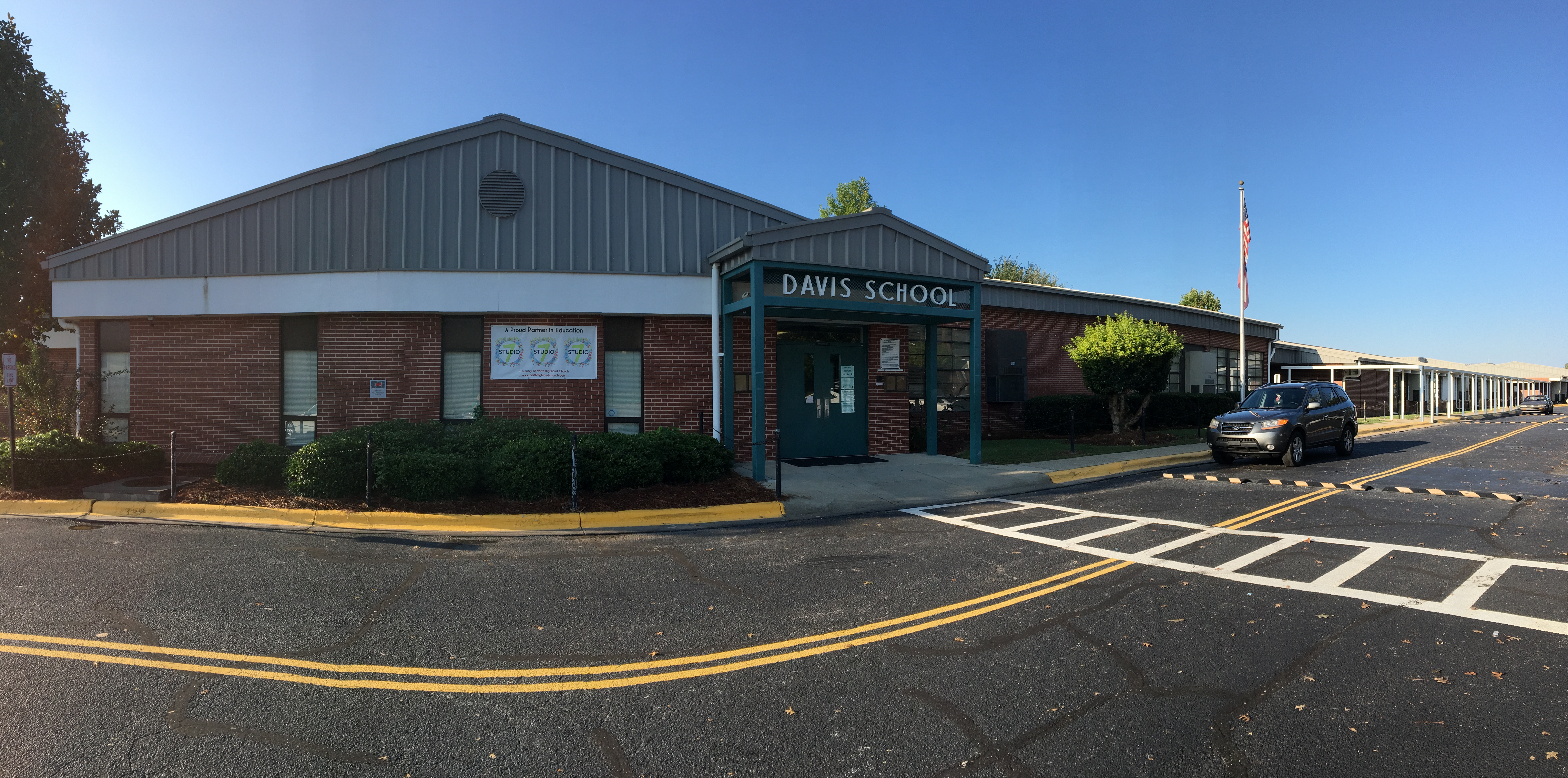 J.D. Davis Elementary
Excellence without Exception!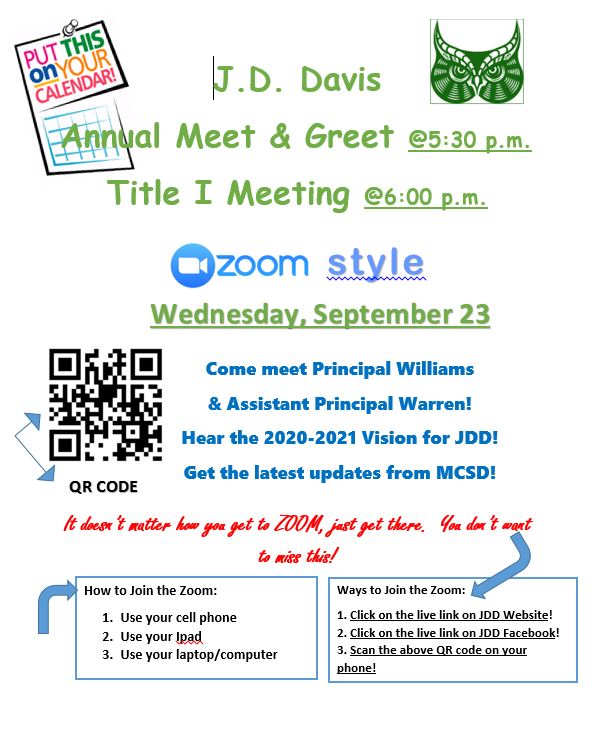 Traditional Reopening Plans for K-2nd Grade Scholars
Dear J. D. Davis Families,
Welcome Back to Campus! The doors of J. D. Davis will open for K-2nd grade scholars, who selected traditional (face-to-face) instruction, on Monday, September 14, 2020 at 7:15 A.M.
Here are some important reminders:
The building will open at 7:15 A.M. The intake bell rings at 7:45 A.M. ALL scholars are to be in class, seated, and ready for instruction by 8:00 A.M. Dismissal is at 2:30 P.M.
Parents/family members will not be allowed to enter the building.
WE encourage parent drop off and parent pick up.
If your child is a bus rider and you requested transportation, you should have received the pick-up and drop-off time/location. For your convenience, the bus routes are included as an attachment. If you have not requested transportation, please visit the MCSD website and click on the Transportation Request button.
Students will have a temperature scan each day upon entering the building.
Make sure your scholar wears a mask. Everyone must wear a mask! Also send an extra one in a Ziploc bag.
Breakfast will be served in the classroom from 7:15 A.M. until 7:45 A.M.
Send a water bottle with your scholar to school and put their name on it.
Send the bookbag with supplies (the one given out before school started) back with your scholar. Scholars will need their personal pencils, glue sticks, scissors, crayons, paper, and hand pencil sharpener. We cannot share supplies. Upon arrival, scholars the will be given a plastic box to store their supplies and extra mask.
If you can, please send hand sanitizer, tissue, Lysol wipes, and paper towels.
Make sure your scholar is in uniform. Khakis or navy bottom with a navy blue or red polo style shirt. Jeans with NO holes and a Davis spirit shirt or uniform top may be worn on Fridays ONLY.
Parents must have their family number to pick up their children. If driving, please display your family number in the windshield of your vehicle so that it can be quickly and easily read.

Parent Pick-up: Kindergarten and First Grade Scholars will be dismissed from the Music Room.
Parent Pick-up: Second Grade Scholars will be released from room 113.

Kindergarten and first grade scholars will enter the building at the first set of double doors to the right of the main office entrance.
Second grade scholars will enter the building at the bottom double doors by the Media Center.
ALL visitors must make an appointment to enter the building. ALL visitors are subject to a temperature scan upon entering the building and must wear a mask.
Classroom visits are not allowed at this time.
The school must be notified in advance if a scholar will be checking out for an appointment, etc. This will allow for proper time to retrieve the scholar from class and have him/her ready when the parent arrives. When the parent arrives on campus, they are to call 706-748-2638 to notify the front office. The person checking out the scholar must be on the checkout list (approved to check out the student) and must present a valid ID.
Ensure that the school has a good and working contact number on file at all times, as well as an emergency contact number on file. In addition, for the purpose of communication, the school is to have a good email address on file.
Stay in the know by visiting the Davis website at http://sites.muscogee.k12.ga.us/jddavis/ and follow us on Facebook at https://www.facebook.com/jddaviselem
Mitigation of Covid-19
Team Davis is prepared to safely receive students on campus. The building has been properly cleaned and sanitized. We have several safeguards and protocols in place for students and adults.
If your child is sick, please allow your child to remain at home. Inform the teacher and school principal. We are prepared to allow your child to receive virtual instruction and be counted present for the day.
Anyone who enters the building (adults/children) must wear a mask.
Anyone who enters the building (adults/children) will have a temperature scan.
Anyone with a temperature of 100.0 degrees Fahrenheit or higher; anyone with common symptoms related to Covid-19; anyone who has been exposed to someone with Covid-19 will NOT be allowed to enter the building.
6 feet social distancing markers have been placed throughout the building.
Covid-19 Prevention signs have been placed throughout the building.
Social distancing guidelines will be strictly enforced.
A nose-shield has been placed the front office.
Sanitizer stations are placed throughout the building.
All classrooms and common areas are equipped with hand sanitizer, Lysol, and wipes.
All classrooms have a designated mask-down area so that scholars can take needed mask breaks.
Desks are placed at least 3 feet apart.
There will be NO sharing of materials.
Breakfast and Lunch will be served in the classrooms.
Movement throughout the building will be limited.
Students will be given on-going and scheduled handwashing/sanitizing breaks.
The custodial staff is on a schedule to continuously clean classrooms, restrooms, common areas, door handles, etc.
Students who exhibit Covid-19 symptoms throughout the day will be escorted to the isolation room and the parent will be contacted to report to the school immediately. The student will be under supervision of a Davis staff member. Documentation will be provided to the parent that outlines all next steps and reentry to school. Please see the enclosed attachment.
Adults who exhibit Covid-19 symptoms throughout the day will be immediately released to report home or to the doctor.
In the event of a Covid-19 case, the custodial staff has all of the needed equipment to properly deep clean and sanitize the building.
In the event of a Covid-19 case, administration will immediately communicate the issue to the district and parents, as well as provide next steps for any time needed off campus by individuals, groups, classes, etc.
Thank you for being understanding about this very unusual school year. We are doing everything possible to keep your scholar(s) and your family safe and healthy.
If at any time you need assistance or have questions, do not hesitate to contact Principal Williams at 706-748-2638 or williams.aetavia.b@muscogee.k12.ga.us