Proud Patriot Faculty and Staff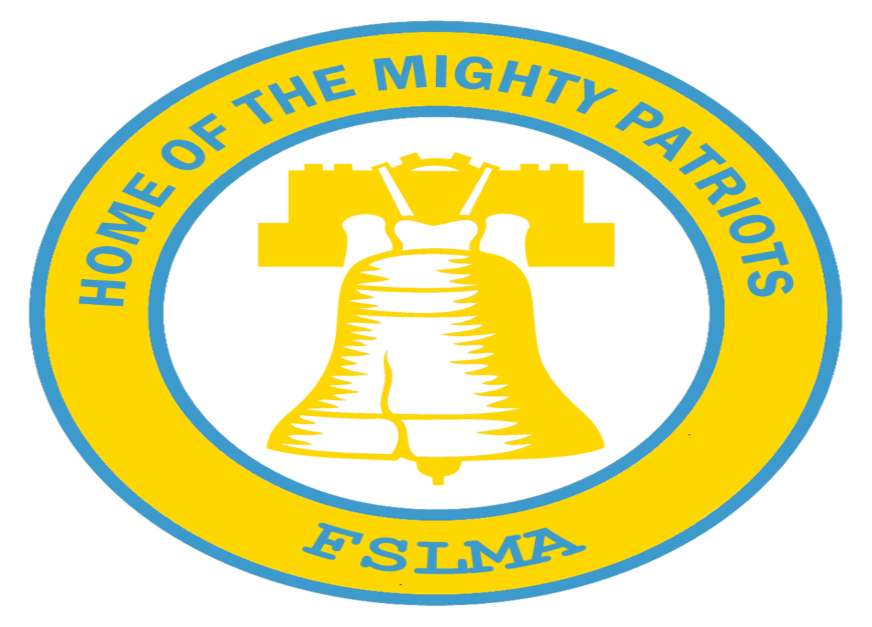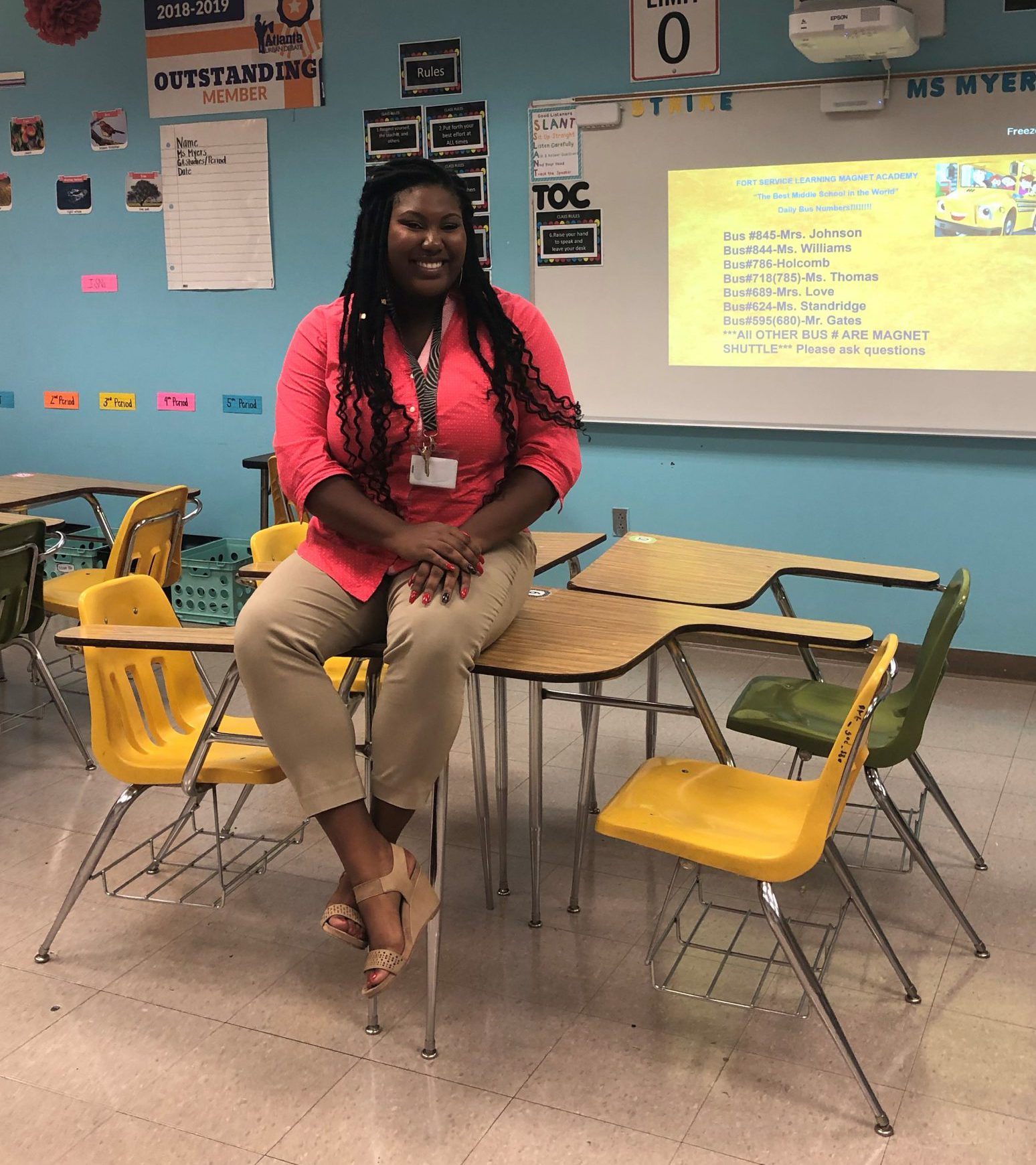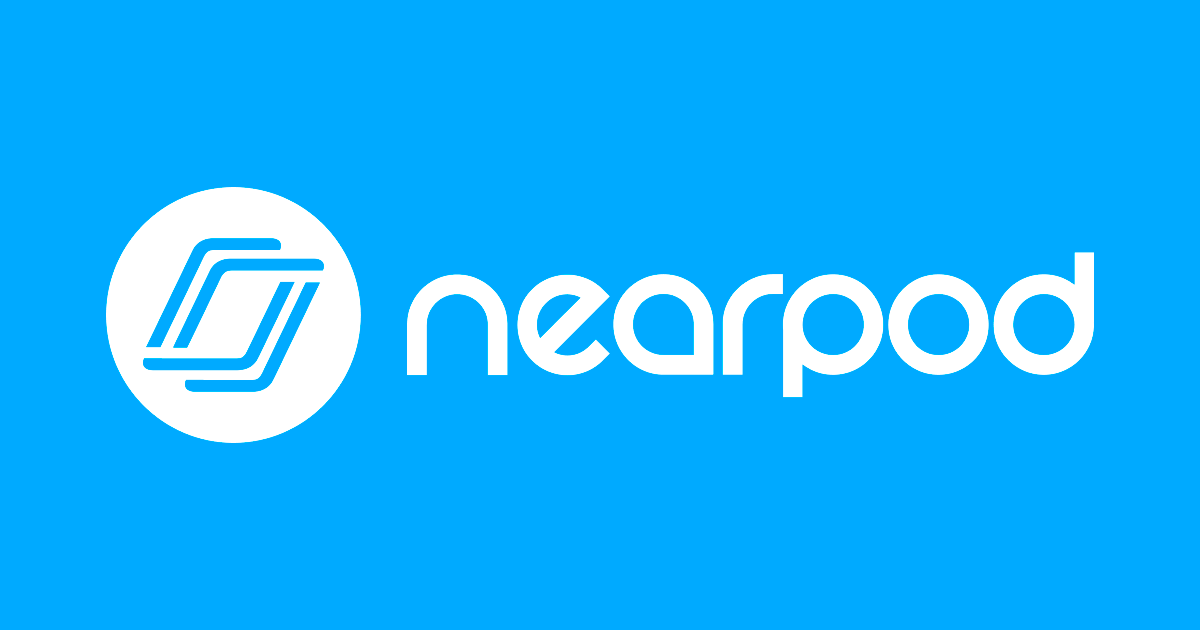 Congratulations to eighth grade teacher,
Ms. Yasmine Myers!
Ms. Myers exhibited commitment to personal and professional growth opportunities by becoming a NEARPOD EXPERT!  Nearpod is an interactive way for educators to teach their students whether in the classroom or distance learning. It provides the educator with lessons, or they can create their own in which students are able to learn in engaging ways such as virtual field trips, video and audio recording response, assessments and more!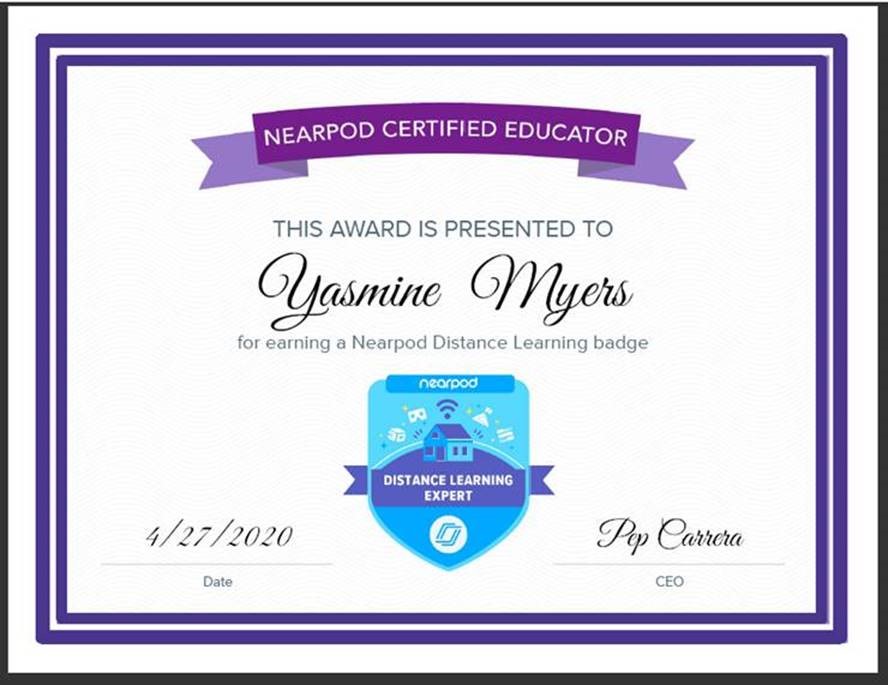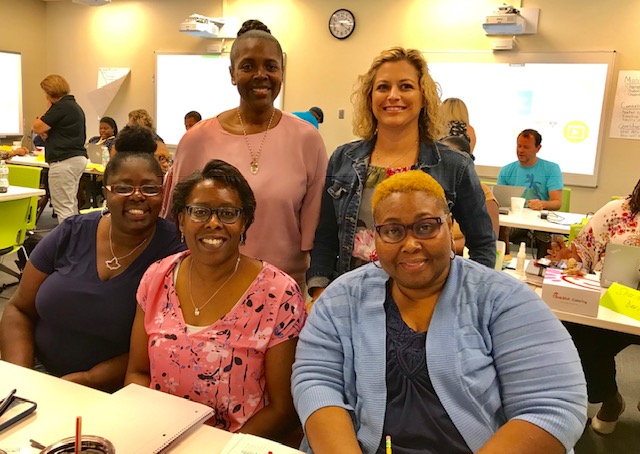 Mrs. Merritt, Mrs. Godfrey, Mrs. Wright, Ms. Boykin and Ms. Woods busy learning at a 2019 professional development class.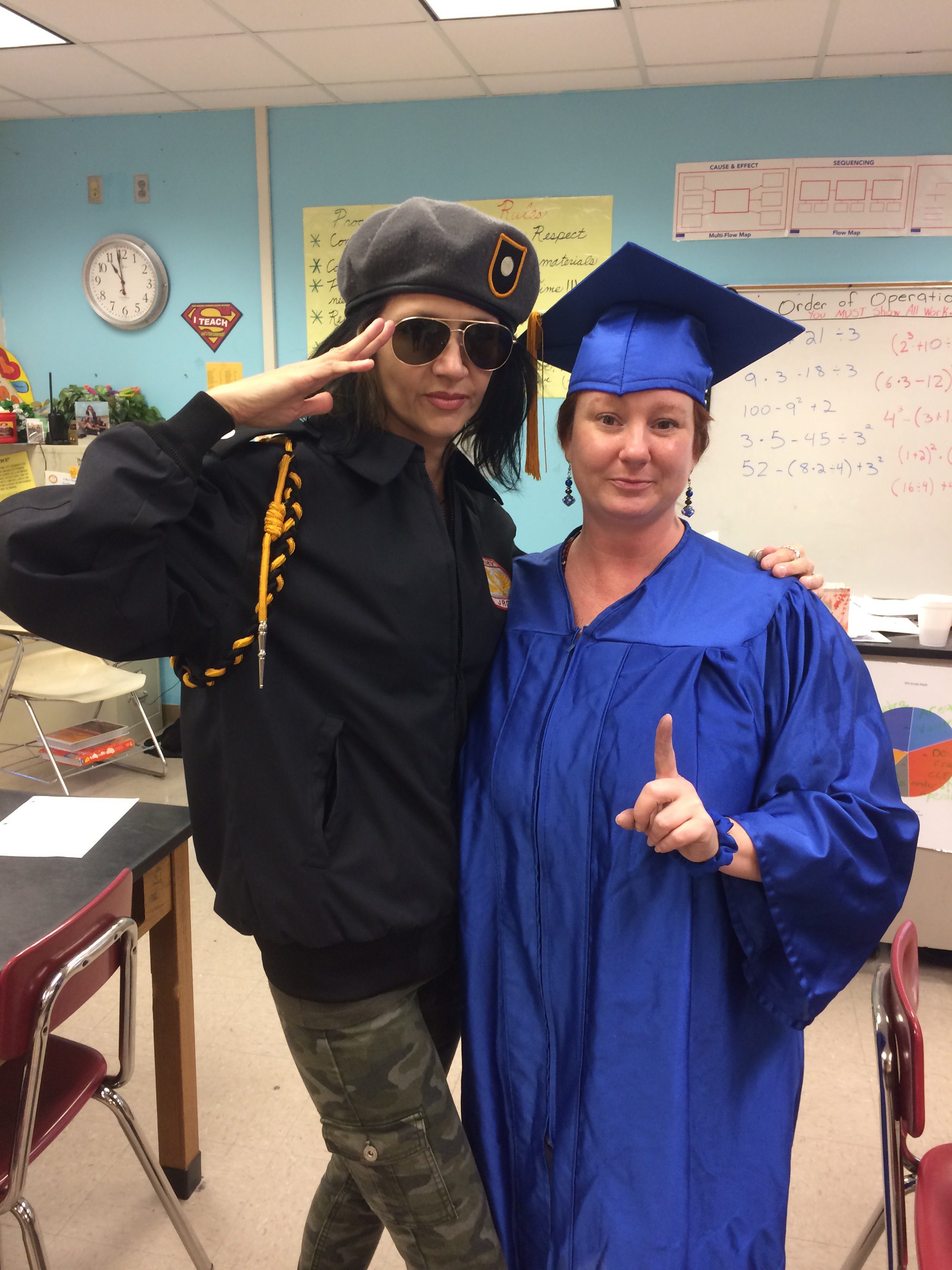 Jody Russell and Star Smith are proud to be Patriots on Halloween!
Faculty and staff at FSLMA show their support for National Dyslexia Awareness Month by wearing RED on October 9, 2019.
The faculty and staff is happy to see a new flag flying above Fort at Flag Retirement Ceremony, September 5, 2019.
Ms. Sales, Washington and Williams love FSLMA pep rallies!!!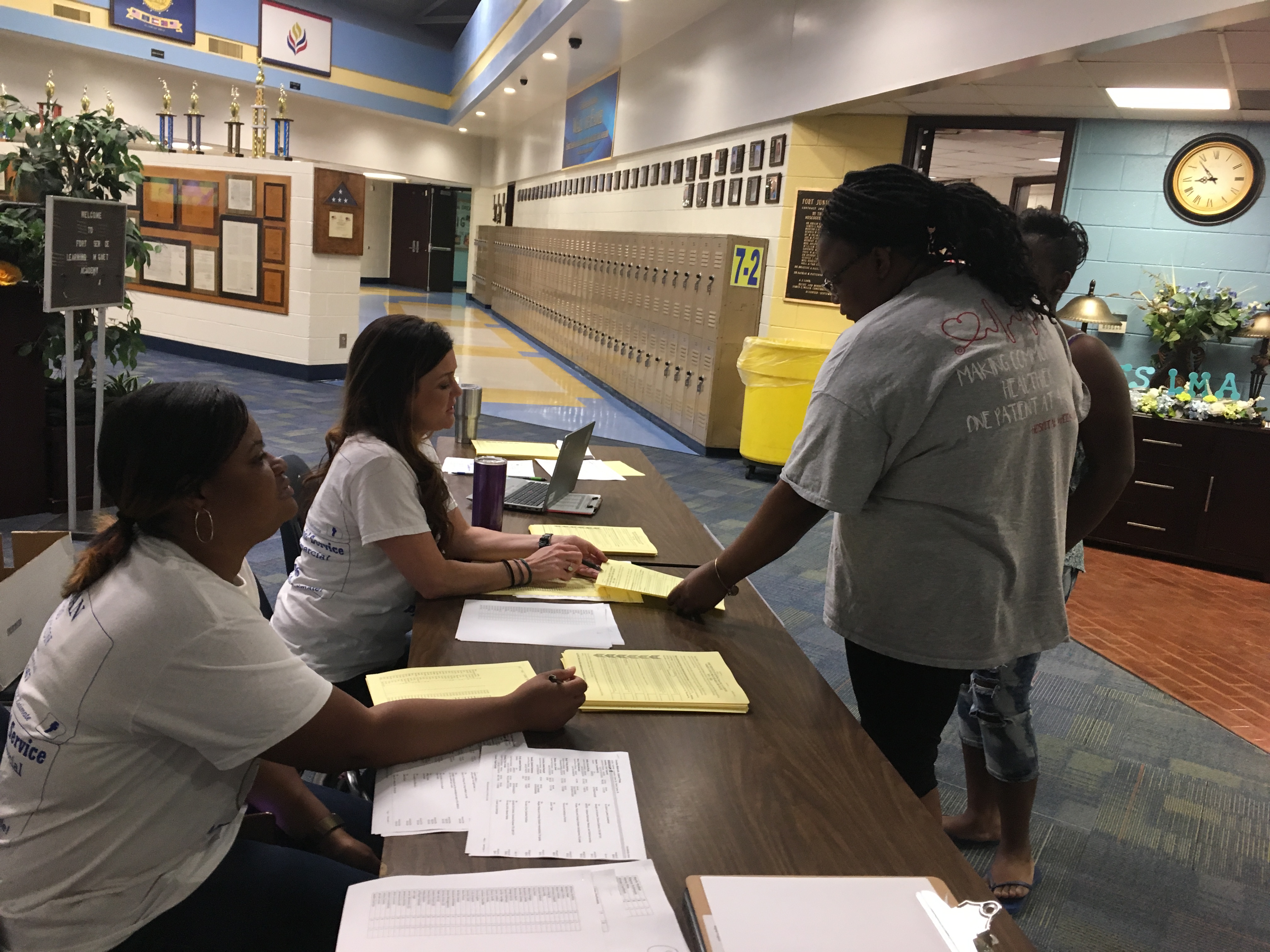 Ms. Simonton and Mrs. Bostic are busy assisting FSLMA parents at 2019 Verification Day.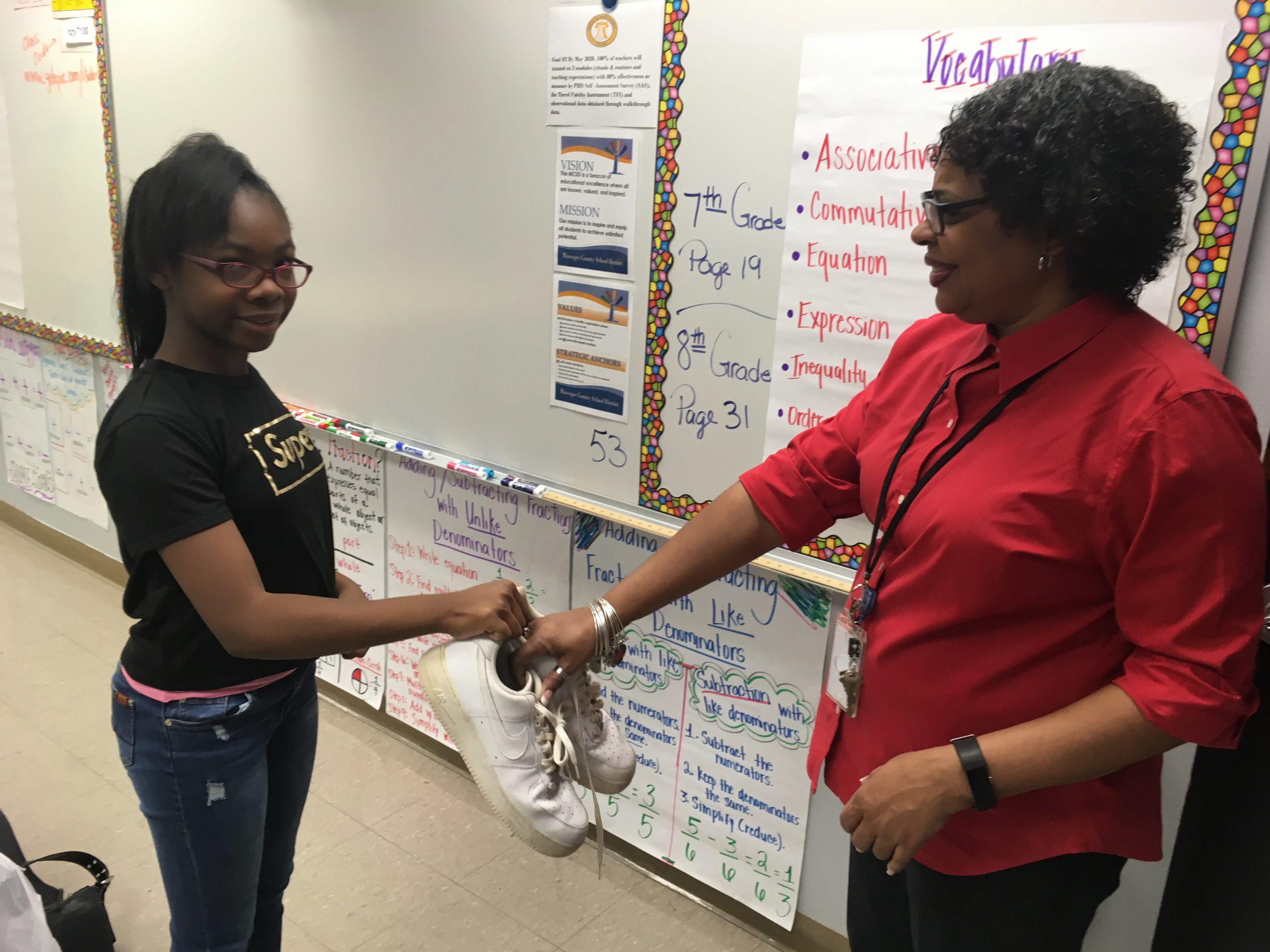 Magnet Coordinator, Ms. Elizabeth Bryan, glady accepts a shoe donation for FSLMA's annual shoe drive!
Assistant principal, Mrs. Godfrey, addresses the audience while Principal Merritt takes notes at Open House, September 14, 2019.
Fort Middle School
| Full Name | Job Title | Email | EmployeeID | FirstName | MN | LastName | Location | Division | DivisionDescription | Department | DepartmentDescription | Phone | VoIP | Rank |
| --- | --- | --- | --- | --- | --- | --- | --- | --- | --- | --- | --- | --- | --- | --- |
| Marjorie R Barker-Jackson | MIDDLE SCHOOL TEACHER TITLE I | Barker-Jackson.Marjorie.R@muscogee.k12.ga.us | E000179 | Marjorie | R | Barker-Jackson | | DOA | ACADEMIC DIVISION | TLI | TITLE I | 7065693740 | | 0,00 |
| Erika H Screws | MS MEDIA SPECIALIST | Screws.Erika.H@muscogee.k12.ga.us | E020708 | Erika | H | Screws | | DOA | ACADEMIC DIVISION | MID | MIDDLE EDUCATION | 7065693740 | | 0,00 |
| Esperanza L Hood | MS TEACHER SCIENCE | Hood.Esperanza.L@muscogee.k12.ga.us | E022324 | Esperanza | L | Hood | | DOA | ACADEMIC DIVISION | MID | MIDDLE EDUCATION | 7065693740 | | 0,00 |
| Jennifer M Smith-Wood | MS TEACHER ENGLISH | Smith-Wood.Jennifer.M@muscogee.k12.ga.us | E024522 | Jennifer | M | Smith-Wood | | DOA | ACADEMIC DIVISION | MID | MIDDLE EDUCATION | 7065693740 | | 0,00 |
| Barbara Jean Tolbert | MIDDLE SCHOOL TEACHER TITLE I | Tolbert.Barbara.J@muscogee.k12.ga.us | E025164 | Barbara | Jean | Tolbert | | DOA | ACADEMIC DIVISION | TLI | TITLE I | 7065693740 | | 0,00 |
| Renee R Ladner | MS CLERK | Ladner.Renee.R@muscogee.k12.ga.us | E025448 | Renee | R | Ladner | | DOA | ACADEMIC DIVISION | MID | MIDDLE EDUCATION | 7065693740 | | 0,00 |
| Quintin K Pitts | REGULAR CUSTODIAN | Pitts.Quintin.K@muscogee.k12.ga.us | E025922 | Quintin | K | Pitts | | DFO | FACILITIES & OPERATIONS DIV | PLS | PLANT SERVICES | 7065693740 | | 0,00 |
| Jacquiette C Jones | MS TEACHER MATHEMATICS | Jones.Jacquiette.C@muscogee.k12.ga.us | E026412 | Jacquiette | C | Jones | | DOA | ACADEMIC DIVISION | MID | MIDDLE EDUCATION | 7065693740 | | 0,00 |
| Mary A Myers | MS COUNSELOR | Myers.Mary.A@muscogee.k12.ga.us | E026994 | Mary | A | Myers | | DOA | ACADEMIC DIVISION | MID | MIDDLE EDUCATION | 7065693740 | | 0,00 |
| Riann S Smith | MS TEACHER SCIENCE | Smith.Riann.S@muscogee.k12.ga.us | E028638 | Riann | S | Smith | | DOA | ACADEMIC DIVISION | MID | MIDDLE EDUCATION | 7065693740 | | 0,00 |
| Brenda M Merritt | MS PRINCIPAL | Merritt.Brenda.M@muscogee.k12.ga.us | E028846 | Brenda | M | Merritt | | DOA | ACADEMIC DIVISION | MID | MIDDLE EDUCATION | 7065693740 | | 0,00 |
| Mary L McBride | SNP CULINARY TECH 6 HR | McBride.Mary.L@muscogee.k12.ga.us | E029607 | Mary | L | McBride | | DFO | FACILITIES & OPERATIONS DIV | SNP | SCHOOL NUTRITION | 7065693740 | | 0,00 |
| Madeline Boykin | MS SECONDARY DEAN | Boykin.Madeline.W@muscogee.k12.ga.us | E029650 | Madeline | | Boykin | | DOA | ACADEMIC DIVISION | SEC | SECONDARY EDUCATION | 7065693740 | | 0,00 |
| Alexis M Ford | MS PARAPRO SPECIAL EDUCATION | Ford.Alexis.M@muscogee.k12.ga.us | E030456 | Alexis | M | Ford | | DSS | STUDENT SERVICES DIVISION | SPD | EXCEPTIONAL STUDENTS | 7065693740 | | 0,00 |
| Darrell Dwayne Bryant | MS TEACHER PHYSICAL EDUCATION | Bryant.Darrell.D@muscogee.k12.ga.us | E031769 | Darrell | Dwayne | Bryant | | DOA | ACADEMIC DIVISION | MID | MIDDLE EDUCATION | 7065693740 | | 0,00 |
| Denise M Leon | MS TEACHER MATHEMATICS | Leon.Denise.M@muscogee.k12.ga.us | E032976 | Denise | M | Leon | | DOA | ACADEMIC DIVISION | MID | MIDDLE EDUCATION | 7065693740 | | 0,00 |
| Crystal E Simonton | MS TEACHER DRAMA | Simonton.Crystal.E@muscogee.k12.ga.us | E032999 | Crystal | E | Simonton | | DOA | ACADEMIC DIVISION | ART | ARTS AND HUMANITIES | 7065693740 | | 0,00 |
| Monique L Gill | MS CLERK | Gill.Monique.L@muscogee.k12.ga.us | E033248 | Monique | L | Gill | | DOA | ACADEMIC DIVISION | MID | MIDDLE EDUCATION | 7065693740 | | 0,00 |
| Tonya R Rembert | MS TEACHER MATHEMATICS | Rembert.Tonya.R@muscogee.k12.ga.us | E033572 | Tonya | R | Rembert | | DOA | ACADEMIC DIVISION | MID | MIDDLE EDUCATION | 7065693740 | | 0,00 |
| Shenikki L Thornton | MS ASSISTANT PRINCIPAL | Thornton.Shenikki.L@muscogee.k12.ga.us | E033954 | Shenikki | L | Thornton | | DOA | ACADEMIC DIVISION | MID | MIDDLE EDUCATION | 7065693740 | | 0,00 |
| Janie M Smith | LEAD CUSTODIAN | Smith.Janie.M@muscogee.k12.ga.us | E034053 | Janie | M | Smith | | DFO | FACILITIES & OPERATIONS DIV | PLS | PLANT SERVICES | 7065693740 | | 0,00 |
| Tracie L Urness | MS TEACHER SCIENCE | Urness.Tracie.L@muscogee.k12.ga.us | E034127 | Tracie | L | Urness | | DOA | ACADEMIC DIVISION | MID | MIDDLE EDUCATION | 7065693740 | | 0,00 |
| Nartasha Yvonne Davis | MS TEACHER INTER-RELATED | Davis.Nartasha.Y@muscogee.k12.ga.us | E034140 | Nartasha | Yvonne | Davis | | DSS | STUDENT SERVICES DIVISION | SPD | EXCEPTIONAL STUDENTS | 7065693740 | | 0,00 |
| Lucinda F Lowe | SNP CULINARY TECH 5.5 HR | Lowe.Lucinda.F@muscogee.k12.ga.us | E034231 | Lucinda | F | Lowe | | DFO | FACILITIES & OPERATIONS DIV | SNP | SCHOOL NUTRITION | 7065693740 | | 0,00 |
| Elizabeth Michelle Bryan | MS TEACHER INTER-RELATED | Bryan.Elizabeth.M@muscogee.k12.ga.us | E034294 | Elizabeth | Michelle | Bryan | | DSS | STUDENT SERVICES DIVISION | SPD | EXCEPTIONAL STUDENTS | 7065693740 | | 0,00 |
| Angel Washington | MS TEACHER MARKETING | Washington.Angel@muscogee.k12.ga.us | E040634 | Angel | | Washington | | DOA | ACADEMIC DIVISION | CAR | CAREER TECHNICAL EDUCATION | 7065693740 | | 0,00 |
| Shanakie Ward | MS TEACHER PHYSICAL EDUCATION | Ward.Shanakie@muscogee.k12.ga.us | E041118 | Shanakie | | Ward | | DOA | ACADEMIC DIVISION | MID | MIDDLE EDUCATION | 7065693740 | | 0,00 |
| Rebekah A Kreyling | MS TEACHER INTER-RELATED | Kreyling.Rebekah.A@muscogee.k12.ga.us | E042543 | Rebekah | A | Kreyling | | DSS | STUDENT SERVICES DIVISION | SPD | EXCEPTIONAL STUDENTS | 7065693740 | | 0,00 |
| Lashondra K Upshaw | PARAPRO MIDDLE TITLE I | Upshaw.Lashondra.K@muscogee.k12.ga.us | E042917 | Lashondra | K | Upshaw | | DOA | ACADEMIC DIVISION | TLI | TITLE I | 7065693740 | | 0,00 |
| Jody A Russell | MS TEACHER MOD INTELL DISAB | Russell.Jody.A@muscogee.k12.ga.us | E043015 | Jody | A | Russell | | DSS | STUDENT SERVICES DIVISION | SPD | EXCEPTIONAL STUDENTS | 7065693740 | | 0,00 |
| Shameika Renee Brown | SCHOOL NUTRITION MANAGER | Brown.Shameika@muscogee.k12.ga.us | E043496 | Shameika | Renee | Brown | | DFO | FACILITIES & OPERATIONS DIV | SNP | SCHOOL NUTRITION | 7065693740 | | 0,00 |
| Bonita Yvonne Allen | MS PARAPRO SPECIAL EDUCATION | Allen.Bonita.Y@muscogee.k12.ga.us | E043543 | Bonita | Yvonne | Allen | | DSS | STUDENT SERVICES DIVISION | SPD | EXCEPTIONAL STUDENTS | 7065693740 | | 0,00 |
| Sierra Ashley Brooks | MS TEACHER MATHEMATICS | Brooks.Sierra.A@muscogee.k12.ga.us | E043642 | Sierra | Ashley | Brooks | | DOA | ACADEMIC DIVISION | MID | MIDDLE EDUCATION | 7065693740 | | 0,00 |
| Alexis C Wright | MS ACADEMIC COACH | Wright.Alexis.Y@muscogee.k12.ga.us | E043661 | Alexis | C | Wright | | DOA | ACADEMIC DIVISION | MID | MIDDLE EDUCATION | 7065693740 | | 0,00 |
| Angel M Williams | MS TEACHER ENGLISH | Williams.Angel.M@muscogee.k12.ga.us | E043689 | Angel | M | Williams | | DOA | ACADEMIC DIVISION | MID | MIDDLE EDUCATION | 7065693740 | | 0,00 |
| Stephanie N Thomas | MS TEACHER ENGLISH | Thomas.Stephanie.N@muscogee.k12.ga.us | E043859 | Stephanie | N | Thomas | | DOA | ACADEMIC DIVISION | MID | MIDDLE EDUCATION | 7065693740 | | 0,00 |
| Jasimine Keoisha Harper | SNP CULNRY TECH/CASHR 5.5 HR | Harper.Jasimine.K@muscogee.k12.ga.us | E044185 | Jasimine | Keoisha | Harper | | DFO | FACILITIES & OPERATIONS DIV | SNP | SCHOOL NUTRITION | 7065693740 | | 0,00 |
| Yasmine Nicole Myers | MS TEACHER SOCIAL STUDIES | Myers.Yasmine.N@muscogee.k12.ga.us | E044451 | Yasmine | Nicole | Myers | | DOA | ACADEMIC DIVISION | MID | MIDDLE EDUCATION | 7065693740 | | 0,00 |
| Laquicees Teairra Johnson | MS TEACHER ENGLISH | Johnson.Laquicees.T@muscogee.k12.ga.us | E044506 | Laquicees | Teairra | Johnson | | DOA | ACADEMIC DIVISION | MID | MIDDLE EDUCATION | 7065693740 | | 0,00 |
| Kewanna Franisha Taylor | MS TEACHER ENGLISH | Taylor.Kewanna.F@muscogee.k12.ga.us | E044910 | Kewanna | Franisha | Taylor | | DOA | ACADEMIC DIVISION | MID | MIDDLE EDUCATION | 7065693740 | | 0,00 |
| Cynthia Marie Spratt | PARAPRO SPECIALIZED PES | Spratt.Cynthia.M@muscogee.k12.ga.us | E044926 | Cynthia | Marie | Spratt | | DSS | STUDENT SERVICES DIVISION | SPD | EXCEPTIONAL STUDENTS | 7065693740 | | 0,00 |
| Chaunte' Michelle Lyde | PARAPRO TITLE I PARENT | Lyde.Chaunte'.M@muscogee.k12.ga.us | E044970 | Chaunte' | Michelle | Lyde | | DOA | ACADEMIC DIVISION | TLI | TITLE I | 7065693740 | | 0,00 |
| Timothy Duane Murphy | INSTRUCTIONAL ASSISTANT | Murphy.Timothy.D@muscogee.k12.ga.us | E045017 | Timothy | Duane | Murphy | | DOA | ACADEMIC DIVISION | MID | MIDDLE EDUCATION | 7065693740 | | 0,00 |
| Jeremy Deione Webster | MS TEACHER BAND DIRECTOR | Webster.Jeremy.D@muscogee.k12.ga.us | E045269 | Jeremy | Deione | Webster | | DOA | ACADEMIC DIVISION | ART | ARTS AND HUMANITIES | 7065693740 | | 0,00 |
| Lanana Renee Buckner-Brown | MS TEACHER INTER-RELATED | Buckner-brown.Lanana.R2@muscogee.k12.ga.us | E045428 | Lanana | Renee | Buckner-Brown | | DSS | STUDENT SERVICES DIVISION | SPD | EXCEPTIONAL STUDENTS | 7065693740 | | 0,00 |
| Thelma Joyce Odom | MS TEACHER INTER-RELATED | Odom.Thelma.J@muscogee.k12.ga.us | E045569 | Thelma | Joyce | Odom | | DSS | STUDENT SERVICES DIVISION | SPD | EXCEPTIONAL STUDENTS | 7065693740 | | 0,00 |
| Michelle Lagrand Gregory | SCHOOL CLINIC WORKER | Gregory.Michelle.L@muscogee.k12.ga.us | E045654 | Michelle | Lagrand | Gregory | | DSS | STUDENT SERVICES DIVISION | HTH | HEALTH | 7065693740 | | 0,00 |
| Kaelin Mitchner Jenkins | MS TEACHER SOCIAL STUDIES | Jenkins.Kaelin.M@muscogee.k12.ga.us | E045668 | Kaelin | Mitchner | Jenkins | | DOA | ACADEMIC DIVISION | MID | MIDDLE EDUCATION | 7065693740 | | 0,00 |
| Latoya Tremaine Mobley | INSTRUCTIONAL ASSISTANT | Mobley.Latoya.T@muscogee.k12.ga.us | E045851 | Latoya | Tremaine | Mobley | | DOA | ACADEMIC DIVISION | MID | MIDDLE EDUCATION | 7065693740 | | 0,00 |
| Debra Marie Currier | MS TEACHER INTER-RELATED | Currier.Debra.M@muscogee.k12.ga.us | E046045 | Debra | Marie | Currier | | DSS | STUDENT SERVICES DIVISION | SPD | EXCEPTIONAL STUDENTS | 7065693740 | | 0,00 |
| Ladarria Patrice Williams | MS TEACHER SOCIAL STUDIES | Williams.Ladarria.P2@muscogee.k12.ga.us | E046086 | Ladarria | Patrice | Williams | | DOA | ACADEMIC DIVISION | MID | MIDDLE EDUCATION | 7065693740 | | 0,00 |
| Niakeele Lasherree White | MS TEACHER SCIENCE | White.Niakeele.L@muscogee.k12.ga.us | E046108 | Niakeele | Lasherree | White | | DOA | ACADEMIC DIVISION | MID | MIDDLE EDUCATION | 7065693740 | | 0,00 |
| April Renee Allen | MS TEACHER INTER-RELATED | Allen.April.R@muscogee.k12.ga.us | E046109 | April | Renee | Allen | | DSS | STUDENT SERVICES DIVISION | SPD | EXCEPTIONAL STUDENTS | 7065693740 | | 0,00 |
| Julia Blake Abner | MS TEACHER INTER-RELATED | Abner.Julia.B@muscogee.k12.ga.us | E046185 | Julia | Blake | Abner | | DSS | STUDENT SERVICES DIVISION | SPD | EXCEPTIONAL STUDENTS | 7065693740 | | 0,00 |
| Billysha Tonay Sales | PARAPRO SPECIALIZED PES | Sales.Billysha@muscogee.k12.ga.us | E046248 | Billysha | Tonay | Sales | | DSS | STUDENT SERVICES DIVISION | SPD | EXCEPTIONAL STUDENTS | 7065693740 | | 0,00 |
| Ariel Chanelle Mobley | MS TEACHER COMMUNICATIONS | Mobley.Ariel.C@muscogee.k12.ga.us | E046312 | Ariel | Chanelle | Mobley | | DOA | ACADEMIC DIVISION | MID | MIDDLE EDUCATION | 7065693740 | | 0,00 |
| Ladetria Patrice Neal | SCHOOL SECRETARY | Neal.Ladetria.P@muscogee.k12.ga.us | E046350 | Ladetria | Patrice | Neal | | DOA | ACADEMIC DIVISION | MID | MIDDLE EDUCATION | 7065693740 | | 0,00 |
| Morgan Taylor Bush | MS TEACHER SOCIAL STUDIES | Bush.Morgan.T@muscogee.k12.ga.us | E046705 | Morgan | Taylor | Bush | | DOA | ACADEMIC DIVISION | MID | MIDDLE EDUCATION | 7065693740 | | 0,00 |
| Gaylon Wayne Williams | MS TEACHER MATHEMATICS | Williams.Gaylon.W@muscogee.k12.ga.us | E046719 | Gaylon | Wayne | Williams | | DOA | ACADEMIC DIVISION | MID | MIDDLE EDUCATION | 7065693740 | | 0,00 |
| Yania Nerissa Myers | MS TEACHER SPANISH | Myers.Yania.N@muscogee.k12.ga.us | E046753 | Yania | Nerissa | Myers | | DOA | ACADEMIC DIVISION | MID | MIDDLE EDUCATION | 7065693740 | | 0,00 |
| Jeremy David Cover | MS TEACHER CHORUS | Cover.Jeremy.D@muscogee.k12.ga.us | E046793 | Jeremy | David | Cover | | DOA | ACADEMIC DIVISION | ART | ARTS AND HUMANITIES | 7065693740 | | 0,00 |
| Latangela Vantressa Washington | ISSP TECHNICIAN | Washington.Latangela.V@muscogee.k12.ga.us | E047020 | Latangela | Vantressa | Washington | | DOA | ACADEMIC DIVISION | MID | MIDDLE EDUCATION | 7065693740 | | 0,00 |
| Sukina Swan Boynton | MS COUNSELOR | Boynton.Sukina.S@muscogee.k12.ga.us | E047036 | Sukina | Swan | Boynton | | DOA | ACADEMIC DIVISION | MID | MIDDLE EDUCATION | 7065693740 | | 0,00 |
| Julia Ann Jones | MS TEACHER ENGLISH | Jones.Julia.A@muscogee.k12.ga.us | E047037 | Julia | Ann | Jones | | DOA | ACADEMIC DIVISION | MID | MIDDLE EDUCATION | 7065693740 | | 0,00 |