Proud Partners in Education
On behalf of the students and teachers at Fort Service Learning Magnet Academy, we would like to thank Mr. Weeks and Mrs. Chico Beck of Panasonic for the beautiful Angel Baskets.  The FSLMA students pictured above were the recipients of these wonderful Christmas presents.  Community partnerships with companies like Panasonic is one of the reasons why Fort is THE BEST MIDDLE SCHOOL IN THE WORLD!!!!  Thank you again to Panasonic!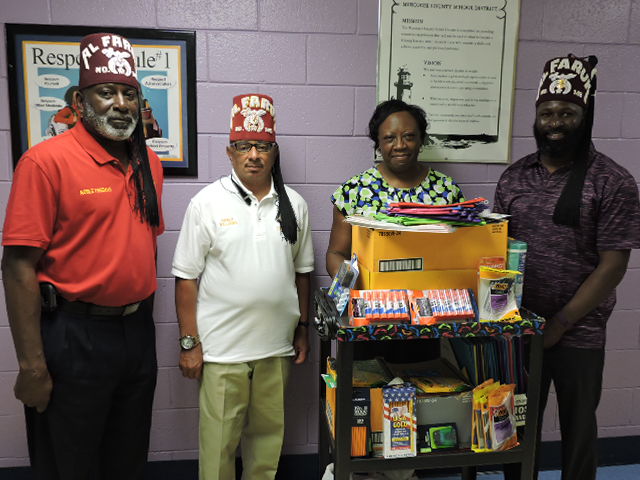 The faculty, staff and student body of FSLMA would like to thank the community members, Al Faruk Temple No 145 of Columbus, GA for donating school supplies. Many students will benefit from the crayons, scissors, binders, pencils, rulers, paper, glue sticks, rulers, and hand sanitizers to help kick off school success at the beginning of the 2017-18 school year.  Thank you for caring about the needs of others. 
Community partnership is a big reason why our schools are successful.
Thank you to our Partners in Education, Kimbrough Funeral Home
837 5th Ave.  706-322-3300
Partners in Education Shadow Day
The school will work with its Partners in Education (school-business partners) to provide information about opportunities for organizations and businesses to work together with parents and schools.  The school will describe appropriate roles for community-based organizations and businesses in parent involvement activities.  The school maintains a partnership with partners that include a role for parents.
Fort Middle School was an award-winning Gold recipient and is continually recognized among the top 10 schools at the annual Partners-N-Education Banquet.
PARTNERS IN EDUCATION:
Legacy Chevrolet
MEDDAC: Fort Benning, Georgia
Panasonic Energy
Strayer University
True Vine Church of Hope
Virginia College Cosmetology Department
SPECIAL THANKS TO OUR SUPPORTERS: Al Smith & Courtney Williams, Alpha Worldwide Travel, AT&T – Mr. Terry Smith, Bags by Coach O – Mr. Charles Oliver (Knoxville, Tn.), Fort Valley State University, Foxy 105 – Nicole Buffong and Michael Soul, Golden Doughnuts – Mr. Don Baker, Langston and Sons Funeral Home, Louis Hayden Masonic Lodge, Publix on Milgen Road, Reflections of Love Wedding Coordinator, Rock Presbyterian Church of Columbus, Reginald Griffin-Principal of Edgewood A.I.M.S Program, Smith Grove A.M.E, Sneakers on Macon Road, Spencer High School, Officer Seldon, 1st Sgt. Hardimon, The Urban League of Greater Columbus – In Loving Memory of Mr. Reginald Pugh, and Mr. "Pops" Barnes.