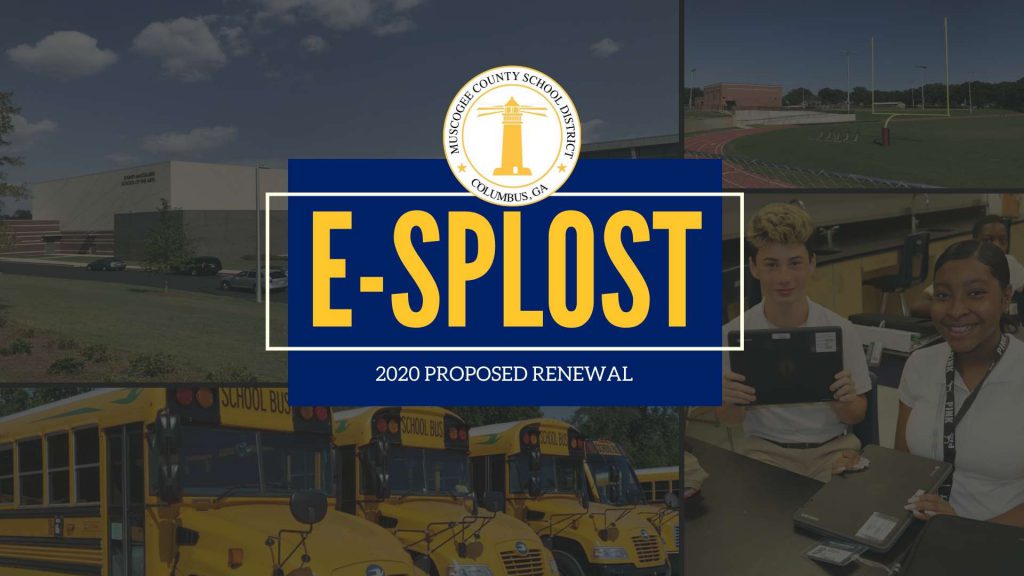 For additional information about the items in this list please visit our Resources page.
| | |
| --- | --- |
| 2020 E-SPLOST Categories |   |
| Ways to Learn | Cost Estimation |
| 1. Improvements to Technology and Technology Infrastructure | $                               45,500,000.00 |
| 2. Stephen T. Butler STEAM Center Upgrades | $                                 2,000,000.00 |
| 3. Jordan HS College and Career Academy Facility Enhancements | $                                 3,000,000.00 |
| Room to Learn |   |
| 4. Replacement ES ( Dawson, St. Mary's ) | $                               25,000,000.00 |
| 5. Modernize Arnold MS | $                               13,000,000.00 |
| 6. Addition to Hardaway HS | $                                 4,000,000.00 |
| 7. Addition to Kendrick HS | $                                 4,000,000.00 |
| 8. Addition to Mathews ES (Four Classrooms) | $                                 1,500,000.00 |
| 9. Upgrades to Columbus HS Exterior | $                                 1,000,000.00 |
| 10. Expand Veterans Memorial MS Band Room | $                                    500,000.00 |
| 11. New North Columbus Library | $                                 3,000,000.00 |
| 12. Museum Upgrades | $                                 3,000,000.00 |
| Support to Learn |   |
| 13. System-Wide Multi-Sport Athletic Complex |  $                               15,000,000.00 |
| 14. District-Wide Athletic Improvements | $                               15,500,000.00 |
| 15. Replacement of Outdated Furniture, Fixtures, and Equipment System-Wide (FF&E) | $                                 3,000,000.00 |
| 16. Update Secondary Science Equipment and Technology | $                                 1,500,000.00 |
| 17. Addressing Facility Needs as Reflected in the District 5 Year DOE Facilities Plan | |
|      a.  Renovations | $                               17,500,000.00 |
|      b.  Modifications | $                                 5,000,000.00 |
| 18. Playgrounds | $                                 1,500,000.00 |
| 19. Campus Safety and Security | $                                 3,500,000.00 |
| 20. Replacement of Outdated Buses, Vehicles and Transportation Equipment | $                               16,000,000.00 |
| 21. Replacement of Outdated School Nutrition Equipment | $                                 2,000,000.00 |
| 22. Financing of Bond Issue | $                                 3,000,000.00 |
| |  $                           189,000,000.00 |
Frequently Asked Questions (FAQs)
What is the five-year projection for collections based on?
It is based on previous history with collected sales tax revenue.
What is the E-SPLOST rate?
Columbus is now at an eight-percent sales tax rate. Will an E-SPLOST increase the sales tax to nine percent?
We are not proposing an increase to the sales tax rate. We are asking for a continuation of the E-SPLOST which has been passed in 1997, 2003, 2009, and 2015.
Are projects prioritized?
Yes, the projects will be listed in phases per the Board of Education.
How long will it take to complete the projects?
Project timelines will be developed and shared.
Are there any scheduled sales for surplus/life-cycled equipment and furniture?
Yes, we are presenting those items to the Board of Education monthly.
How will expenditures be tracked? Annual state audit or citizens panel?
The E-SPLOST expenditures are tracked monthly through our monthly financial statements and E-SPLOST expenditures reports. The E-SPLOST expenditures are reviewed each year by the District's external auditors. A publication of the expenditures is published annually in the local newspaper, (in compliance with State Department of Audits and Accounts), again apprising the public of the status of E-SPLOST expenditures year-to-date. Throughout the year, the expenditures are also reviewed by the citizens review committee for all active E-SPLOST projects.
Will both Dawson and St. Mary's elementary schools be demolished?
No. The schools will be consolidated into one location. Once the new school is built the use of the buildings will be redetermined.
Where is the potential location for the consolidation of Dawson and St. Mary's elementary schools?
On the grounds of the current Dawson Elementary. We have 25 acres available on those grounds.
How will the consolidation of Dawson and St. Mary's impact traffic, roadways, and neighborhoods?
To avoid issues, we will request a longer turning lane entering Northstar Drive. For St. Mary's, this will be an improvement. Right now, the school is very close to the street which negatively impacts traffic.
Where is Georgetown Elementary School on the roofing and HVAC list?
They are included under the renovations list under "Support to Learn."
Will the proposed projects address traffic flow at Kendrick High School and Georgetown Elementary School?
We cannot provide in-depth insight on traffic patterns. However, we hope that by adding a covered drop-off area, it will alleviate some of those concerns.
Will this address the Carver retaining wall area concerns with bushes and trees overgrowing?
We have a maintenance plan with the City. There has been no concern raised with the described wall.
What security changes does the plan include? Does it include cameras and personnel?
E-SPLOST funds cannot be used for personnel. We have included items such as cameras for campus security upgrades/enhancements.
How much of the safety and security money will you use for multi-agency active shooter training?
E-SPLOST funds cannot support that specifically, but we currently work with public safety agencies across the state to address active shooter training among other campus safety and security threats.
Will the old North Columbus Library remain and second location be constructed or will it be eliminated? What will the new library house?
An alternate location will be named while the new location will be constructed. The old location will be eligible for resale. The new library will provide more space for meeting rooms, upgraded technology, and parking. Several items are still being determined.
Was there consideration given to the economic impact building a North Columbus library will have long-term on South Columbus?
Yes. There is a dedicated South Columbus Library branch on South Lumpkin Road.
Will the library hours of operation increase for Friday and Saturday with a new library?
That is being considered.
What locations are being considered for the new North Columbus library?
Plans, including the location, are under development for consideration.
Will we ever return to reusable dishes for school nutrition? There is too much garbage.<br />
All of the items used are recyclable materials. We ensure those items are recycled.
How will needs be decided for schools with the band and orchestra instruments?
We will conduct a needs-assessment survey for school administrators.
Will there be seat belts on the new buses?
That has not yet been determined by the manufacturers; several studies are ongoing to declare what is safest.
Which of our elementary schools are there below full-time equivalency (FTE)? Can we rezone any of those schools?
Davis, Dawson, Downtown, Forrest Road, Fox, Johnson, Key, Lonnie Jackson, River Road, and Wynnton. We are more focused on that potential down that road as part of right-sizing the District. The project listed focuses on consolidation in a specific area.