TO BE ANNOUNCED
Blanchard Elementary School is proud to
collaborate with community partners established
by the Columbus Chamber of Commerce and known
as Partners in Education (PIEs). These partners
support our school with volunteer hours, funding,
resources unique to their business/operation.
Thank you!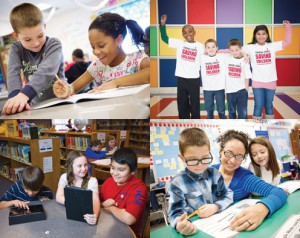 Blanchard After School Enrichment Program

The Blanchard After School Enrichment Program (BASEP) is in operation after school from 2:30 PM – 6:00 PM. Registration must be completed before a child is allowed to attend the program. An enrollment form is provided as the last page of the booklet. Retain the remainder of this booklet for future reference. Drop-ins must also complete a registration form.
2017-2018 School Improvement Plan
Climate: By May 2018, five (5) out of ten (10) Tier 1 critical elements of PBIS will be fully developed
and implemented as measured by the Tiered Fidelity Inventory (TFI).
Academics: By May 2018, 90% of all teachers will embed the RACE strategy and advanced organizers
in their instruction.
My child has come so far academically since attending Blanchard and loves going to school every day. The teachers take great care and time with students. The school is a warm, welcoming learning environment. greatschools.org